Hillary Clinton Laughs Last In Mueller's Manafort Indictment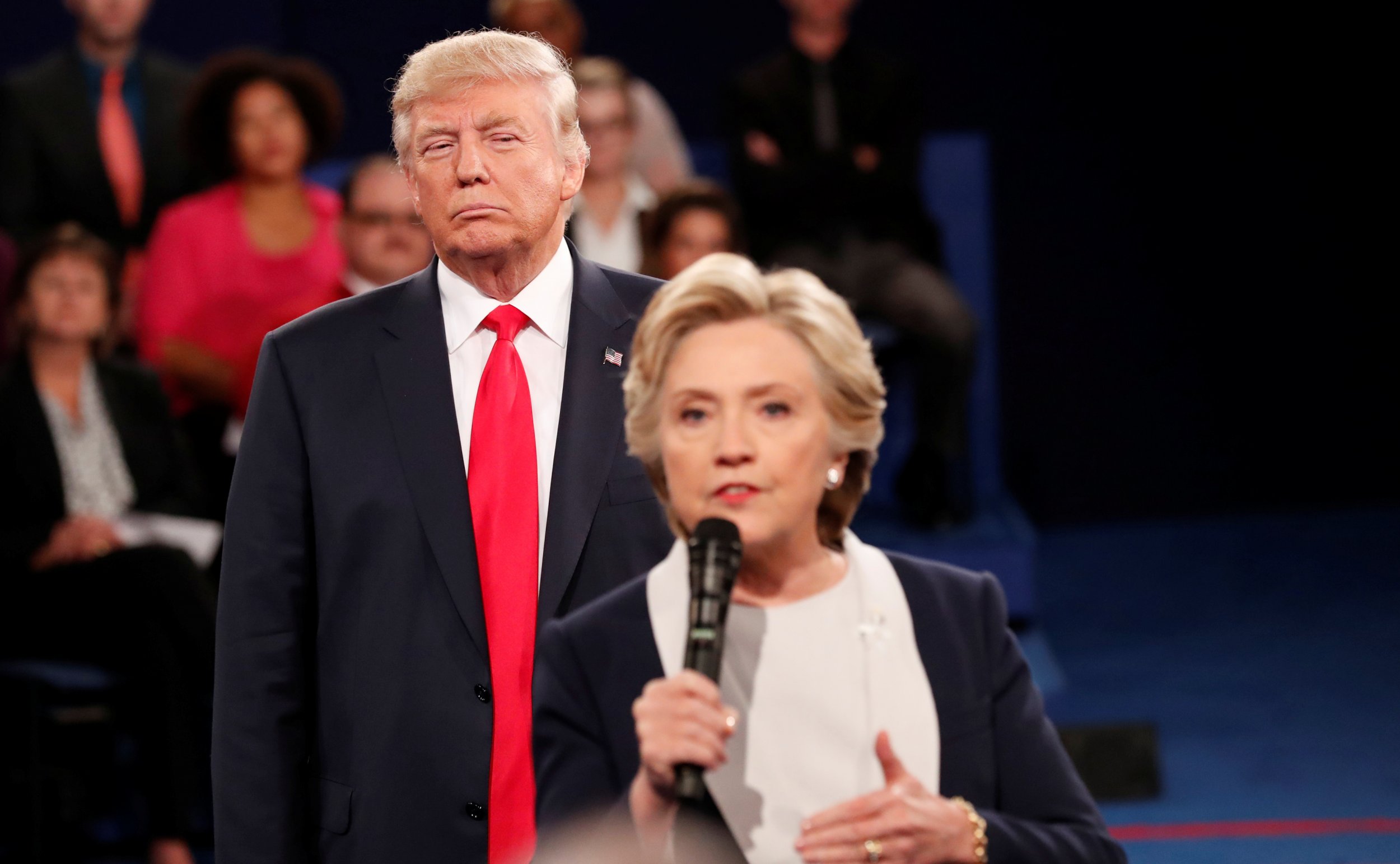 Two of President Trump's key campaign aides allegedly lied about secret emails and obscured evidence—which is ironic given that they helped craft a campaign that accused Hillary Clinton of doing the same.
On the campaign trail in 2016, Trump demanded that Clinton go to prison for using a private email server as Secretary of State. He encouraged his supporters to chant, "lock her up" at rallies. Paul Manafort, then Trump campaign chairman and chief strategist, defended the chants.
Soon after, Manafort found himself under investigation by the Department of Justice for working on behalf of Ukraine. But instead of practicing the transparency he had so publicly accused Hillary Clinton of lacking, Manafort told the Justice Department that he did not have access to any requested documentation as his consulting company, DMI, "does not retain communications beyond 30 days."
He lied, federal authorities said.
A search of Manafort's DMI email accounts revealed numerous documents related to his lobbying efforts on behalf of Ukraine, many older than 30 days.
Further emails obtained from a DMI subcontractor showed Manafort attempting to distance himself from his international lobbying efforts. "There's a lot of email traffic that has you much more involved than this suggests," the firm warned him. Manafort did not heed the warnings.
The evidence found in these searches helped Special Counsel Robert Mueller file his first indictments in his investigation into Russian attempts to interfere in the 2016 election. Manafort and his longtime business partner, Rick Gates, were named in the indictment on Monday morning.
Gates worked on the Trump campaign as deputy chairman. When Manafort was kicked out of the campaign in late August, Gates went on to play a central role in Trump's inaugural committee and later joined a lobbying group created to advance the president's agenda.
During the campaign, Manafort defended the use of "Lock her Up" chants. "It probably reflects the attitude of a lot of people in America," he told reporters, "Seventy percent of people in this country think she is guilty and that justice was not done."
Clinton's use of a private email server while Secretary of State is largely thought to have cost her the presidential election. Multiple investigations into the emails have brought nothing criminal to light.
Lawyers often tell their clients that the "e" in email stands for evidence. This is advice that Manafort could have used before he was named in a multiple-count indictment of money laundering and other illegalities.
Meanwhile the Trump Administration is still holding strong to its campaign strategy of blaming Clinton. In light of today's indictments, White House Press Secretary Sarah Huckabee Sanders told reporters that, "there's clear evidence of the Clinton campaign colluding with Russian intelligence to spread disinformation and smear the president to influence the election."