What Paul Manafort Could Tell Mueller About Trump-Russia Probe: Ex-Campaign Manager to Make Plea Deal
Paul Manafort, President Donald Trump's former campaign chairman, admitted guilt in federal court Friday after he reached a plea agreement with the special counsel investigating Russia's interference in the 2016 election. Manafort pleaded guilty to conspiracy against the United States and witness-tampering charges.
In court Friday, federal prosecutors said Manafort's plea deal also included "successful cooperation" with the government. The cooperation agreement is 17 pages long.
As a key member of Trump's campaign, even though he resigned in September 2016 after payments he received from a pro-Russian Ukrainian political party were revealed, Manafort was a central figure in the president's run for the White House.
Manafort's plea agreement was first reported Thursday evening by ABC News and confirmed by Fox News Friday morning. Last month, he was convicted on eight of 18 tax and bank fraud charges in a Virginia federal court last month. Before Manafort's plea, another trial was set to take place in Washington, D.C., where he faced illegal foreign lobbying and witness-tampering charges.
Trump hired Manafort in March 2016 to lead the delegate effort ahead of the Republican National Convention, and less than a month later he was elevated to campaign chair. Manafort was volunteering and thus was not paid.
Given his key role in Trump's campaign, here are the key matters Manafort could provide further information about to Mueller.
Changes Tune on Ukraine
In the Virginia federal court, most of Mueller's charges against Manafort stemmed from the millions of dollars he earned while working in Ukraine. It has been pointed out that Trump had initially supported Ukraine's independence from Russia in September 2015, as well as in 2014. But in August 2016, well after Manafort was part of the campaign, Trump appeared to shift his opinion.
"The people of Crimea, from what I've heard, would rather be with Russia than where they were," Trump said about the region that Russia annexed in 2014.
Trump's change of tune, and whether it could be attributed to Manafort, could be an area Mueller may want to explore.
Trump Tower Meeting
Along with Donald Trump Jr. and White House senior adviser and son-in-law Jared Kushner, Manafort was the third member of the president's campaign to meet on June 9, 2016, with a Kremlin-linked lawyer who claimed to have "dirt" on Hillary Clinton.
Both Trump Jr. and Kushner were largely inexperienced within the political world, but Manafort had been a seasoned political operative in Washington and Eastern Europe for decades. He likely had enough savvy to understand the implications, or at least appearance, of meeting with a foreign person for help in winning a U.S. election.
Before the meeting was set up, Trump Jr. received an email from a British publicist on June 3, 2016. The publicist, Rob Goldstone, made clear that the Russian lawyer was offering information about Clinton, to which Trump Jr. responded, "I love it."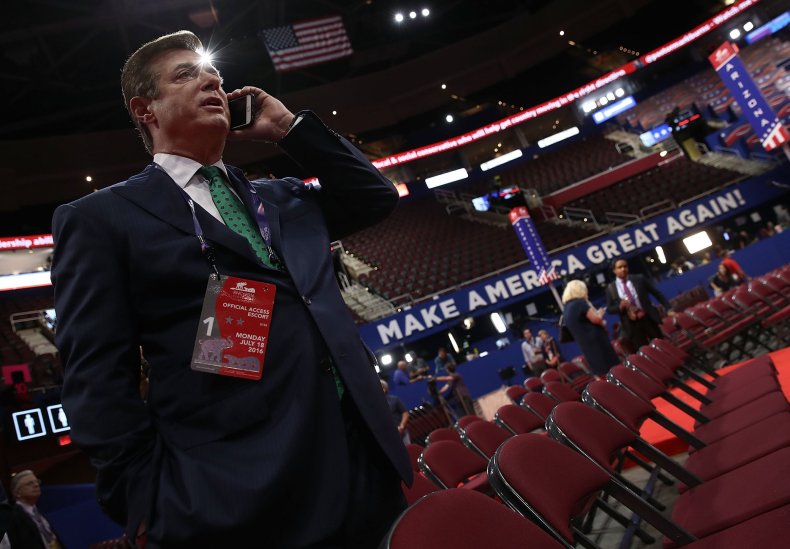 Trump Asks Russia to Find Clinton Emails
At a campaign event on July 27, 2016, Trump called out to Russia to find Clinton's missing emails and suggested the media would find it very rewarding if the emails came to light. Trump's comments at that time have long been scrutinized for indicating possible knowledge of the Tower meeting before it took place, but the president has staunchly denied knowing about the meeting.
It's possible Manafort, as the campaign chairman, knew more about the context surrounding Trump's comments about Russia and the emails.
Other Campaign Officials
A little over a week before Manafort joined up, Trump named George Papadopoulos and Carter Page as foreign policy advisers to his campaign. Papadopoulos, who has reached his own plea deal with Mueller, is alleged to have told an Australian diplomat that he learned about Russia possibly having Clinton's emails. The diplomat alerted U.S. officials, and that's what sparked the FBI's probe of the Trump campaign in May 2016.
According to Foreign Intelligence Surveillance Act court warrants released to the public earlier this year, Page and his possible links with Russia had been on the FBI's radar as far back as 2013. The FBI was allowed to surveil Page after the FISA court approved the warrants in 2016 and 2017.
Again, Manafort's role as the head of the campaign, and what he potentially knew about what Papadopoulos and Page may have been up to, could be important to Mueller's investigation.
The same could be said for Manafort's longtime business associate Rick Gates, who has pleaded guilty to lying to the FBI and stayed on the Trump campaign after Manafort had left.
This story has been updated to include that Manafort has pleaded guilty and made a cooperation agreement with the special counsel.