Paul Manafort Trial: All the Charges Facing Trump's Former Campaign Chairman
Jury selection begins for President Donald Trump's former campaign chairman, Paul Manafort, in his trial Tuesday on a litany of charges from special counsel Robert Mueller's investigation.
Manafort, previously a powerful Washington lobbyist for decades, faces a 32-count indictment in the Eastern District of Virginia in Alexandria with some of the charges carrying as many as 30 years in prison.
Manafort has denied any wrongdoing. Five others have entered plea agreements with Mueller's team, including Manafort's former business and lobbying partner Rick Gates.
The trial is the very first brought by Mueller's team while Trump accuses the investigation of being a "witch hunt."
Manafort was originally out on bail, but in June was sent to jail following allegations of witness tampering.
Appearing before Judge T.S. Ellis, the trial will first begin at 9 a.m. local time with a conference. Each side is still wrangling with Ellis over what evidence can be admitted. Then, at 10 a.m., the jury selection process will start.
Here is a summary of the charges against Manafort.
Filing and Assisting in False Income Tax Returns
Manafort is facing five counts of filing false income tax returns. In total, prosecutors claim that starting in 2006 and until the present day, Manafort laundered more than $30 million and failed to report the income to the federal government. Some of the funds were generated for Manafort and Gates's work for a former president of Ukraine and his political party.
Some of the alleged ways Manafort laundered the money included the buying of expensive suits, cars and furnishings.
Failing to File to Disclose Foreign Bank Accounts
As part of the alleged tax scheme, Manafort and Gates also opened bank accounts in Cyprus, the Seychelles and the Grenadines and "hid the existence and ownership of the foreign companies and bank accounts, falsely and repeatedly reporting to their tax preparers and to the United States that they had no foreign bank accounts," according to the indictment. Mueller's team claims over $75 million went through the foreign accounts.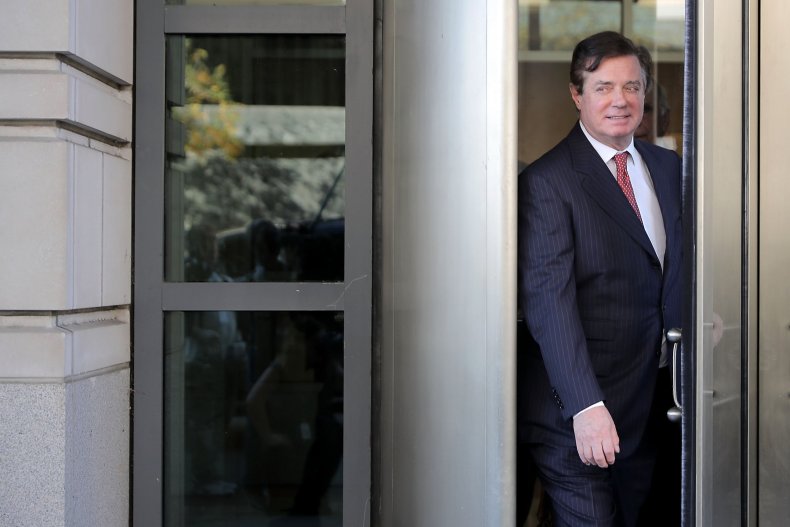 Bank Fraud and Conspiracy to Commit Bank Fraud
Manafort, with Gates's help, is also accused of buying up and improving real estate with the use of loans from banks and other financial institutions. With work in Ukraine now gone, Manafort and Gates "obtained millions of dollars in mortgages on….properties," which allowed Manafort "the benefits of liquid income without paying taxes on it," the indictment reads.
Furthermore, both Manafort and Gates are accused of lying to the banks about their amount of debt and Manafort's use of the loan funds.