Dave Bautista Places $20,000 Bounty on Individuals Who Defaced Manatee
The world was shocked this week when a manatee was discovered that appeared to have the word "Trump" carved into its body—and no one is more disgusted than Dave Bautista, who has placed a $20,000 bounty on whoever is responsible.
The former WWE wrestler took to Twitter to issue the reward, telling his followers that he will donate a large sum to finding the culprit.
The Guardians of the Galaxy condemned what he called the "low life scummy MAGATs" who may be responsible for the cruel act.
"If there's not already a reward for the arrest and conviction of the low life scummy MAGATs that did this I'll throw in $20,000," Bautista tweeted. "And I promise there will be bonuses to that reward!"
When a Twitter user suggested that the person or persons who abused the animal should earn a punch in the face from Bautista himself, he replied: "All I'm saying is that there are a lot of Floridians that don't appreciate people f***** with our manatees."
The animal was discovered in Florida's Homosassa River at the weekend after its unusual markings were identified by boat captain Hailey Warrington.
Authorities have since offered a $5,000 reward for anyone with information about who was behind the act.
A fact check from Newsweek found that "TRUMP" was not carved into the manatee's skin but written in the algae on its back.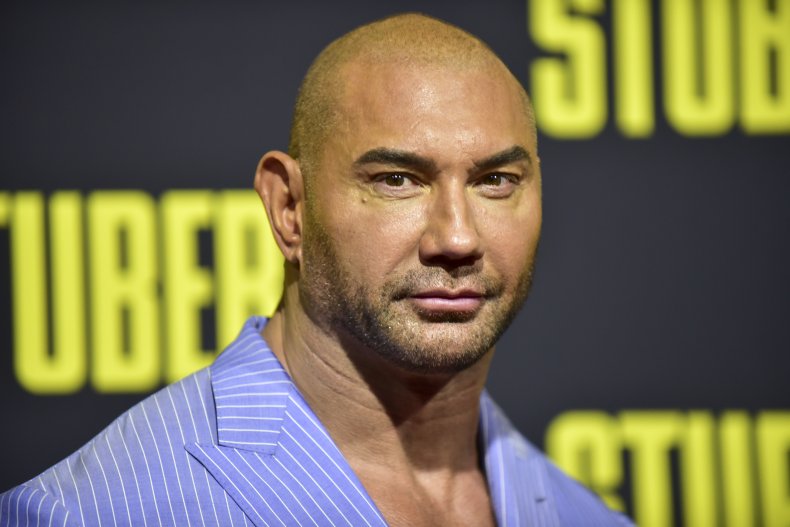 Although the animal is not seriously injured, harassment of a manatee is a state and federal crime.
Dr. Melanie McField, director of the Healthy Reefs Initiative at Smithsonian Institution, Museum of Natural History, said that the animal would have been held still for some time in order to allow the perpetrators to etch a word on its body, in what she called "bio graffiti."
"The perpetrators would have needed to hold the manatee captive for quite some time to neatly etch that word on the animal's back. It would most probably have been trying to escape this confinement," she said, adding that it was "possibly very stressful for the animal."
According to the U.S. Fish and Wildlife Service, manatees are considered a threatened species. They have an estimated population of 13,000.
The Center for Biological Diversity stated in a press release that it is offering a $5,000 reward for information regarding the incident.
"Manatees aren't billboards, and people shouldn't be messing with these sensitive and imperiled animals for any reason," Jaclyn Lopez, Florida director at the center, said in the release. "However this political graffiti was put on this manatee, it's a crime to interfere with these creatures, which are protected under multiple federal laws."
The Florida Fish and Wildlife Conservation Commission said: "Anyone convicted of violating this state law faces a possible maximum fine of $500 and/or imprisonment for up to 60 days."