Manbij Attack: U.S. Soldiers Reported Killed in Syria Suicide Bomb Claimed by ISIS
U.S. personnel are reported to be among those wounded or killed by an apparent suicide bombing claimed by the Islamic State militant group (ISIS) in northern Syria.
Footage on social media has emerged showing what appeared to be a fiery suicide blast rocking the northern Syrian city of Manbij, where U.S. troops are posted in support of the Kurdish-led Syrian Democratic Forces. ISIS soon took responsibility for the attack via its official Amaq News Agency, claiming that nine U.S. soldiers were among those killed and injured, and various outlets have offered conflicting reports.
A Defense Department source told Newsweek that four U.S. military personnel, one civilian interpreter, were killed and an additional three wounded, one of whom was in critical condition. Newsweek is withholding the names unit and branch of service of those killed until next of kin notifications are complete.
"U.S. service members were killed during an explosion while conducting a routine patrol in Syria today. We are still gathering information and will share additional details at a later time," a spokesperson for the U.S.-led coalition said via Twitter.
"The President has been fully briefed and we will continue to monitor the ongoing situation in Syria. For any specific questions please contact the Department of Defense," the White House said earlier in a statement.
U.S. Central Command later confirmed: "Two U.S. servicemembers, one Department of Defense (DoD) civilian and one contractor supporting DoD were killed and three servicemembers were injured while conducting a local engagement in Manbij, Syria, Jan. 16, 2019. Initial reports indicate an explosion caused the casualties, and the incident is under investigation."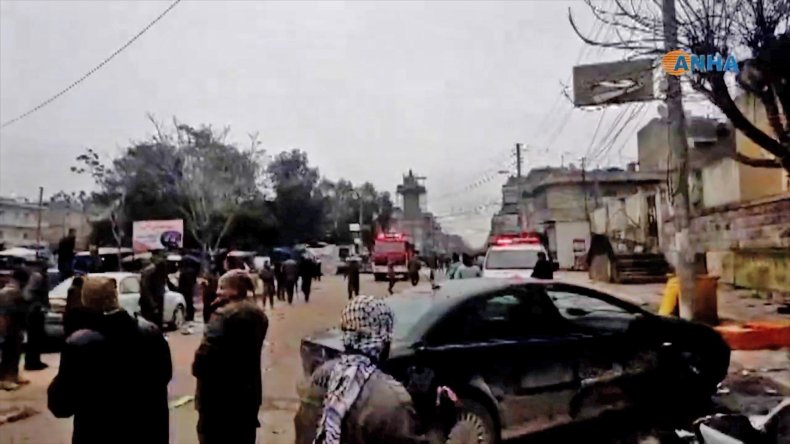 Citing local sources, Turkey's official Anadolu Agency has reported that three U.S. soldiers were injured and a yet unknown number of civilians passing by were killed. The Syrian Observatory for Human Rights, a U.K.-based monitor supportive of Syria's opposition reported that the U.S.-led coalition against ISIS was the intended target and that two of its personnel were killed, while the total number of wounded and dead had reached at least 16.
Kurdish news outlets Hawar News Agency and Rudaw both reported two U.S. servicemen killed, while an unnamed U.S. official told Reuters that four U.S. soldiers were killed and that three other U.S. troops were wounded.
Footage on social media apparently filmed in the aftermath of the attack showed U.S.-led coalition helicopters circling the scene of the deadly incident. Photos seemingly taken right after the blast showed at least two wounded or slain men in uniform. In an official statement posted by Amaq, ISIS identified the bomber as Yasin al-Shami, who targeted "a patrol of the Crusader coalition" and the Kurdistan Workers' Party (PKK) near the Qasr al-Imraa restaurant.
The U.S. has been actively battling ISIS in Syria since 2014, when the jihadis took over half of the country, along with neighboring Iraq. Two separate campaigns backed by the U.S.-led coalition and the Syrian government, an ally of Russia and Iran, have helped to largely eradicate the group's presence, which is mostly limited to Syria's far east, but militant cells are believed to remain and have targeted Manbij in the past.
With ISIS's standing army decimated, President Donald Trump ordered a withdrawal of U.S. troops in Syria. The exit has reportedly begun, though conflicting reports have emerged as to the length and scope of the pullout. The Syrian government and its Russian and Iranian allies have deemed U.S. intervention illegitimate because it was not coordinated with Syrian President Bashar al-Assad, whom the U.S. has accused of war crimes and attempted to overthrow via its support for opposition forces in the wake of 2011 rebel and jihadi uprising.
Manbij has changed hands many times since Syria's civil war broke out. It was first seized by insurgents in 2012, only to be overrun by ISIS a year and a half later and, finally, taken by the Syrian Democratic Forces in August 2014. The city sits in between three rival axes of geopolitical strength in Syria—the Syrian Democratic Forces, the Syrian government and Syrian rebels sponsored by Turkey.
Turkey considers certain Kurdish groups, such as the People's Protection Units (YPG) of the Syrian Democratic Forces, to be terrorist organizations akin to ISIS due to their alleged links to separatist insurgents of the PKK at home and has threatened a new offensive against them. Though the U.S. has begun negotiating the protection of allied Kurdish fighters, the Syrian Democratic Forces have handed over positions in southern Manbij to Syrian troops and Russian military police in hopes of avoiding a Turkish incursion.
James LaPorta contributed to this report.
This is a developing story and will be updated as more information becomes available.