How to Help Children Understand and Cope With the Manchester Attack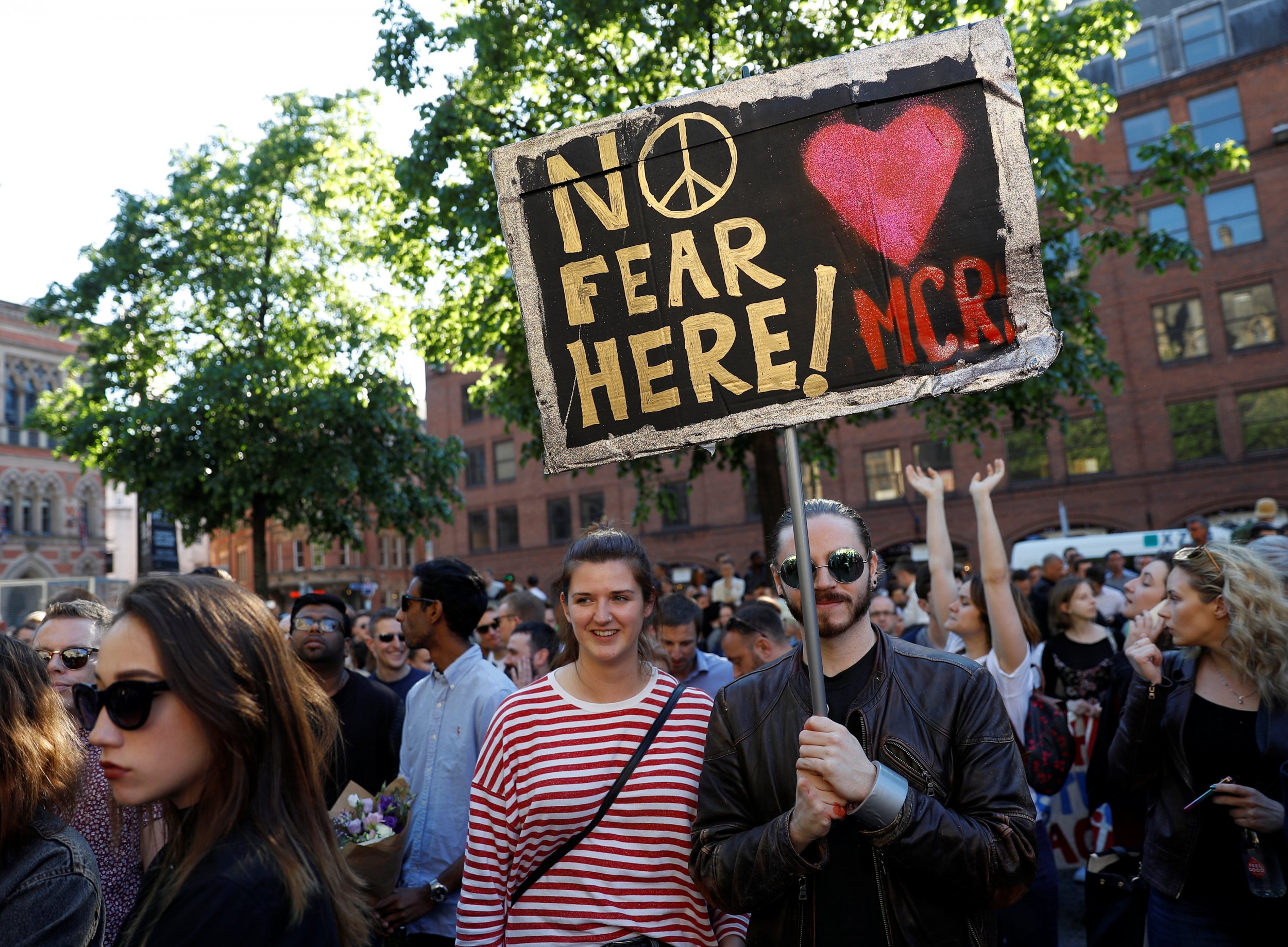 As details continue to emerge about the deadly attack at a concert in Manchester on Monday night, one thing is clear: There were a lot of children present with their friends and parents.
Around a dozen children are among the 22 people confirmed dead after Monday's attack at the Manchester Arena. A suicide bomber detonated a bomb packed with nails and shrapnel in the foyer of the arena, shortly after the end of an Ariana Grande concert. Devastating videos and photos from the scene show panicked children running out of the arena after the bomb exploded.
As with any violent incident, adults must now find a way to try and explain to their children what happened. But this attack is particularly sinister because of the sheer number of children involved. Many children and teenagers remain missing and are among the more than 120 people injured, including Laura MacIntyre, 15, and Eilidh MacLeod, 14, according to reports. Three victims have so far been confirmed dead, including an 8-year-old girl.
"We need to make sure we think about this from a developmental perspective. School-aged children and teenagers will react to these events differently than adults," Melissa Brymer, director of terrorism and disaster programs at the UCLA-Duke National Center for Child Traumatic Stress, tells Newsweek.
"With school-aged kids we may see them clinging to parents more, they might be fearful of separation, they might have difficulty sleeping. They may be fearful that something can happen in their everyday life," Brymer adds. "We need to soothe and comfort kids that someone's not coming to their home and coming to their school."
Adolescents, Brymer says, are more independent and will likely be "frustrated when their parents want them to stay close to home. We have to help parents and adolescents to let them see that this change might be temporary. How can they check in more often?"
Related: Muslims in Manchester fear reprisals after Manchester attack
Stephen Brock, a crisis expert at National Association of School Psychologists, says right now it's crucial for parents and adults "to present as being available, willing and able to talk about" the attack.
"We need to appreciate that especially with younger children, how we behave, how we respond to the event will have a lot to do with how threatening they perceive the event to be," says Brock.
Both Brymer and Brock say that now and in the days immediately after the attack, parents should monitor their children's use of social media. The incident will resonate with children and young people around the world, but particularly in the U.S., where Grande is enormously popular. Grande's young fans who follow her on social media, and want to be kept up-to-date, could end up seeing distressing images and videos from the attack. It's best to keep that exposure to a minimum, says Brock.
"There is a relationship between the amount of media individuals consume and their anxiety and stress levels following events like this," he says. "That's independent of knowing someone involved in the event."
It's also possible that "after these types of events, there will be individuals that will start posting that this didn't really happen," says Brymer, which can cause anger and confusion. "Those kinds of stories are difficult for adolescents to understand and to navigate."
Resources for Children
The National Society for the Prevention of Cruelty to Children, the main child protection agency in the U.K., published guidelines on Tuesday for parents on how to talk to their children about terrorism. In addition to offering reassurance and comfort, parents should avoid frightening and complicated explanations of what happened. Parents of children who might feel targeted because of their faith or appearance should also look for signs of bullying and alert the school if they are worried, according to the NSPCC.
In the past few years, news organizations also have stepped in to provide resources for children, in order to explain distressing news in a sensitive way. Le P'tit Libé, a child-friendly version of the French Libération newspaper, has a special online edition explaining the Manchester attack. Without going into too much detail, the document helps children understand what happened in the city. It mentions Ariana Grande and says she "was very sad, like many people all over the world" about the bombing. Le P'tit Libé also published explanations of the Zika virus, the 2016 Olympics and the French presidential election.
BBC Newsround, a news program for children, published a video that explains how it's "totally normal to feel upset and worried" after an event like the Manchester attack. The video emphasizes that such events are rare, and says children should speak about their feelings to an adult they trust.
Newsround also interviewed schoolchildren in Manchester about how they're coping and how they felt when they heard the news. One young girl said: "If they're trying to scare us, we should show them that we're not scared and we shouldn't let them."
Once the initial shock subsides, adults should prepare and help their children to think about reminders of the attack. Such triggers could be smells, sights or sounds, says Brymer; she points to screams at a theme park, caused by excitement from a rollercoaster, as an example. The feeling of being trapped could also be a reminder from the event.
"Those reminders make us feel like we're back at the incident, when it's just our bodies reacting," she says.