Manchester Bombing Victims Identified: Names, Ages and Everything We Know About What Happened at the Ariana Grande Concert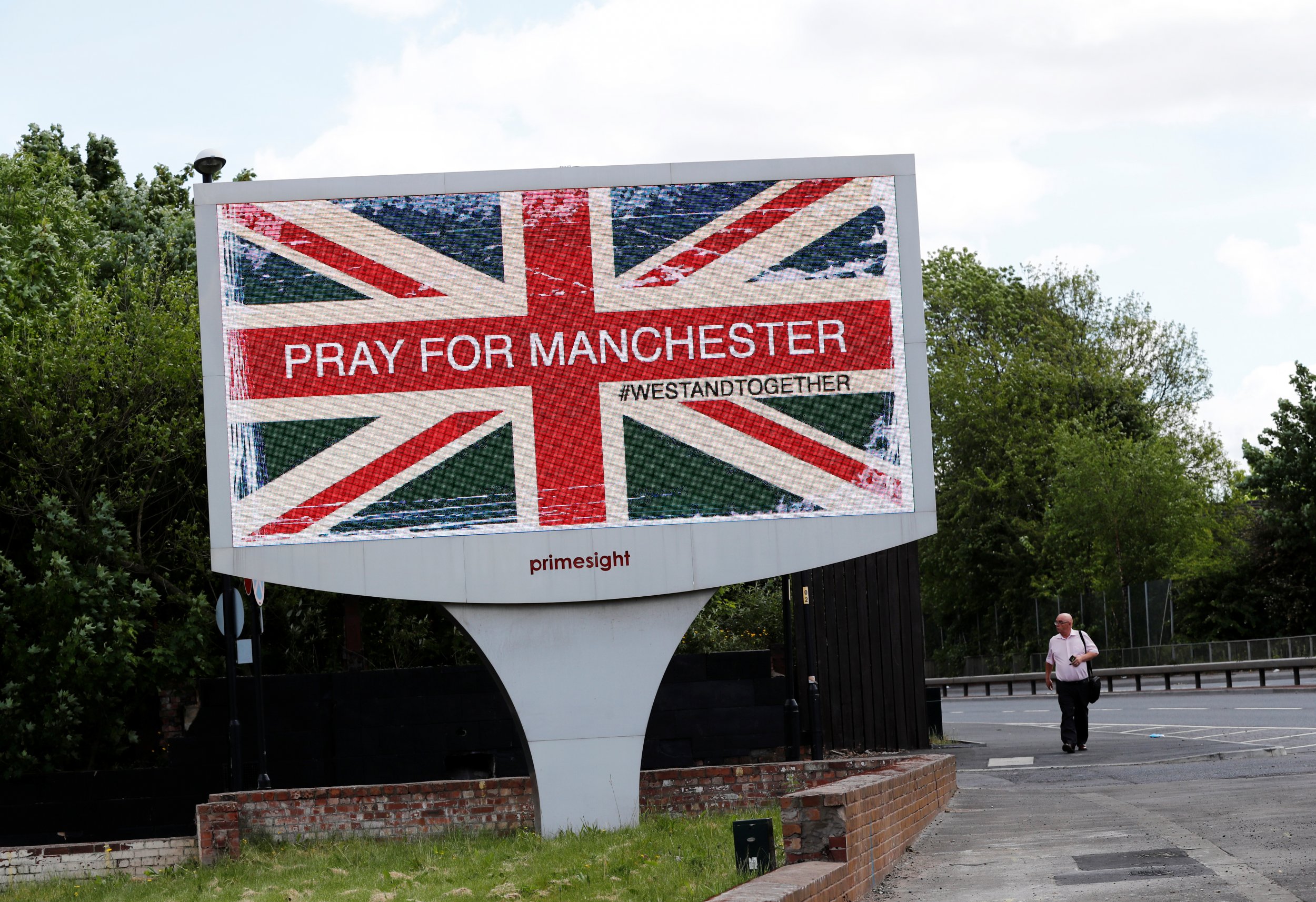 Updated | An 8-year-old girl was among the 22 people killed after a bombing attack at an Ariana Grande concert Monday night in Manchester, England. More than a dozen victims had been identified in the press as of Wednesday afternoon.
Their identification confirmed some of the fears circulating on the internet in the wake of the attack. Grande is an American pop star who got her start on the Nickelodeon show Victorious, meaning many of the crowd members at the Manchester Arena on Monday were young and female.
The first victim to be publicly named Tuesday was Georgina Callander, 18, a student at Runshaw College in England. School officials released a statement on Facebook Tuesday confirming her death.
"It is with enormous sadness that it appears that one of the people who lost their lives in Monday's Manchester attack was one of our students here at Runshaw College," the statement read. "Georgina Callander was a former Bishop Rawstorne pupil studying with us on the second year of her Health and Social Care course. Our deepest sympathies, thoughts and prayers go out to all of Georgina's friends, family and all of those affected by this loss."
Callander was a big fan of Grande's, according to The Guardian. She'd met the singer at least once before, writing on Instagram afterward that she'd "hugged her so tight." A Twitter account rumored to belong to Callander tweeted to Grande on Sunday, saying "SO EXCITED TO SEE U TOMORROW," The Huffington Postreported.
A GoFundMe page was set up by YouTuber Luke Cutforth to help her family with funeral costs. It had raised more than $3,600 so far.
The second victim of the Manchester explosion was Saffie Rose Roussos, 8. She attended Monday's show with her mom and sister, both of whom remain in the hospital, The Guardian reported. Tarleton Community Primary School's head teacher, Chris Upton, released a statement calling her death "appalling." He said she was quiet and creative.
"The thought that anyone could go out to a concert and not come home is heartbreaking," Upton wrote, according to The Telegraph. "Saffie was simply a beautiful little girl in every aspect of the word. She was loved by everyone, and her warmth and kindness will be remembered fondly."
John Atkinson, 26, was named as the third victim of Monday's attack by the Manchester Evening News. Family members and friends posted tributes to him on social media. Further details were not immediately available, though a GoFundMe page was quickly established in Atkinson's memory.
Local politician Ivan Lewis tweeted that his thoughts and prayers were with Atkinson's loved ones. "Our Radcliffe community will do all we can to support John's family," he added.
On Wednesday, family members of 15-year-old Olivia Campbell confirmed she was a victim of the attack. Her mother, Charlotte Campbell, had spent Monday night begging in interviews and on social media for any information about her missing daughter, who went to the Grande concert for a friend's birthday.
Olivia, a music fan, called her mom just before Grande's portion of the show began. "She thanked me and said she loved me," Campbell told CNN. "And that was the last I heard from her."
Kelly Brewster, a 32-year-old insurance worker from Sheffield, also died as a result of Monday's bombing. She'd gone to the Grande show with her sister and young niece, and her uncle Paul Dryhurst told BBC News Brewster died after shielding the girl from the explosion.
"Kelly really was the happiest she has ever been, and we had so many things planned together," Brewster's partner, Ian Winslow, said on Facebook. "My daughter Phoebe will be absolutely devastated, like we all are."
The Independent reported that Michelle Kiss, a 45-year-old mom from Lancashire, died as a result of the Monday bombing. She was married to a man named Tony and had three children: Dylan, Elliot and Millie.
"Family was her life, and we are all obviously devastated by her loss. She has been taken away from us, and all that love her, in the most traumatic way imaginable," her family said in a statement to the Press Association. "We hope to draw from the courage and strength she showed in her life to get through this extremely difficult time."
Holmes Chapel Comprehensive School confirmed Nell Jones, a 14-year-old from Cheshire, was killed, as well. "Nell's family have been searching for her since the incident in the hope that they would find her being cared for in hospital. Unfortunately, the police have now confirmed that Nell died at the scene," head teacher Denis Oliver told BBC News in a statement.
Nell was a popular, positive person, and her peers feel "like they have lost a sister, not a classmate," as tutor David Wheeler told the Knutsford Guardian.
Jane Tweddle-Taylor, a school receptionist, was retrieving a concert-goer from the arena Monday when she was hit by the blast, the Associated Press reported. The 51-year-old worked at South Shore Academy.
"We have received numerous messages of condolences from parents, students, community members and colleagues across Blackpool for which we are very grateful. All of them say the same things about our lovely Jane—bubbly, kind, welcoming, funny, generous—the list goes on," South Shore Academy's principal, Jane Bailey, told BBC News. "Our thoughts are also with her family at this dreadful time and in particular her three daughters. In our school family and theirs she is irreplaceable, much loved and will never be forgotten."
Also fatally wounded Monday night were Angelika Klis and Marcin Klis, a married Polish couple, according to BuzzFeed. They were picking up their daughters after the Grande show, as foreign minister Witold Waszczykowski told Polish media Wednesday.
"The children are safe," he said. "We are appealing to Poles living in Manchester to take extra care and follow the advice of local authorities."
Marcin Klis was 42, and Angelika Klis was 40, the Telegraph reported.
Martyn Hett, a 29-year-old public relations representative and YouTube star who regularly appeared on TV, was identified as a victim of the attack on Wednesday. His partner, Russell Hayward, tweeted about the loss, remembering the "wonderful, iconic and beautiful Martyn."
"He left the world exactly how he lived, center of attention," Hayward wrote. "I'm in a really bad way so please forgive if I don't reply. Thankfully I have his wonderful and amazing friends to keep each other strong. I love you Martyn. I always will."
Relatives of Lisa Lees, 47, and Alison Howe, 45, announced on Facebook the two moms had died. The friends, both from Oldham, were at the concert to collect their children,the Mirror reported.
Lees' brother wrote that she may be gone, but she'll be "never ever forgotten," adding, "I love you Lisa I'll miss you so much." Howe's stepson mourned the loss of "a caring, beautiful mum and step mother," saying "she was amazing to us all."
This is a breaking news story. Check back for updates.