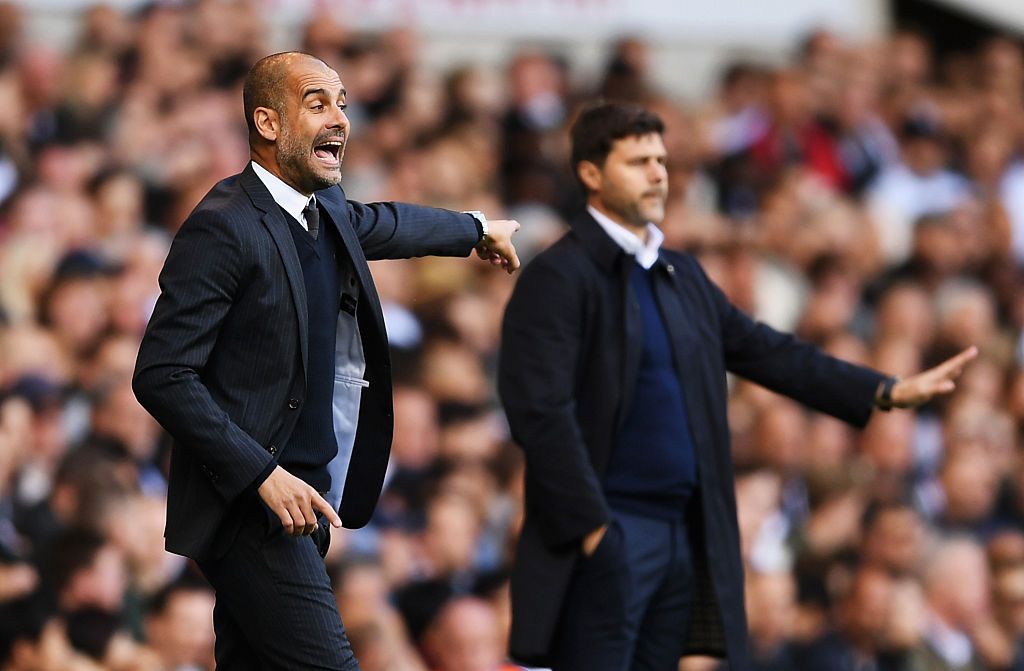 When Mauricio Pochettino stands alongside Pep Guardiola at the Etihad Stadium on Saturday, it will be little over 14 months since the two coaches met for the first time in the Premier League. This time, the pressure is different on both.
As it did in October 2016, Manchester City will take on Tottenham on the back of a mammoth winning run that has taken Guardiola's team to the top of the Premier League. He is, even more than back then, seen as a revolutionary in English football, forming an unstoppable force at the Etihad Stadium.
Yet last year predictions of a wipeout were wrong, as Pochettino produced a tactical masterclass that saw Spurs become the first team to stop City from scoring and, more importantly, the first to win against it. That game set off a run of five without a win for City, which allowed Chelsea the chance to take top spot in the Premier League, a position it stayed in until the end of the season.
But, back then, City's lead at the top of the table was only four points. Tottenham's victory at White Hart Lane saw Pochettino's team go just one point behind City and increased the pressure on Guardiola in his first few months in charge.
This time, Guardiola is settled in at the Etihad. He has now brought in the tools that make the title win look an inevitability, even in the middle of December. In contrast to last season, City is already 18 points ahead of Spurs after just 16 games. City's victory at Old Trafford in Sunday's Manchester derby also opened up an 11-point lead over second-place Manchester United.
Spurs, meanwhile, has been beaten by its closest rivals so far this season. Chelsea, Arsenal and Manchester United have all won against Pochettino's team, while it has also dropped points against Burnley, Swansea and Leicester City. Dreams of lifting the Premier League title will have to wait another year for Pochettino—or, possibly, until Guardiola decides to take on another project.
The pressure on Pochettino is mounting, however, as his team is sixth in the table, dead last in the mini table between the top teams. Only seven points separate Spurs and United but Pochettino can't risk being cut adrift. The need for points is already desperate.
Fortunately for Pochettino, Tottenham has hit a bump in form. After going three Premier League games without a victory, Saturday's 5-1 thumping of Stoke City followed a 3-0 win over Apoel Nicosia in the Champions League.
With the prolific Harry Kane in his squad, Pochettino has a flicker of hope to put an end to City's record-breaking winning run in the Premier League. But it tends to be Guardiola's light that shines brightest this season.
Uncommon Knowledge
Newsweek is committed to challenging conventional wisdom and finding connections in the search for common ground.
Newsweek is committed to challenging conventional wisdom and finding connections in the search for common ground.