Watford Defeats Manchester United, 3-1: Jose Mourinho Suffers Third Straight Defeat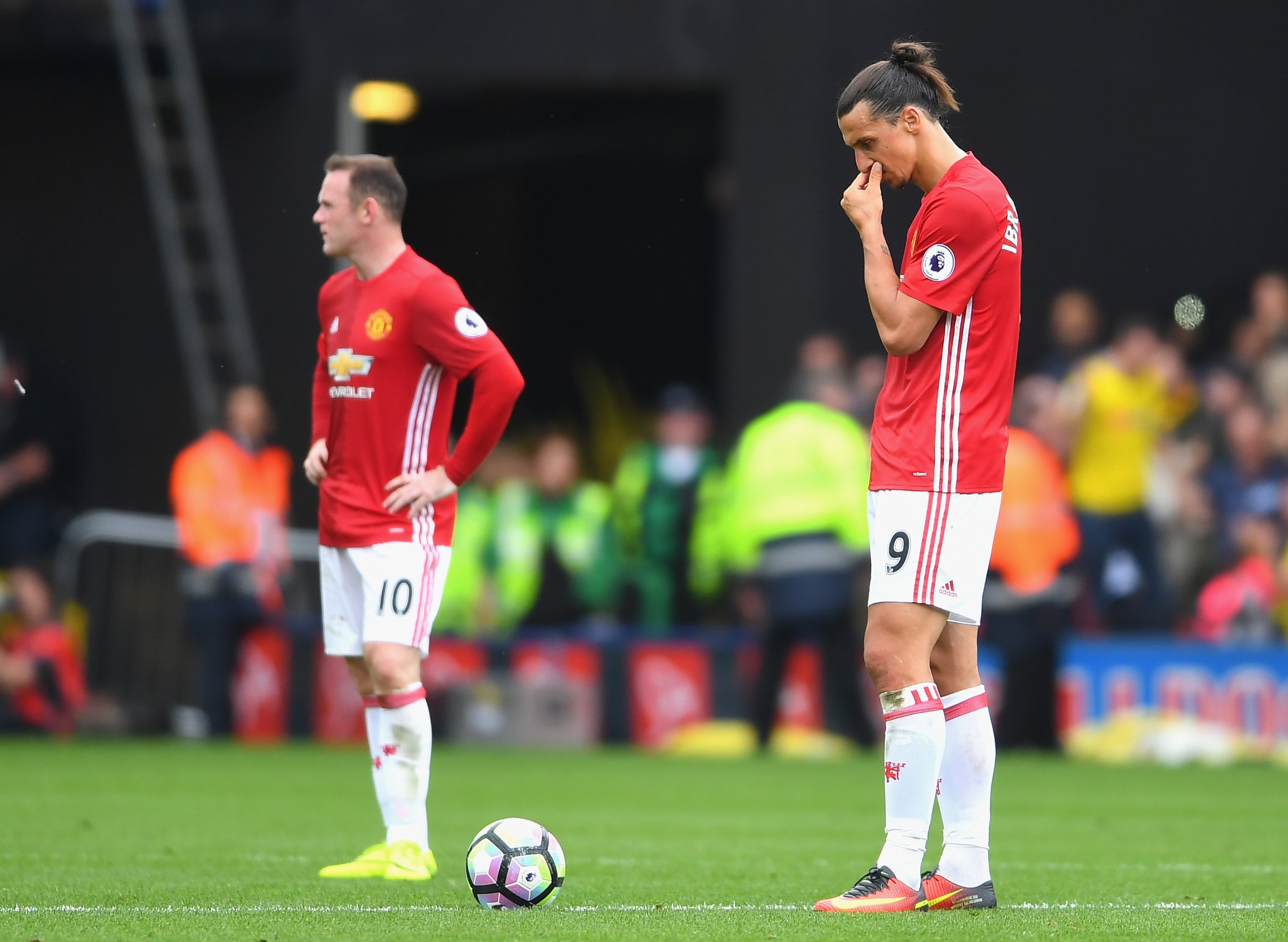 This was not the way Jose Mourinho imagined the start of his Manchester United career.
After a perfect opening to the season, United has hit the buffers, with three straight defeats including two in the Premier League.
The latest defeat came against Watford at Vicarage Road on Sunday as United slipped to a 3-1 reverse.
Mourinho's Change of Formation Doesn't Work
The United manager needed a change after the team's defeat to Feyenoord in the UEFA Europa League. He retained Marcus Rashford's skittish brio in his side, played him and Anthony Martial together and United seemed to struggle even more. By the 17th minute, Watford should have been up 3-0, out of sight and on the London Overground branch to Euston. Odion Ighalo's miss was the most glaring. Faced with an open goal, the Nigerian skewed wide.
At times, Mourinho seemed to be playing a 4-2-4 formation, with Anthony Martial, Wayne Rooney and Marcus Rashford all pushed on ahead of Zlatan Ibrahimovic. That creates excitement in the attack, although not as much as Mourinho would like. The problem is, and was, when Watford broke forward, as he did for the first goal. Martial, the victim of an earlier head injury, lost possession, and Etienne Capoue finished crisply.
With Paul Pogba given a free role to create, too much responsibility in stopping opposition attacks fell to Marouane Fellaini, who prefers to play further forward. Mourinho's teams are usually made from granite; United looks like porous sandstone at the moment. They could not hold onto what they had. Worse, they let Watford regain the initiative, as substitute Camilo Zuniga came in to score a fine winning goal.
Pogba's Role Remains Unclear
In his first five games, Pogba, the French midfielder has produced explosive moments, but shown little consistency. In the second half, he wrapped a trailing leg around a Watford attacker to retain possession, before embarking on a mazy run. The challenge for Pogba, and his manager, is to find ways for him to take over the game and show he's worth his massive contract.
Rashford's Rise Continues
In a sign of Mourinho's increasing faith in his teenager, the manager kept him on the pitch after a poor first half. That proved to be savvy move as the 18-year-old exchanged a one-two with Ibrahimovic before collecting a loose ball in the box and prodding home United's equalizer.
It's dangerous, of course, to become too misty-eyed over youth. Better, when it comes to a young English talent, to retain the stiff upper lip of Ishiguro's Mr. Stevens. But is it hard not to feel some kind of delight when Rashford runs at a defense.
Manchester City So Far Out in Front
It was evident in the Manchester derby a week ago and it is clear when the two sides are kept apart: Pep Guardiola inherited a Manchester City squad that needed only a few, expensive tweaks. Mourinho took over Louis Van Gaal's team, spent a summer ripping it up and building it back again, and that shows on the pitch.
City is supremely slick, and Kevin de Bruyne is the early candidate for player of the season. United still looks lost, unsure of the style its manager wants it to play. Six points is the gap in the English Premier League title race between City and United. In reality, the gulf in class is much wider.
Mazzarri Continues Watford's Slick Project
The departure of Quique Sanchez Flores might have led to pain for Watford this season. Instead, new manager Walter Mazzarri, an old foe of Mourinho from their time in Italy, has made the club into a more impressive outfit.
Mazzarri's fullbacks, Janmaat and Jose Holebas, were excellent throughout, while Capoue and Valon Behrami dominated the midfield. Up front, Troy Deeney and Ighalo continue to show the value of a settled strike partnership. After another summer of upheaval in the playing staff and coaching, Watford should be just fine this season.