Manchester City vs. Manchester United: Can Jose Mourinho Take Advantage of European Distractions and Delay Pep Guardiola's Coronation?
For any Manchester City fan, the prospect of wrapping up the Premier League title at home against their bitter rivals is a tasty prospect. Could there be a better way?
It would not top the triumph of 2012, those few seconds that saw Manchester United grasping for the Premier League trophy only to see it snatched away through Sergio Aguero's last-minute winner against QPR. But it would come mighty close.
The noisy neighbors, with their aesthetically-pleasing, dominating style of football are just waiting to be crowned champions, and the fixture schedule happens to bring United to the Etihad Stadium at the first possibility. Yet Pep Guardiola is willing to wait.
He has said he wants to secure the title as early as possible, but he won't do so at the expense of the greater good. Guardiola understands the fans' desires. "I am a Barcelona fan," he said Saturday (March 31) after beating Everton 3-1 at Goodison Park.
"I grew up there. My heart is always there but now I am part of this club and I love to work here. So of course I want to win against United at home. But I am sorry. Like a manager now, Liverpool will occupy all my head."
The United game is sandwiched in between the two legs of City's Champions League quarterfinal against Liverpool. They travel to Anfield on Wednesday and host Liverpool on April 10.
To still be in the Champions League when the semifinal first leg takes place in the last week of April would be worth sacrificing victory against United, in Guardiola's eyes. He is willing to wait one more week.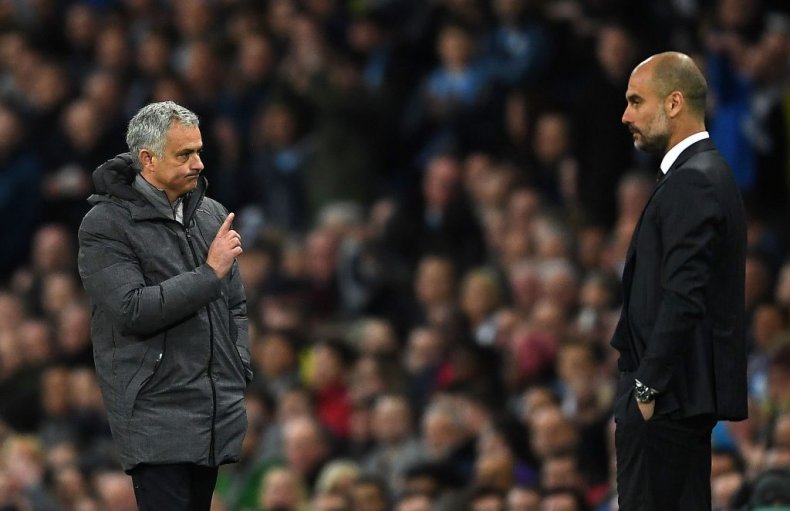 Guardiola knows the threat Liverpool possesses. He knows that their three-pronged attack could skewer them, and end his European title hopes. Barring a demolition job on Merseyside this week, he is unlikely to field his strongest team on Saturday.
Sure, it will still be impressive. It will still be capable of winning. But Guardiola is unlikely to risk playing Vincent Kompany three times in less than a week. Sergio Aguero, recovering from injury, surely can't play 270 minutes of football in six days. And will Guardiola be willing to chance both Kevin de Bruyne and David Silva?
For United and Jose Mourinho, it opens up an opportunity. Victory would, at the very least, give Mourinho something to point to, the smallest of consolation prizes for the wounded United fans to grasp.
Mourinho's men are ending the season strongly. They will be hurt to watch the semifinals this week knowing they should have beaten Sevilla in the last 16, but they are recovering. Mourinho's team have won their last five league games, including victories over Liverpool and Chelsea.
Although only two points separate them from Liverpool, United look set to consolidate the second-place position. They are in the semifinal of the FA Cup, preparing to face Tottenham at Wembley on April 21. And the team is beginning to gel.
Alexis Sanchez scored his first United goal in almost two months in the 2-0 win over Swansea on Saturday, which followed an assist for Romelu Lukaku's opener. Jesse Lingard is excelling for both club and country, providing a creative link for the team.
So the opportunity is there for City to douse United's wounds with salt and begin rubbing, but Guardiola's head will not be turned for this tie. He has his manager's head on. Liverpool and the Champions League are more important this time.