Senator Joe Manchin, a West Virginia Democrat, admitted that he has offered to become an independent after describing a report that he was threatening to leave the Democratic Party "bulls**t."
Mother Jones, citing anonymous sources, reported this week that Manchin had threatened to leave the Democratic Party if Biden and party leaders did not accept his objections to the proposed $3.5 trillion reconciliation package currently being negotiated in Congress. But Manchin rejected the report in comments to reporters at the U.S. Capitol on Wednesday, saying he has "no control over rumors."
However, he said on Thursday that he had actually offered to become an independent if he was seen as "an embarrassment" to the Democratic Party.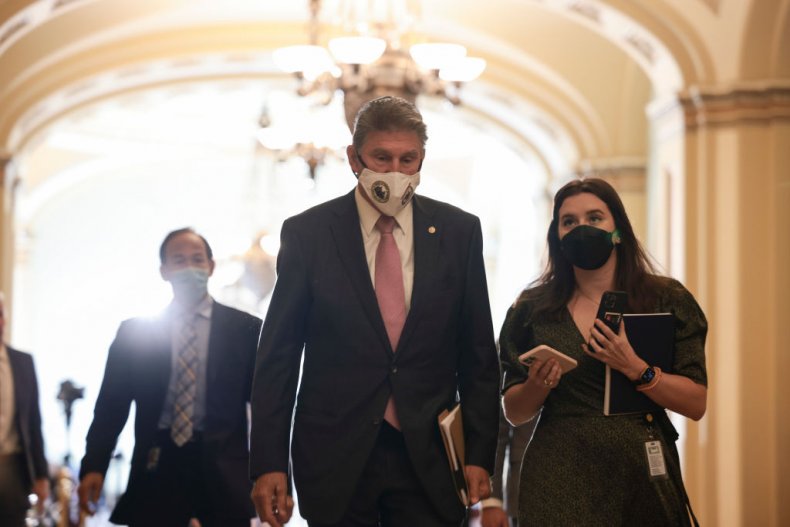 "I'll be very honest. The only thing that was ever said—that we've ever talked about if I'm an embarrassment to my, my Democratic colleagues, my caucus—the president being the leader of the Democratic Party, [Senate Majority Leader] Chuck Schumer and all of them, and I said me being a moderate centrist Democrat, if that causes you a problem let me know and I'd switch to be an independent," Manchin told Fox News producer Kelly Phares.
"But I'd still be caucusing with Democrat," he added. "That is the only connotation on it if it would have caused them a problem." Manchin went on to say that "no one accepted" his offer, but said that he put it on the table as an option.
The Senate's Democratic Caucus—which has 50 members in the evenly split legislative chamber—already has two independents. Senator Bernie Sanders, a Vermont independent, and Senator Angus King, a Maine independent, both caucus with Democrats.
Manchin's admission is still at odds with the "scoop" reported by Mother Jones. The report claimed that the West Virginia senator has said he would become an independent if Biden and Democrats leaders don't accept his "demand to cut the size of the social infrastructure bill from $3.5 trillion to $1.75 trillion." The publication also reported that Manchin "informed associates that because he is so out of sync with the Democratic Party, he believes it is likely he will leave the party by November 2022."
David Corn, Mother Jones' Washington, D.C. bureau chief who wrote the article, pushed back against Manchin's rejection of the reporting.
"Today, he called the report BS. I can tell you that the sourcing is impeccable, and he knows it! He knows what we know," Corn told MSNBC.
"He has now said it's B-U-L-L. It's actually T-R-U-E," Corn argued. "He himself has taken it off the table because if he's gonna do it now, then he would actually show that what he's saying it's bull that he was lying then. So he has been outed."
The moderate from West Virginia has been a key Democrat obstructing major aspects of Biden's and his party's agenda. Unlike the majority of Democratic lawmakers, Manchin opposes ending the Senate's legislative filibuster rule and also obstructed efforts to raise the federal minimum wage to $15 per hour earlier this year.
When it comes to the large reconciliation package—which would pass key parts of Biden's Build Back Better agenda—Manchin has expressed concern about the high price tag and opposed significant provisions to address climate change. The senator has pushed for a smaller package totaling about $1.75 trillion while Biden has suggested he would compromise with a package of about $2 trillion.
Progressives have strongly criticized Manchin's opposition, particularly to the climate change proposals. They have pointed to the senator's approximately $500,000 in profits from a coal brokerage he founded in 1998. Although his son now manages the business, Manchin reportedly owns a stake worth up to $5 million in the company.
Manchin has pushed back against the criticism, arguing that he is looking out for the best interest of his constituents. Coal and natural gas, which would be impacted significantly by the climate change provisions, are key industries in West Virginia. The Democratic senator has also raised concerns about inflation, arguing that massive social spending could exacerbate the ongoing problem.
Newsweek reached out to the White House for comment.