Joe Manchin is a Never-Ending Nightmare for the Democratic Party
Democrats have reacted angrily to Senator Joe Manchin's reported refusal to back his party's spending plans to tackle climate change.
The West Virginia lawmaker told his party leaders on Thursday that he would not support a spending package with either climate provisions or raising taxes on wealthy Americans and corporations to finance the legislation, The Washington Post reported.
After rejecting last December his party's $2 trillion Build Back Better (BBB) package which included environmental provisions, Manchin had been at the negotiating table with Senate Majority Leader Charles Schumer, a New York Democrat, and a bipartisan group of senators.
The talks aimed to get the support of Manchin, who effectively wields veto power in the 50-50 split upper house, as the legislation requires the backing of every senator who caucuses with the Democrats to bypass a filibuster and pass with a simple majority.
But Manchin said he would only support a package that would include a plan to lower the cost of prescription drugs and extend expanded Affordable Care Act (ACA) subsidies, but not the climate provisions, according to the Post.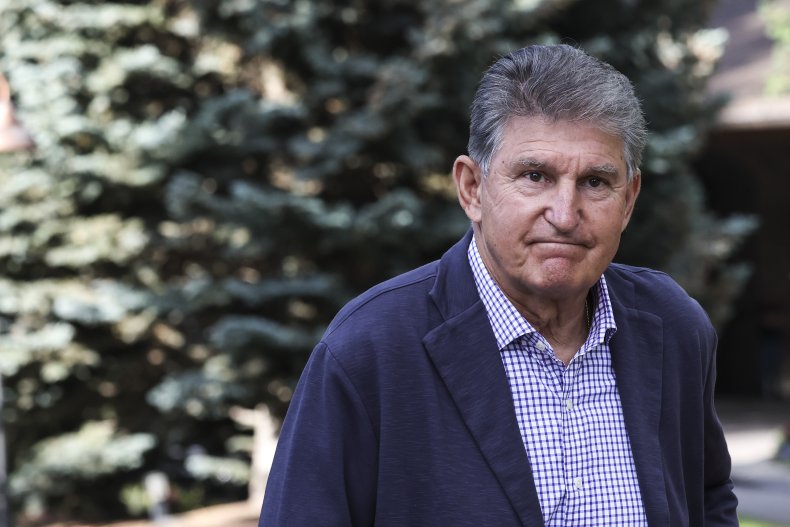 It has spurred prominent Democrats and environmental groups to condemn Manchin following his latest move to oppose the agenda of President Joe Biden.
Representative Cori Bush, a Missouri Democrat, tweeted that the conservative-leaning senator "is forcing a deal that would abandon our obligation to act urgently on climate, strengthen social services, and prevent mass suffering.
"We must organize inside and outside of Congress—together—to ensure Manchin does not get away with this outrageous, failed leadership," she added.
Former California Governor Jerry Brown tweeted that it was a "tragic day for America—and the world."
"Oblivious to science and our common future, the dinosaurs of coal and their compliant stooge, @Sen_JoeManchin, have now torpedoed an absolutely vital climate initiative. Insane and criminal."
Adviser to former Housing and Urban Development Secretary, Julian Castro, Sawyer Hackett, tweeted: "People are going to die because of this. This may be our last chance to invest in climate in a decade. Decoupling infrastructure from reconciliation was a disastrous decision."
Lori Lodes, who worked in the Obama administration, said that Manchin "has taken more money from oil and gas than any other member of Congress in the last year.
"Now, he's condemned our kids and grandkids to a worse future. Just as the oil and gas companies hoped he would."
Manchin's opposition could end any chances of new climate spending for the rest of Biden's presidential term, as it comes only four months before the 2022 midterms which could see Democrats lose their majority in one or both houses of Congress.
Oregon Senator Jeff Merkley tweeted the article about Manchin's stance, adding that Biden "must immediately use the full scope of his executive powers to address climate chaos, starting by declaring a climate emergency."
Meanwhile, Manish Bapna, president and CEO of the Natural Resources Defense Council (NRDC) Action Fund, said that the Senate failed "because Joe Manchin and the Republicans blocked Senate action" and that "the consequences will be profound— at home and abroad."
"This was a squandered chance to respond with strategic investment to confront the climate crisis in a way that would strengthen the economy, create a more equitable society and make the country more secure."
Senator for Massachusetts Ed Markey tweeted: "Rage keeps me from tears. Resolve keeps me from despair. We will not allow a future of climate disaster. I believe in the power of the Green New Deal. The power of young people. I am with you. We will not give up."
Newsweek has contacted Manchin's office for comment.
It comes as Americans face soaring levels of inflation which on Wednesday rose to 9.1 percent in June, its highest level in four decades. Manchin's spokesperson Sam Runyon told the Post that the senator believed leaders must "reevaluate and adjust to the economic realities the country faces to avoid taking steps that add fuel to the inflation fire."
"Political headlines are of no value to the millions of Americans struggling to afford groceries and gas as inflation soars to 9.1 percent," Runyon added.