Manchin Opposes $150B Clean Energy Program in Biden's Spending Bill, Says Not Necessary
Senator Joe Manchin stated Monday that he will not support the $150 billion in clean energy funding that is included in President Joe Biden's $1 trillion spending bill.
The Democrat from West Virginia said on CNN that the funding is not needed because the nation is already moving away from fossil fuel dependency at a quick enough rate.
"We're already transitioning, we've transitioned [towards clean energy]," Manchin told a reporter at his Capitol Hill office.
"So the president's going to go with a full hat, the only thing they want us to do is to pay $150 billion for what is already happening," he continued.
Manchin also added that he wanted to make sure the people of West Virginia, particularly miners in the state, were protected as the country continues to pursue renewable energy options other than coal.
"Anyone that thinks they know West Virginia and what we've done and what we continue to do for this country, and that's all—I want to make sure they're respected properly," Manchin said.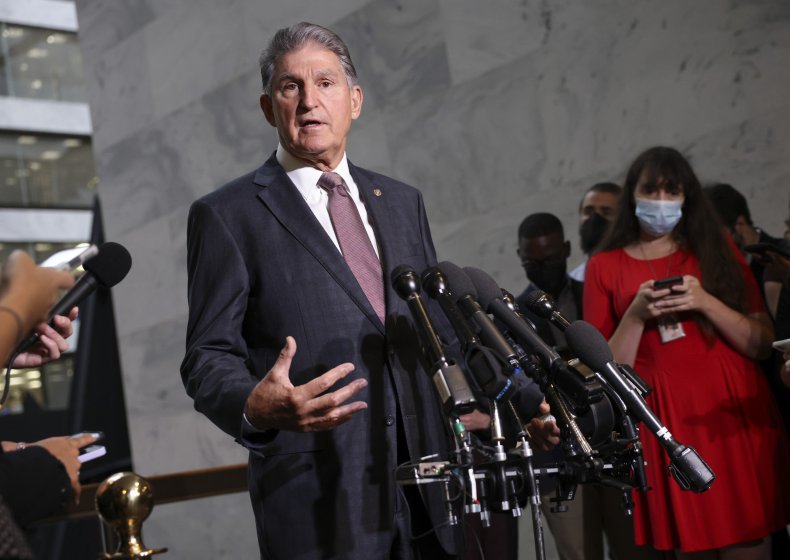 While Manchin continues to push back against the $150 billion price tag, the U.S. has joined many nations around the world shifting towards clean energy solutions.
The U.S. Energy Information Administration (EIA) stated that American fossil fuel consumption fell by nine percent in 2020, marking the lowest usage in almost three decades. Additionally, President Biden rejoined the Paris Climate Accords, an international climate change agreement, on his first day in office
Despite the United States' shift towards wind and solar energy, West Virginia continues to be among the largest producers of coal in the country. The state is second in the nation behind only Wyoming in terms of tons of coal mined, according to the EIA.
Manchin is one of two Democratic senators, along with Kyrsten Sinema of Arizona, who have garnered criticism in recent months due to their opposition to the Biden spending bill. Many Democrats in Congress are reportedly angry at the moderates for refusing to compromise on passing the spending bill, part of the president's Build Back Better agenda.
In addition to its clean energy program, the bill would include billions towards renewing infrastructure across the U.S., economic growth and the redistribution of unused COVID-19 disaster funds.
Despite the two senators holding out, Manchin told CNN that it is the other members of Congress who are causing the problem.
"There's 52 senators that don't agree, ok? And there's two that want to work something out, if possible, in the most rational, reasonable way. That's all," Manchin said.
Reuters reported Monday that President Biden was soon planning to speak to Manchin regarding the spending bill.
In regards to getting Manchin to agree with his Build Back Better agenda, the president told reporters at the White House that "we're doing that right now. That's what I'm doing."
Newsweek has reached out to Manchin's office for comment.