Joe Manchin Vows to Protect Byrd Rule as Joe Biden Defends Minimum Wage Hike
Senator Joe Manchin said on Tuesday that he would fight to protect the Byrd Rule come "hell or high water," as President Joe Biden defended the inclusion of his federal minimum wage hike in the budget reconciliation.
Speaking to CNN last night, the Democratic senator for West Virginia said he had told the president about his position "straight up" and claimed Biden was fully aware that he was first and foremost "fighting to defend" the rule, which says proposals in a budget reconciliation bill must have a direct impact on the budget.
The Senate parliamentarian Elizabeth MacDonough, a non-partisan official who advises senators on procedure, has considerable power to interpret which policies comply with the Byrd Rule. Some Democrats have made the case that increasing the federal minimum wage will have a direct effect on the budget.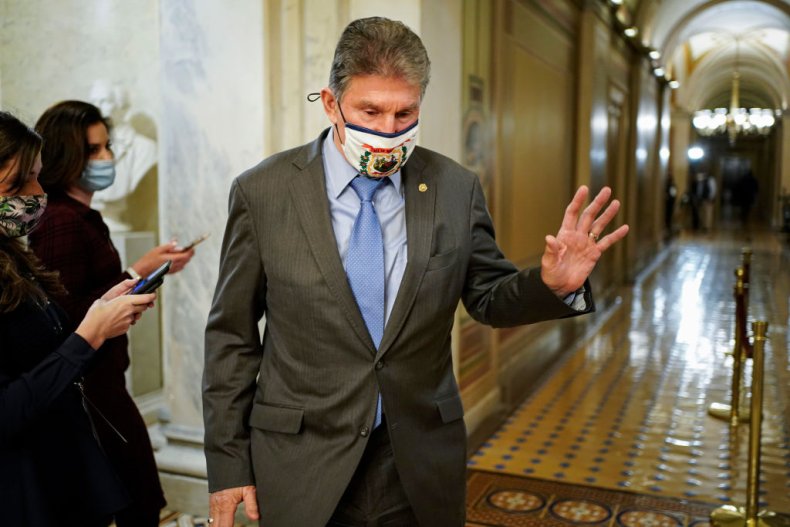 "My only vote is to protect the Byrd Rule: hell or high water," Sen. Manchin told CNN on Tuesday. "Everybody knows that. I'm fighting to defend the Byrd Rule. The president knows that."
The moderate Democratic lawmaker has previously said he will not support an increase in the minimum wage to $15 an hour, but has indicated that he could favour a more "reasonable" hike.
Senator Kyrsten Sinema of Arizona, another key vote for Democrats in the split Senate, has also raised issue with the $15 federal minimum wage in President Biden's $1.9 trillion relief bill being part of the budget reconciliation process.
"The minimum wage provision is not appropriate for the reconciliation process," Sinema told Politico earlier this month. "It is not a budget item. And it shouldn't be in there."
Although the president has previously conceded that the minimum wage hike is unlikely to make it into the final stimulus package, he defended the proposal at a CNN town hall on Tuesday night.
Asked whether he could ensure small business owners that the wage increase would benefit them, Biden said: "Here's the deal, it's about doing it gradually. We're at $7.25 an hour—no one should work 40 hours a week and live in poverty. But it's totally legitimate for small business owners to be concerned about how that changes."
The president later said the plan to increase the minimum wage gradually to $15 an hour by 2025 would mean the impact on small businesses would be "absolutely diminished" as productivity grew, but noted that this was a debatable issue.
Newsweek has contacted the White House for further comment.