Manchin Says Dems Think They Can 'Beat the Living Crap Out of People' Amid BBB Tension
Senator Joe Manchin criticized Democrats for trying to pressure him into voting for Build Back Better and denied they could successfully strong arm him into passing the social spending package.
Democrats are running out of time to pass Build Back Better before the end of the year and Manchin remains opposed to the bill, largely because of its price tag and scope. Without Manchin, the bill is likely doomed to fail in the Senate, making the West Virginia senator the target of attacks from within his own party.
On Monday, Manchin told West Virginia radio host Hoppy Kercheval that Democrats can't pressure him into voting in favor of the bill.
"They figure, surely we can move one person, we can badger and beat up one person, I'm from West Virginia, I'm not from where they're from, and think they can just beat the living crap out of people," Manchin said, according to Huffington Post reporter Igor Bobic.
Democrats are eagerly trying to pass Build Back Better by the end of the year because failing to do so would delay advanced Child Tax Credit payments from going out in January. Eligible taxpayers have been receiving monthly payments since July as an advance on their Child Tax Credit. The payments went out as part of the American Rescue Plan, a $1.9 trillion relief package passed in March, and were worth $300 for eligible children under 6 and $250 for eligible children between the ages of 6 and 17.
Those payments ended on December 15, but Democrats were hoping to make a seamless transition in 2022 with Build Back Better.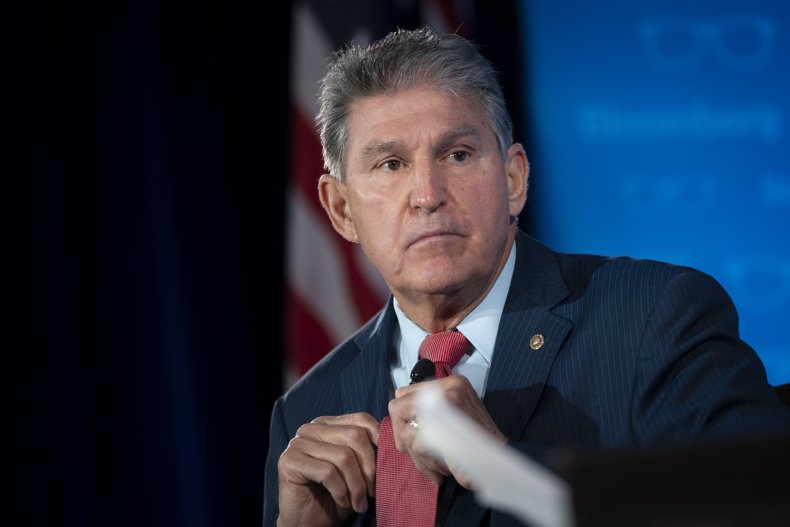 Manchin, who's repeatedly vocalized his support for the Child Tax Credit, told Kercheval that the measure needs a little more work to ensure that people who need it get it. However, it's not the Child Tax Credit that seems to be Manchin's biggest issue with the package.
The West Virginia senator has expressed major concerns about inflation and the potential for the package to impact inflation, pushing for the focus to be on the COVID-19 pandemic.
"I cannot vote to continue with this piece of legislation. I just can't. I tried everything humanly possible. I can't get there," Manchin told Fox News host Bret Baier on Sunday. "This is a no on this legislation."
Last week, President Joe Biden acknowledged that negotiations with Manchin had largely stalled and said it could be weeks before Build Back Better could be brought to the floor for a vote. Manchin criticized White House staffers for how they handled negotiations, telling Kercheval that they "put some things out that were absolutely inexcusable," according to Alayna Treene, Axios congressional reporter.
Despite Manchin being a "no" on the package, Senate Majority Leader Chuck Schumer said on Monday that the Senate will vote on a revised version of the Build Back Better Act. They will continue voting on it "until we get something done," according to Schumer.
Without Manchin, Democrats will need to garner support from at least one Republican to have the simple majority needed to pass the package through reconciliation. It's unlikely Republicans will get on board with the package, as they've been vocally opposed to it for months.