Manchin Says His Decisions Based on Rural People He Represents, Not Washington Democrats
Democratic Senator Joe Manchin is defending his opposition to his party's voting rights legislation, saying his decisions are made with his rural constituents in mind, not Washington bureaucrats.
"We've come from different areas. It's not just all urban, metropolitan areas. Those of us who come from rural areas, and there's a complete different constituency that we all serve," Manchin told CNN's Manu Raju on Thursday.
"So I think I've been more than considerate on the things that I've been, and where I can't, I've been telling them from day one: I'm not a Washington Democrat, so the base they have is a different base than I have," the West Virginia senator said.
However, a recent poll conducted by Public Policy Polling found that more West Virginia voters supported passage of the voting rights legislation than those who opposed it. Fifty percent said they backed the Democrats' legislation, compared with the 38 percent who did not.
Ben Jealous, president of the progressive advocacy group People for the American Way, said these figures dispute Manchin's claim that he's voting for the people who elected him.
"Voters in Arizona and West Virginia want their U.S. senators to pass voting rights bills and to do whatever it takes to accomplish that," Jealous said in a Wednesday statement.
"Senators go to Washington to represent the people who elected them. And it's clear that if Sens. Manchin and [Kyrsten] Sinema want to faithfully represent their constituents, they need to vote in favor of voting rights legislation and in favor of changing Senate rules if that's what's necessary," he said.
This week, Senate Democrats failed to get around the chamber's filibuster rule and pass two major voting rights bills after the measures were stymied by Manchin and Sinema, an Arizona Democrat.
The failure renewed attacks against the two Democrats, whom progressives see as roadblocks to passing key pieces of President Joe Biden's agenda.
Manchin and Sinema joined the Republicans on Wednesday in opposing the Freedom to Vote Act and the John Lewis Voting Rights Advancement Act.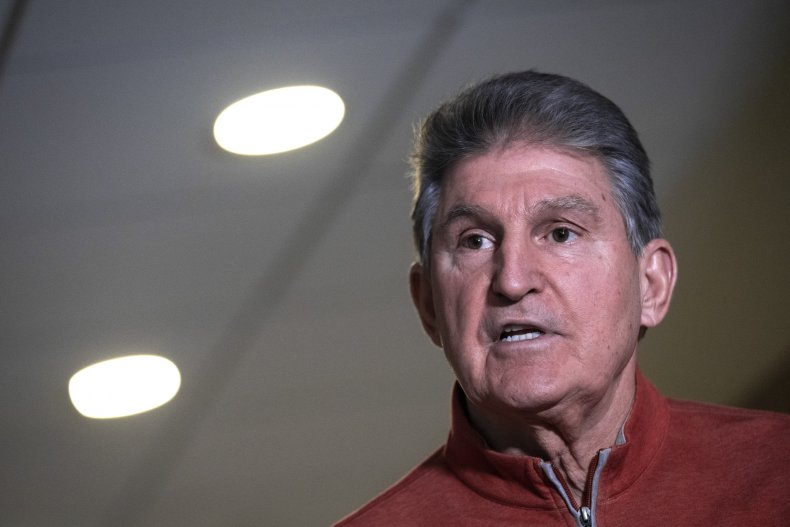 The two senators are also holding out against the Democrats' proposal to change the filibuster rule in order to get legislation through Congress.
Even Biden, who had long supported keeping the filibuster, has come around to the idea of doing away with it, but Manchin has remained steadfast in his pro-filibuster stance.
"Allowing one party to exert complete control in the Senate with only a simple majority will only pour fuel on the fire of political whiplash and dysfunction that is tearing this nation apart," the senator said Wednesday. "Contrary to what some have said, protecting the role of the minority—Democrat or Republican—has protected us from the volatile political swings that we have endured over the last 233 years."
On Thursday, Manchin said he wants to see inflation addressed before he'll work to pass "chunks" of Biden's Build Back Better bill.
"The main thing we need to do is take care of the inflation," Manchin told Raju. "Get your financial house in order. Get a tax code that works and take care of the pharmaceuticals that are gauging the people with high prices. We can fix that. We can do a lot of good things."
The senator said if the Democrats don't deal with inflation and the national debt first, "we will just be starting from scratch."