Manchin Says Spending Deal 'Should Be' Reached This Week, Sticks By $1.5T Top-Line Number
Democratic West Virginia Senator Joe Manchin has said he believes a finalized spending proposal on the Democrats' infrastructure package "should be" able to be reached this week. He has also stuck by his preferred $1.5 trillion top-line number as a final price tag for the deal.
After weeks of negotiations between Manchin, fellow moderate Democratic Arizona Senator Kyrsten Sinema, Democratic progressives and Democratic President Joe Biden, Manchin told reporters on Monday that he believed a framework on the spending package "should be" feasible this week.
The package originally included $3.5 trillion in spending proposals when it was first unveiled. However, Manchin also said on Monday that he wants the package's final cost to remain at $1.5 trillion tops, Politico reported.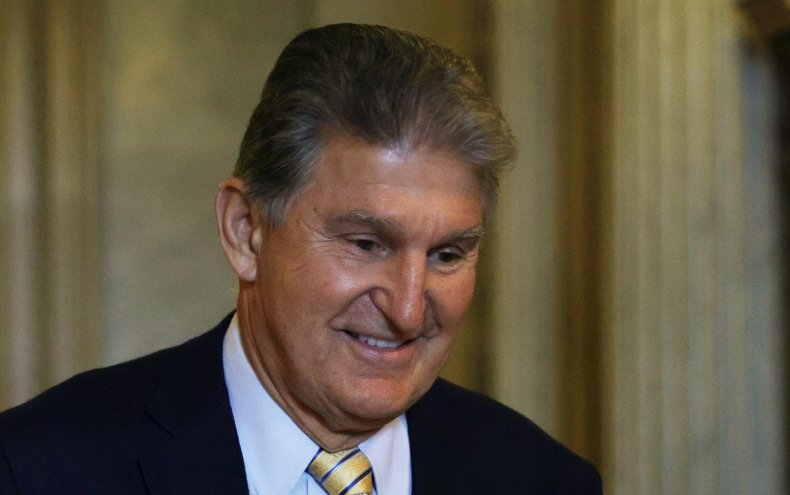 Manchin's demands for a reduced cost to the package put him in conflict with progressives like Independent Vermont Senator Bernie Sanders. Specifically, Manchin has opposed the $150 billion clean energy program that is a centerpiece of both Biden's climate agenda and the overall proposal, known as the Build Back Better plan.
The proposal's clean energy initiative seeks to replace America's coal- and gas-fired power plants with wind, solar and nuclear energy. Those replacements will likely be scaled back following Manchin's opposition.
Manchin said he wanted to ensure that coalminers and fossil fuel workers in his home state would have their livelihoods protected as the nation pursues other renewable energy resources. Manchin made $492,000 in 2020 through private shares in a coal company, his latest financial disclosures showed.
Additionally, Manchin has also reportedly objected to the proposal's expansion of a child tax credit. Manchin has insisted on adding a work requirement and cap for households earning over $60,000 a year.
Manchin has also opposed the package's proposed Medicare expansion that would help cover dental, hearing and vision costs for qualifying Americans.
On Monday, Manchin told CNN that he remains opposed to including it in the final bill because, he said, it would cause Medicare to run entirely out of money more quickly. Manchin said that Medicare's funding needs to be "stabilized" before its benefits can be expanded.
The package in question funds "human infrastructure" proposals which would fight climate change and expand healthcare. The package will accompany a $1 trillion traditional infrastructure bill, already approved by the Senate, which includes funding to repair roads and bridges as well as improve public transportation.
On Sunday, Democratic House Speaker Nancy Pelosi said Sunday that Democrats are "pretty much there" in reaching a deal on the human infrastructure bill. She predicted that a vote on the bill will occur this week.
"Ninety percent of the bill is agreed to and written," Pelosi said. "Senate [Majority] Leader [Chuck] Schumer, Senator Manchin and the president are having a meeting on some of the particulars that need to be finalized, and I'm optimistic that we can do that," she added.
Progressives have blasted Manchin and Sinema for gutting the human infrastructure proposal of its most ambitious aims. Progressive Missouri Representative Cori Bush accused Manchin of caring more about his donors than everyday people.
With an evenly split 50-50 Senate, Democrats need every member of the chamber's Democratic Caucus to back the package for it to become law. If just one senator opposes, it will not move forward.
Democratic progressives have said they may oppose the bill if its climate change initiatives are too weakened.
"We cannot advance legislation that makes the climate crisis worse," progressive New York Democratic Representative Alexandria Ocasio-Cortez tweeted on October 15.
Newsweek contacted Manchin's office for comment.