Manchin Signals Hesitation to Passing Biden's Social Agenda With Inflation 'Getting Worse'
Senator Joe Manchin of West Virginia on Wednesday expressed renewed concerns about President Joe Biden's social and climate spending plan after a new report said inflation worsened in October.
Resistance from Manchin, a conservative Democrat, has already caused sizable changes to the president's Build Back Better spending legislation, including a drastic drop in its price tag. Manchin has also often said rising inflation was a major hurdle regarding his approval of any plan.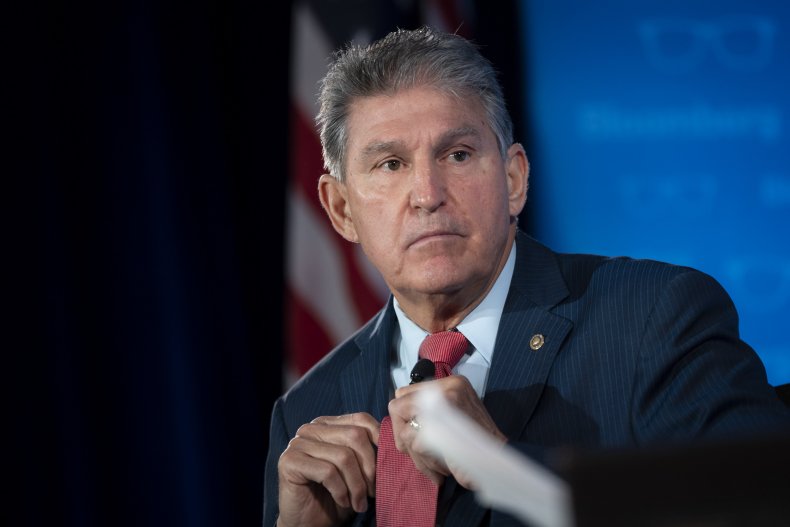 Data released Wednesday from the Bureau of Labor Statistics showed inflation in the U.S. had hit a 30-year high with supply chain issues contributing to rising prices for fuel oil, gas and utilities.
In a tweet, Manchin said "the threat posed by record inflation to the American people is not 'transitory' and is instead getting worse."
"From the grocery store to the gas pump, Americans know the inflation tax is real and DC can no longer ignore the economic pain Americans feel every day," the lawmaker's message continued.
Since Congressional Democrats are using a budget process known as reconciliation to bypass the legislative filibuster, they need all members of their party in the caucus to approve the package.
Manchin doesn't specifically cite Biden's plan in his brief Twitter post, but earlier this month he spoke about his hesitation regarding the potential impact the spending package could have on the economy.
"Throughout the last three months, I have been straightforward about my concerns that I will not support a reconciliation package that expands social programs and irresponsibly adds to our nearly $29 trillion in national debt that no one else seems to care about. Nor will I support a package that risks hurting American families suffering from historic inflation," Manchin said during a November 1 press conference.
"Simply put, I will not support a bill that is this consequential without thoroughly understanding the impact it will have on our national debt, our economy and the American people," Manchin added.
Democrats have said experts found their package won't contribute to long-term inflation, and any increases that may occur will be temporary. In order to keep inflation stable, Democrats look to raise taxes on the richest Americans.
Biden issued a statement Wednesday following the release of the report from the Bureau of Labor Statistics. He emphasized the importance of passing his plan, saying it will ultimately battle back against the increased inflation the data showed.
"Seventeen Nobel Prize winners in economics have said that my plan will 'ease inflationary pressures,'" the president said in his statement. "And my plan does this without raising taxes on those making less than $400,000 or adding to the federal debt, by requiring the wealthiest and big corporations to start to pay their fair share in taxes."
Newsweek contacted Sen. Manchin for comment but did not hear back in time for publication.