Manchin Signals Support for 'Human Infrastructure' Measure, Nudging Up Corporate and Capital Gains Tax
Senator Joe Manchin (D-WV) believes there is "absolutely" enough support to get President Joe Biden's $1.2 trillion infrastructure deal through Congress.
"I sure believe there is, Jon," Manchin responded to ABC News' This Week host Jonathan Karl on Sunday when asked if he thought the bill was passable. In order for the deal to pass, at least 60 votes are required when it comes to a vote on the Senate floor.
"This is the largest infrastructure package in the history of the United States of America," Manchin said. "And President Biden, there's no doubt in my mind, never has been a doubt in my mind, that he is anxious for this bill to pass and for him to sign it. And I look forward to being there when he does. I can tell you there's so much good being done."
He added: "It has got more in there for clean infrastructure, clean technology, clean energy technology than ever before, more money for bridges and roads since the interstate system was built, water, getting rid of our lead pipes. It's connecting in broadband all over the nation, and especially in rural America, in rural West Virginia. So much good in this, Jon."
Support for the infrastructure package has bounced back and forth as negotiations continued. Several GOP senators involved in the bipartisan talks have come out to support the bill after the president mistakenly implied he would veto a bill unless a bigger reconciliation bill came along right after it.
Meanwhile, Senators Elizabeth Warren and Bernie Sanders criticized the deal for not having a far enough reach.
"I can't vote for some small subset that, you know, the infrastructure train leaves the station and child care gets left on the platform, green energy gets left on the platform, billionaires don't have to pay, gets left on the platform," Warren said on This Week.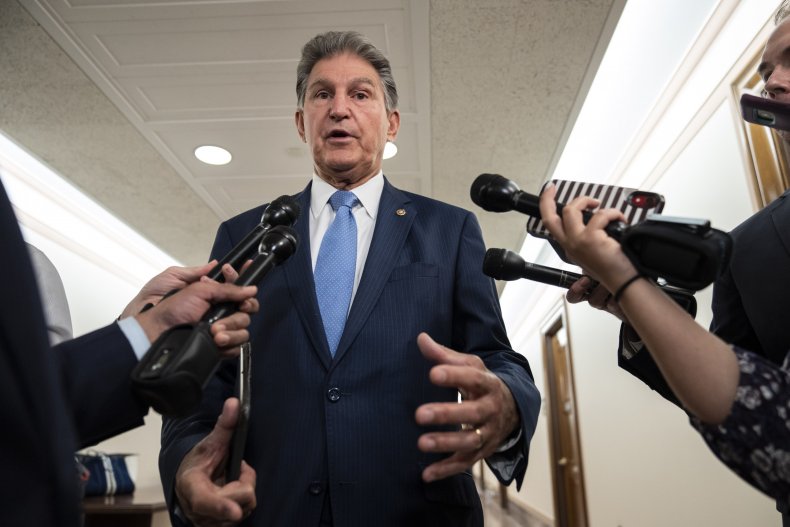 Sanders is working on an infrastructure reconciliation bill that would cost $6 trillion to address a wider net of needs.
"I hope they just look at the bill," Machin said of his Democratic colleagues. "We have two tracks. And that's exactly what I believe is going to happen. And we've worked on the one track. We're going to work on the second track. There's an awful lot of need, and everything they talked about is something that we need."
Manchin explained that he is someone who will make adjustments to bills when it is needed, citing the Trump-era tax cuts because adjustments needed to be made. The senator also acknowledged that the nation's debt cannot address all of these needs all at once.
"There's a lot of need out there, whether it be child tax credits, whether it be helping those kids have a start in life, whether it be fixing a lot of the human infrastructure that has fallen by the wayside, of helping middle-class, hard-working people have a chance to get ahead and enjoy the American dream. I'm all for that. To what degree, we'll see what we're able to pay for," Manchin said.
The current version of the bill is paid for, according to Manchin. He said does not want to add more debt to the nation's total, but the package's funding was drawn from reallocating money that the federal government has not used yet.
"I think we've all done a good job, and that's what we have to look for when we do the next piece of legislation," Manchin said. "I understand the concerns. I understand the desires of everybody in my caucus and also on the Republican caucus. I know we can work together."
Manchin said he was willing to compromise on a number of issues including reconciliation of the infrastructure bill and the Republican-backed tax cuts.
"Right now, I never thought that the net corporate tax should have been 21 percent. I always felt that 25 was very fair and balanced, so I'm willing to go to 25. I think that basically, capital gains should be at 28 percent, not at 21."
Manchin pointed to his moderate and consistent voting record that he said shows he is willing to compromise on both sides on issues. He added that he won't "throw caution to the wind" when he votes on something that the nation can't afford.
"I'm willing to meet everybody halfway. If Republicans don't want to make adjustments to a tax code, which I think is weighted and unfair, then I'm willing to go to reconciliation. That's how you're able to do it," he said.
Newsweek reached out to Manchin for comment, but did not hear back by publication time.