Manchin, Sinema Don't Budge, Senate Filibuster Reform Fails as Expected
Democrats have fallen short in a push to change Senate rules that would have paved the way for controversial voting rights reform legislation after failing to win over two party holdouts.
The Senate voted down a measure Wednesday night that would have altered the chamber's filibuster, which sets a 60-vote threshold for most legislation to proceed. Democratic Senators Kyrsten Sinema, of Arizona, and Joe Manchin, of West Virginia, opposed the rule change, dooming the effort to pass voting rights legislation in the evenly split chamber.
The proposed rule change failed on a 52-48 vote Wednesday evening. As expected, the pair of Democratic moderates voted against the rules change.
Sinema and Manchin have frustrated others in their party in the lead-up to the vote for holding firm in their opposition.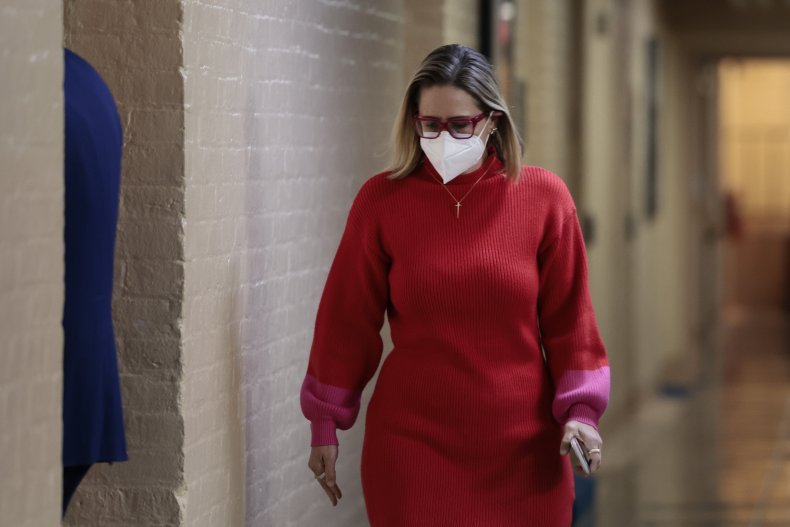 The Freedom to Vote Act and the John Lewis Voting Rights Advancement Act are intended to counter gerrymandering and voting restrictions adopted by multiple Republican-led states following the 2020 election.
Updated 1/19 11:45 p.m. This article has been updated with additional comments.
Senator Raphael Warnock, D-Georgia, pointed to new voting restrictions adopted by his home state for why the federal legislation was needed. He said he had heard from a constituent who said she unsuccessfully tried to vote for the last 10 years because of long lines and changing poll locations, sometimes being faced with the decision to cast her ballot or go to work. Another constituent waited in the rain for eight hours to vote, he said.
"Why are state leaders in Georgia behaving as if giving voters these awful choices is normal?" he said. "Or that voters like these Georgians don't exist?"
Senator John Thune, R-South Dakota, said Democrats were seeking to "federalize" elections that have been run locally since the country's founding for political gain. He also said a bigger issue was at stake.
"The filibuster is representative and symbolic of something much larger, and that is the very essence of what the Senate is about," he said.
He quoted from the Federalist Papers describing the Senate's role as a check on "sudden and violent passions" and maintaining consistency in federal law.
The vote marks a significant setback for Democrats who made passing the pair of voting rights bills a priority before the looming 2022 midterm elections. Proponents of the bills, including President Joe Biden, say they're necessary to preserve democracy in the U.S.
"I am profoundly disappointed that the Senate has failed to stand up for our democracy. I am disappointed — but I am not deterred," Biden said on Twitter after the vote. "We will continue to advance necessary legislation and push for Senate procedural changes that will protect the fundamental right to vote."
Vice President Kamala Harris also issued a statement reminding senators of their duty to uphold the Constitution and safeguard the right to vote.
"Yet today, Senators voted to preserve an arcane Senate procedure rather than secure that fundamental freedom," she said. "The American people will not forget this moment. Neither will history."
Neither Biden nor Harris elaborated on what efforts they will pursue to advance voting rights.
Senate leaders from both parties noted that the vote put every senator on record for where they stood.
Senate Minority Leader Mitch McConnell said on Twitter following the vote that the election bills weren't about state laws but were a "sweeping, radical power grab."
"Tonight, nearly every Senate Democrat wrote in permanent ink that they would shatter the soul of the Senate for short-term power," he said. "Fortunately, a bipartisan majority saved the Senate and ensured that millions and millions of Americans' voices will not be silenced."
Senate Majority Leader Chuck Schumer, who set up the filibuster showdown, said on Twitter that "every Senator's now on record."
"Americans see who's for voting rights," he said. "It only strengthens our resolve to protect voting."
Senator Bernie Sanders, I-Vermont, reacted angrily to the vote, saying that Manchin and Sinema had undermined the president, forcing other senators to "go through five months of discussions which have gotten absolutely nowhere," according to social media posts.
Earlier in the evening, Senate Republicans unanimously blocked a move to advance the bills. The vote was 51-49, with Schumer changing his vote to no for procedural reasons.
Although the bills have passed the House, they have faced united opposition in the Senate from Republicans who say the legislation is unnecessary and brings excessive control over local elections.
Schumer told reporters Tuesday that the rules change would still allow for a "talking filibuster" on the voting rights legislation. Under the rules change, once members of the minority party have used up their speaking rights, the Senate would move forward on the bill.
This is a developing story and will be updated with more information.