Manchin Sounds Inflation Alarm, a Problem for Biden's Spending Bill Passing by Christmas
Senator Joe Manchin voiced concerns on Monday about inflation and the effect of President Joe Biden's Build Back Better bill on rising prices ahead of a call between the two Democrats about the measure.
"Inflation is real, it's not transitory. It's alarming. It's going up, not down. And I think that should be something we're concerned about," the West Virginia moderate said, according to The Hill. "These are all concerns.... The unknown right now is very, very great."
Manchin's comments come less than two weeks before Senate Democrats' Christmas deadline for passing the social and climate spending package. But his support may require a major reworking of the measure, given that Democrats need to surpass 50 votes in the Senate.
While the Democrats have been keen on meeting the deadline, Manchin has made no promises to follow their agenda. The Hill reports that he has not committed to the party's timeline, nor has he said whether he would vote in favor of starting debate on the bill.
Reporters asked the senator on Monday if he would offer a commitment to the president on passing the bill within the party's time frame, but he avoided a direct answer.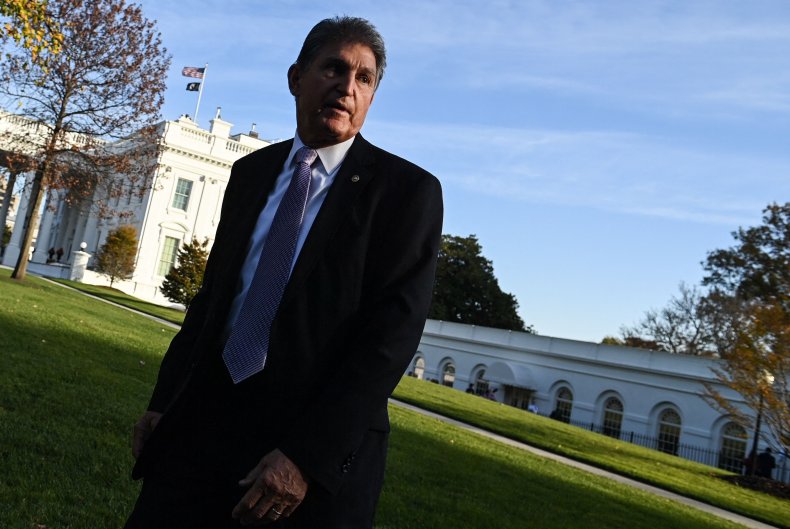 "I know people have been in a hurry for a long time to do something, but basically I think we're seeing things unfold that allows us to prepare better," Manchin said, according to The Hill.
Manchin's comments follow last Friday's Bureau of Labor Statistics report that prices rose last month by 6.8 percent, the largest annual pace in nearly 40 years.
White House economic adviser Cecilia Rouse told CNBC on Friday that she expects the rate to slow in the first half of next year. And some economic groups, like the Committee for a Responsible Federal Budget, have said the Build Back Better Act could reduce inflation. Nonetheless, the issue of rising prices has been used to attack both the Biden administration and the bill.
Manchin has cited concerns over inflation for months, long before Friday's report came out, most notably in a Wall Street Journal op-ed titled "Why I Won't Support Spending Another $3.5 Trillion." Democrats carved the price down to around $2 trillion, but the bill's cost remains an issue before Manchin and Biden's meeting Monday.
"We're going to talk about exactly what happened on Friday with the [Congressional Budget Office] score and inflation reports and things of that sort," the senator said about his upcoming call with Biden.