'The Mandalorian' Episode Release Dates: When Will New Episodes Air on Disney Plus?
Whereas streaming services like Netflix and Amazon Prime have become known for releasing their series all at once, for now Disney+ is releasing series like The Mandalorian and High School Musical: The Musical—The Series weekly.
However, as the streaming service was unveiled on a Tuesday, the release date schedule has caused some confusion for fans, who are not sure when to expect the latest episode of the Star Wars spin-off. To aid with the confusion, however, The Mandalorian official Twitter account has a service whereby if you like their tweet they will send you an update when the latest episode is streaming on the service.
Though the first episode aired on Tuesday, the majority of the remaining episodes are expected to be released on Fridays, with Episode 2 expected on Friday, November 15. However, IMDB currently lists Episode 7 as coming out on Wednesday, December 18, before Episode 8 returns to a Friday release date.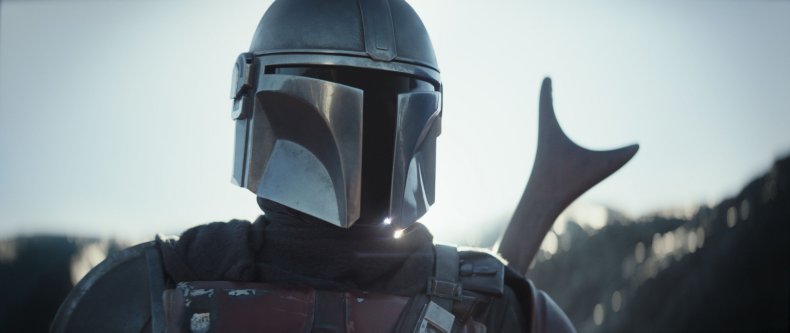 If this is accurate, then the release date schedule for The Mandalorian on Disney+ is as follows:
Episode 1: Tuesday, November 12
Episode 2: Friday, November 15
Episode 3: Friday, November 22
Episode 4: Friday, November 29
Episode 5: Friday, December 6
Episode 6: Friday, December 13
Episode 7: Wednesday, December 18
Episode 8: Friday, December 27
So far, Disney+ has not revealed what time episodes will be released. The first episode was launched at 9 a.m. ET, so the remaining episodes may follow suit. Episode 2, meanwhile, was released at just after 3 a.m. ET on November 15.
However, some subscribers reported a number of issues accessing Chapter 2 of the series. One wrote on The Mandalorian Twitter page: "I see it live on my phone and not roku. FIGURE IT OUT! DO YOUR JOB!" while another angry fan tweeted, "it's showing up on my phone, but not anywhere i ACTUALLY want to watch it."
These release problems are just the latest in a series of teething problems the streaming platform has experienced in its first few days. On November 12, the DisneyPlusHelp Twitter account posted; "The consumer demand for Disney Plus has exceeded our high expectations. We are working to quickly resolve the current user issue. We appreciate your patience."
The Mandalorian airs weekly on Disney+