'The Mandalorian' Season 2 Features Darksaber Battle And Baby Yoda Is Intrigued
In the final shots of the first season of The Mandalorian, Imperial remnant leader Moff Gideon carves a glowing orange segment out of his crashed TIE Fighter and emerges unscathed, wielding in one hand the Darksaber—a near mythical weapon, even by lightsaber standards. At February's FAN EXPO Vancouver, Gideon actor Giancarlo Esposito revealed a little of what's ahead in Season of The Mandalorian, promising "epic lightsaber action."
"I think you will find that out," Esposito said on a panel at the convention, in response to a question asking whether we'll learn how Gideon acquired the Darksaber, an ancient lightsaber with a black blade, created by the first Mandalorian Jedi, Tarre Vizsla.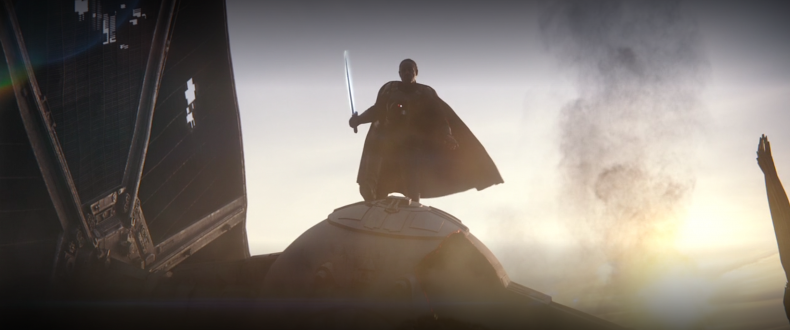 "We have a new world, the Empire has completely crumbled and collapsed. And there are relics from that world, that Moff Gideon has access to," Esposito added. "We have no idea how this guy knows everything about everyone. He knows everything. So he has the brain trust of intelligence. So you will find out, I will not tell you how. But it will be interesting for you to know when you see it in the second season—you'll go crazy, you'll love it."
But the Darksaber will be more than just lore in the upcoming Season 2 of The Mandalorian, it will also appear in combat.
"It feels wonderful to have that iconic weapon in my hand. It takes some getting used to, as it is longer than a normal sword and saber. And of course, it is shorter when you turn it off, so you have to figure out how to work the handle," Esposito said. "I broke three of them last week. The prop guys are wondering about me, because I was in a bit of a commotion and a bit of a struggle with someone else, which I'm hoping you will enjoy when you see it. Major, major, epic, epic lightsaber action happening on this show."
Originally introduced in The Clone Wars animated series, the Darksaber's history is entangled with the planet Mandalore, which was first united, then conquered, by wielders of the blade. It briefly came into the possession of Darth Maul, then passed through several hands, until it was given to Mandalorian warrior Bo-Katan Kryze in an episode of Star Wars Rebels. Moff Gideon took control of the Darksaber sometime during the Great Purge of Mandalore, though the details have yet to be revealed.
Esposito spoke at length during the convention Q&A about the nature of his character, who only appeared in two episodes of The Mandalorian's first season. He looked particularly to the original Star Wars Moff: Grand Moff Tarkin, who died in the first Death Star.
"I had to go back and look at Peter Cushing and all the other Moffs and try to figure out who the guy really is and what is he doing here," Esposito said. "But guess what, I get to wear a cape, which I think is the most badass thing ever."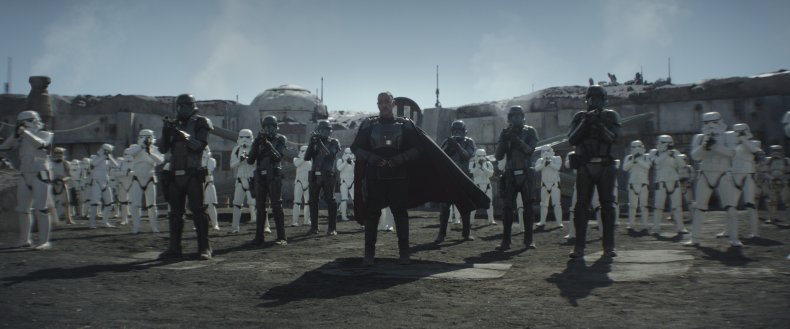 Esposito also alluded to Baby Yoda's coming reaction to the powerful Force artifact.
"The baby has some incredible power, without having to wield the Darksaber," Esposito said. "I think the baby is curious about what this is, so you will be enthused and inspired when you see the scene I'm referring to in Season 2, which is to come in October. Keep watching."
The titular Mandalorian Din Djarin (Pedro Pascal), Moff Gideon and Baby Yoda—officially known as "The Child"—will return in The Mandalorian Season 2, which will premiere on the Disney Plus streaming service in October.
"I don't really like babies," Esposito said of Baby Yoda. "But in this case, I love this baby."