'The Mandalorian': Who The Dark Troopers Are and What They Mean for the Show
The Mandalorian Episode 4 seemed to hint at an epic battle to come on the Disney+ series, with Moff Gideon (played by Giancarlo Esposito) ending the episode by looking out over an army in dark armor, which he seems to want to inject with The Child / Baby Yoda blood to give Force powers.
To those without knowledge of the more obscure corners of Star Wars, these seemed to be just another band of enemies whose faces we cannot see, ready to fight against the hero whose face we cannot see, Din Djarin / the Mandalorian (Pedro Pascal).
However, fans have identified this army as what seems to be either Dark Troopers or Shadow Troopers. The former were introduced in the 1995 Stars Wars video game, and notably some of them have exoskeletons that allow them to use the Force—something that The Mandalorian could be hinting at when it revealed that Gideon is after the midichlorians in Baby Yoda's blood, particles that allow those with them to use the Force.
These Dark Troopers also influenced the later Shadow Troopers of the Star Wars Force Unleashed and Battlefront videogames. This, however, is their first debut outside of the console world.
This deep-cut reference to Star Wars arcana is typical of The Mandalorian Season 2, which has also featured characters like Bo-Katan (Katee Sackhoff) and others from Star Wars TV series like Rebels and The Clone Wars.
Episode 1 of Season 2 also saw Timothy Olyphant play Cobb Vanth, a sheriff from a Star Wars novel. Some has also said that Sasha Banks' character in Episode 3 had the last name of Reeves in tribute to a female captain of the same name in a '90s Star Wars story that appeared in Valkyrie magazine.
What you think about these references will depend on what kind of fans you are. For some, it is exciting, with The Mandalorian bringing together all its best cards by picking and choosing the best characters and objects from the entire Star Wars universe.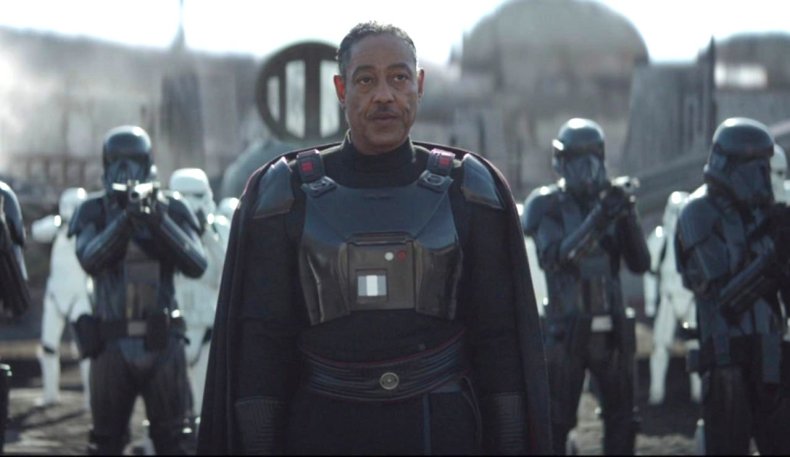 For others, however, it is a sign that The Mandalorian is going deeper and deeper into its own canon, rehashing old plots and references without adding anything new in the way of narrative thrust.
These Dark Troopers, however, could be a sign that The Mandalorian Season 2 is starting to really fire up its main plot after numerous episodes of what seemed to be the show's equivalent of video game side-quests.
In Chapter 12, Gideon has a mechanic fit a tracking beacon onto Mando's ship, meaning he knows exactly where he is at any time—meaning that it is only a matter of time before he sends his amassed army on a mission to take The Child and maybe Mando's head along with it.
The Mandalorian Season 2 continues Fridays on Disney+.