'The Mandalorian': Who is Ahsoka Tano in Chapter 13?
The Mandalorian Season 2 has fully linked the Disney+ show to the wider Star Wars canon, with characters crossing over from other books, video games and TV series. The one everyone was waiting for, however, was Ahsoka Tano (played by Rosario Dawson), who was rumored to turn up in Chapter 13 (Season 2, Episode).
A little bit of Star Wars history for those only coming to The Mandalorian for Baby Yoda and/or those who have watched the movies but never bothered to dive into the dozens of other Star Wars stories The Mandalorian seems intent on making you watch for any moment of the show to make sense. Ahsoka Tano is the main character from Star Wars: The Clone Wars, all of which is streaming now on Disney+.
A member of the Togruta species, who have orange skin with white markings on it, Tano was a character who was trained as a Jedi by Anakin Skywalker (aka Darth Vader) before became a commander in the Grand Army of the Republic during the titular Clone Wars.
Last time fans saw her, she was yanked out of time during a battle with her former mentor by a man named Ezra Bridger, the main character of the next Star Wars animated series, Rebels. Last time they saw each other, as they entered the World Between Worlds, Tano promised that she would find Bridger when they got separated.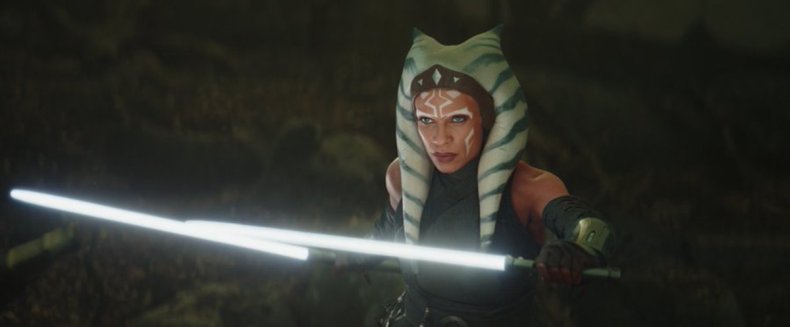 And that brings us roughly to the point earlier in The Mandalorian when Bo-Katan (Katee Sackhoff) sent Din Djarin/The Mandalorian (Pedro Pascal) to find Ahsoka. The two had previously teamed up to try and find Darth Maul in the animated series.
As such, when Mando finally arrived on the forest planet of Corvus in Chapter 13, it was not long before Ahsoka finally appeared in the Disney+ series. As Ahsoka was a Jedi, Mando was keen to have her train Baby Yoda, aka The Child, aka the character we now know is called Grogu. She refuses, however, as her experiences with Anakin made her worry about Grogu's potential to fall to the dark side.
She sends Mando on yet another quest, to put Grogu on "seeing stone" in some Jedi ruins to allow him to choose a path. She, meanwhile, is on the hunt for Admiral Thrawn, who is the last person who we know Bridger was with.
Fans have met Tano's appearance on the show with rapturous praise, and her name began trending on Twitter. Among the Twitter reactions were the following:
"Ezra is coming, Thrawn is coming, Luke Skywalker is coming..... omg what a freaking episode!!!!!!!!!!!!!!!"
"THIS IS THE WAY!! ITS EPIC TO SEE AHSOKA IN LIVE ACTION AFTER ALL THESE YEARS!!! THANK YOU DAVE FILONI & CHAPTER 13!!"
"This is Episode is the best by far!!! Ashoka Tano, Grogu, and Grand Admiral Thrawn name drop!!! This is the Way"
The Mandalorian Season 2 airs Fridays on Disney+.