No, That's Not Rosario Dawson in the 'The Mandalorian' Season 2 Trailer It's Sasha Banks
There appear to be some new characters joining—or fighting—the force in the second season of The Mandalorian. Disney+ released a thrilling new trailer for the upcoming season of the original series on Tuesday and offered a sneak peek of a few new characters, including some who may be causing problems for the lone gunfighter as he attempts to reunite the Child—aka Baby Yoda—with its own kind.
In one scene of the trailer, Mando the Mandalorian, played by Pedro Pascal, is secretly watched by a hooded-figure who some fans thought was Rosario Dawson. However, that mysterious being is actually WWE wrestler Sasha Banks, and the confusion over the two actors caused quite the stir on social media shortly after the trailer dropped.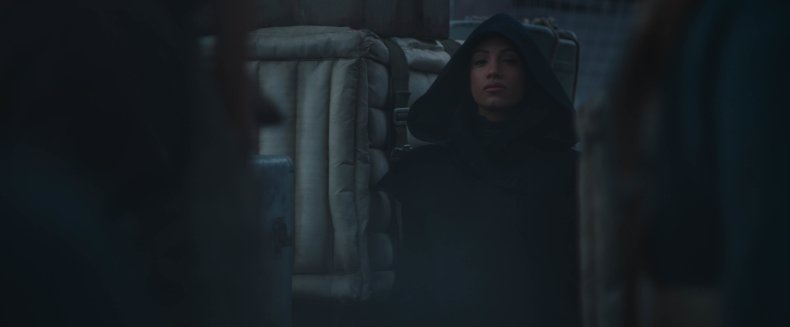 "Lmao everyone on confusing Sasha Banks for Rosario Dawson in the new Mandalorian trailer," one person wrote on Twitter.
Another chimed in: "Sasha Banks and Rosario Dawson don't even look alike. I need y'all to see an eye doctor."
Both women have long been rumored to star in the second season of the sci-fi series—although Banks' role is unclear. There is some speculation that she will play Sabine Wren, a former Mandalorian warrior-turned-Rebel leader.
As for Dawson, in March Variety reported Dawson was cast as Ahsoka Tano Anakin Skywalker's apprentice and a key figure in the Star Wars animated series, The Clone Wars. Dawson remained pretty tight-lipped about the role in an April interview with Entertainment Weekly, noting that if she is starring in The Mandalorian's second season it's "a million and one percent because of the fans."
"That's not confirmed yet but when that happens, I will be very happy," she said at the time, adding, "I'm very excited for that to be confirmed at some point."
As Mando's journey continues in Season 2, he'll endure a few deadly encounters with other beings that will include plenty of laser gun fights with enemies far and wide. But the trooper's biggest challenge may be handing his little buddy over to sorcerers.
"The songs of the young's past tell of battles between Mandalore the Great and an order of sorcerers called Jedi," a voice explains to the Mandalorian in the trailer.
"You expect me to search the galaxy and deliver this creature to a race of enemy sorcerers?" he retorts.
The short answer is, yes. That's exactly what he'll have to do.
The Mandalorian returns to Disney+ with Season 2 on October 30.