'The Mandalorian' Season 2 Trailer: Who is Sasha Banks Playing?
The Mandalorian Season 2 will see some big names join the Disney+ show, including Rosario Dawson and Timothy Olyphant. The cast member who has got fas excited recently, however, is WWE wrestler Sasha Banks, who appeared in the recently released trailer as a mysterious cloaked figure who Din Djarin/The Mandalorian (played by Pedro Pascal) meets in what looks like a space dock.
Banks herself tweeted the trailer with the caption "this is the way," which Star Wars fans will know is the mantra of the Mandalorians. This seems to suggest that despite that she appears without Mandalorian armor or a helmet in the Season 2 trailer, she may be playing one of the legendary warrior race.
In fact, fans think that she is playing a Mandalorian who has already appeared in another Star Wars TV show. A fan theory has it that she is playing Sabine Wren, a Mandalorian warrior and revolutionary leader from the animated spin-off Star Wars Rebels.
This perhaps explains why Banks is seen wearing a hood in the trailer—Wren is known for her multi-colored hair, so the director may have decided to cover her head so the character's appearance was not completely confirmed. In her WWE career, Banks has blue hair, which may be one of the reasons fans think she could be playing Wren.
There are a number of clues that Wren in appearing in The Mandalorian Season 2. In the finale of the first season, Moff Gideon (Giancarlo Esposito) was seen wielding the Darksaber, a powerful black bladed saber that has previously been wielded by Wren. Its appearance in The Mandalorian suggests that Wren may have come to take it back.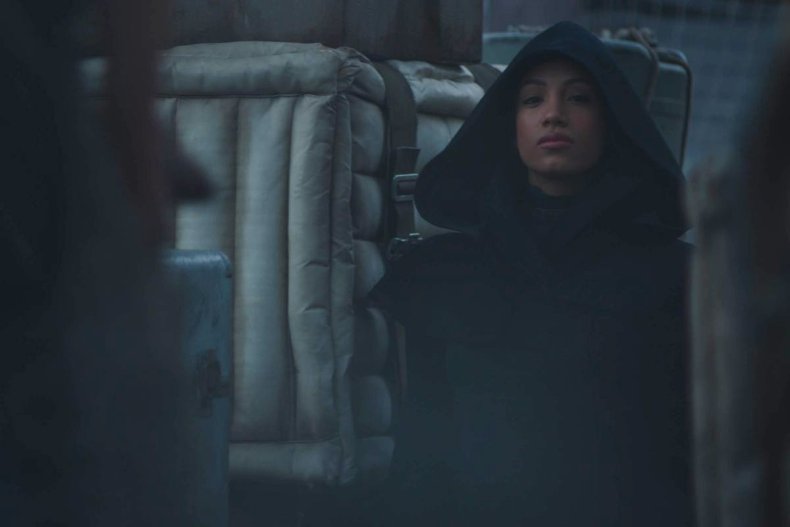 Last time fans saw Wren, she and Ahsoka Tano were heading on an adventure to find fellow freedom fighter Ezra Bridger. As Tano is also expected to appear in The Mandalorian Season 2 (with Rosario Dawson most likely to be playing her,) it would make sense for Wren to also be making an appearance.
Asked by Deadline whether Sabine Wren would return in another Star Wars property following the end of Rebels, that show's creator (who also works on The Mandalorian) Dave Filoni said: "Oh, I think it's possible. I mean, it's definitely something that I left hanging at the end and part of that reason is just it's always nice in my mind when there's another story. I like things in a series, even when I read or watch them, and there's always a bit of sadness when something does come to an end, so potential is a great thing."
He added: "I think there's always potential for further stories. Certainly, I will say it's something I've given a decent amount of thought to, so you never know when or if it will actually ever take shape."
The Mandalorian Season 2 starts October 30 on Disney+.