'The Mandalorian' Actor Calls 'The Rise of Skywalker' 'Hands Down the Worst Star Wars Movie' and 'An Absolute F***ing Failure'
The latest Star Wars movie, The Rise of Skywalker, has been released in theaters, to mixed reviews so far. The third instalment in the Star Wars sequel trilogy, and ninth and final instalment in the "Skywalker saga," currently has a 57 per cent rating on reviews aggregator Rotten Tomatoes, and 54 out of 100 on Metacritic, indicating "mixed or average reviews."
And one of the most notable people to say they are not a fan is a Star Wars actor. Jake Cannavale, who features in the Disney+ spin-off show The Mandalorian, let his feelings known about the JJ Abrams-directed movie on social media.
In a lengthy rant on Instagram the 24-year-old wrote, "I'm in the Star Wars universe now!!! So surely I can't speak ill of Episode IX, right???" before adding, "Wrong."
"Rise of Skywalker was hands down the worst Star Wars movie. An absolute f***ing failure.
"Went to see it last night and I woke up still mad. Like...it rendered the entire new trilogy completely useless. There were more plot holes than there was plot. The amount of 'by the way's' was absolutely infuriating.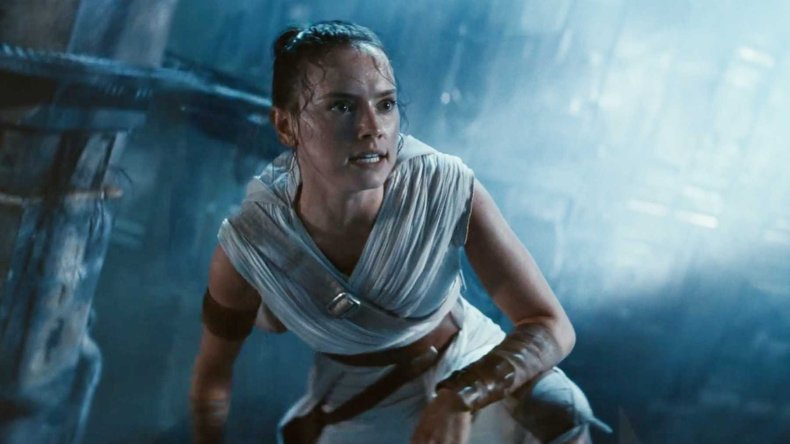 "Rise of Skywalker (btw dumbass title) was worse the [than] Phantom Menace and Last Jedi combined. Fight me." he went on to say. Newsweek has reached out to Disney, the creator of both The Rise of Skywalker and The Mandalorian, for comment
Cannavale, the son of The Irishman and Boardwalk Empire star Bobby Cannavale, plays fledgling bounty hunter Toro Calican in the space western show, which has aired seven episodes on Disney+ so far. The final episode of the season, directed by Thor: Ragnarok and Jojo Rabbit filmmaker Taika Waititi, will be released on the streaming platform on December 27.
Unlike The Rise of Skywalker, The Mandalorian has received numerous positive reviews, with a 94 per cent approval rating on Rotten Tomatoes, with the site's critical consensus stating "Action-packed and expertly crafted—if at times a bit too withholding—The Mandalorian is a welcome addition to the Star Wars universe that benefits greatly from the cuteness of its cargo."
In comparison, the Rotten Tomatoes critical consensus for The Rise of Skywalker states, "Star Wars: The Rise of Skywalker suffers from a frustrating lack of imagination, but concludes this beloved saga with fan-focused devotion."
The movie, released nationwide on Friday, stars Mark Hamill, Carrie Fisher, Adam Driver, Daisy Ridley, John Boyega and Oscar Isaac. JJ Abrams, who directed The Force Awakens returns to the director's chair for the movie, which was written by Abram and Chris Terrio.