Mandela Laid to Rest As Mourners Bid Final Farewell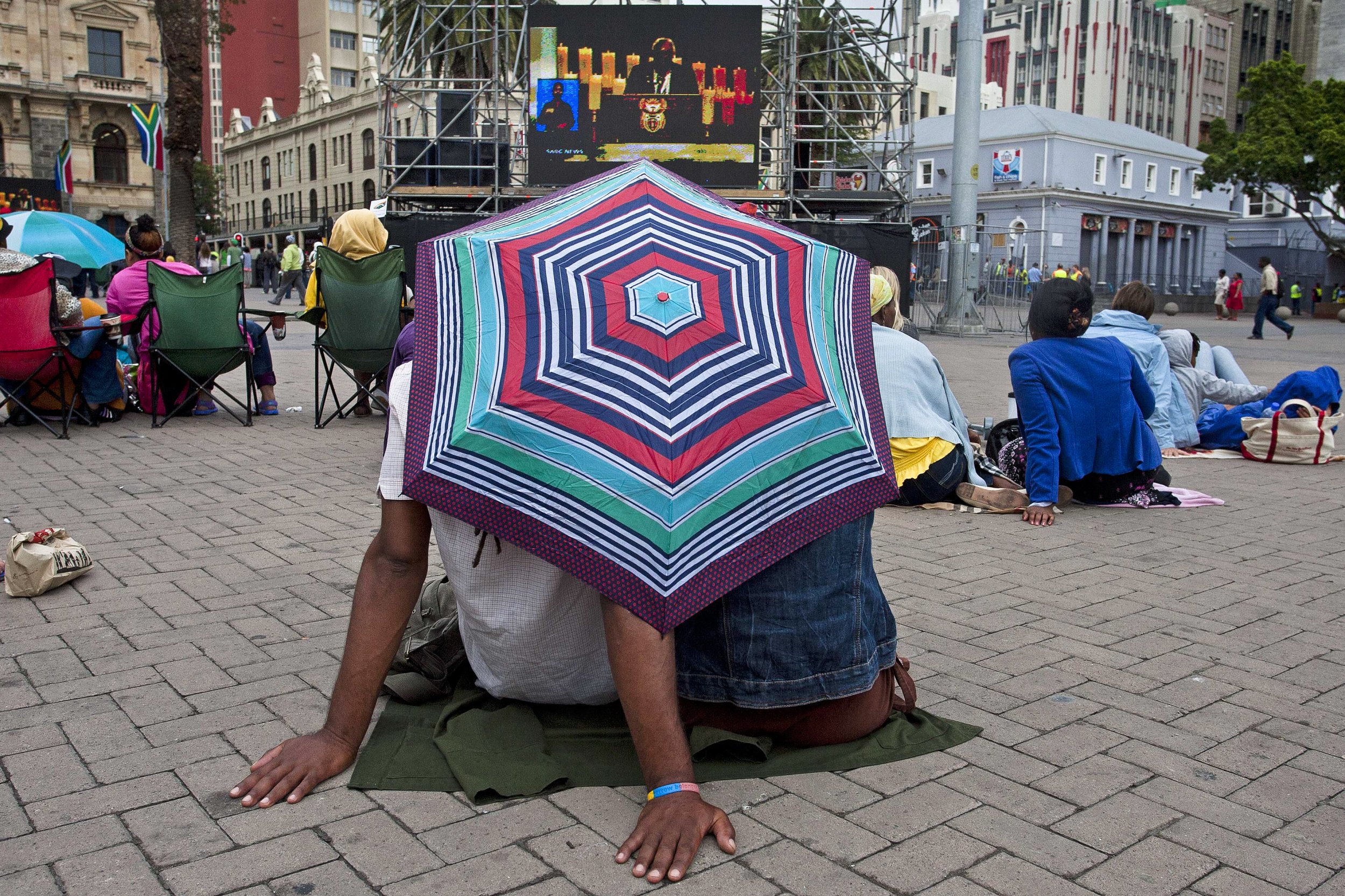 Qunu, South Africa—Nelson Mandela, South Africa's first democratically-elected president and its most beloved leader, was laid to rest Sunday at a state funeral in the lush green hills he roamed barefoot as a child.
About 4,500 mourners gathered in a giant white tent on the Mandela family compound, where 95 candles—one for each year of Mandela's life—burned behind his South African flag-draped casket. Family, friends and world leaders recalled Nelson Mandela as disciplined but mischievous, courageous yet humble.
The service concluded a 10-day period of national mourning that included a memorial gathering in Soweto, various concerts and Mandela's body lying in state for three days in Pretoria. Organizers wanted Sunday's service to wrap up in two-and-half hours, because a man of Mandela's stature should be buried at noon, "when the sun is at its highest and the shadow at its shortest," said African National Congress Deputy President Cyril Ramaphosa, who served as master of ceremonies.
"Madala, your abundant reserves of love, simplicity, honesty, service, humility, care, courage, foresight, patience, tolerance, equality and justice continually served as a source of enormous strength to many millions of people in South Africa and the world," said Ahmed Kathrada, who gave the first eulogy, addressing Mandela with the Xhosa word for elder. "You symbolize today, and always will, qualities of collective leadership, reconciliation, unity and forgiveness."
Kathrada, who spent 26 years in prison with Mandela, choked up several times during his address. "When Walter [former African National Congress Secretary General Sisulu] died, I lost a father," he said. "When you died, I lost a brother. Now I don't know who to turn to."
Guests included luminaries like Price Charles, Oprah Winfrey and Jesse Jackson and African leaders such as Malawi's President Joyce Banda, Tanzania's President Jakaya Kikwete and Zambia's former President Kenneth Kaunda.
Mandela's granddaughter, Nandi Mandela, gave a moving tribute that recalled her grandfather's humble roots. "He grew up from these rolling hills," she said. "He went to school barefoot yet he rose to the highest office in the land."
She depicted Mandela as a stern, but fun-loving and mischievous grandfather who loved telling stories.
"People always talk about his achievements, but he was a lot of fun to be around and he was a great storyteller." She said he particularly liked to poke fun at himself, recounting a tale he told about trying to pick up a piece of chicken with his fork while at dinner with a girl he was trying to impress and her family. "Every time I stabbed the chicken, it jumped," Nandi Mandela recalled her grandfather saying with a hearty laughter. "We shall miss your voice, we shall miss your laughter."
Residents of Qunu and surrounding villages and ordinary South Africans who traveled from all over the country were not permitted inside the tent. Instead, hundreds watched Nandi Mandela and the other speakers on a giant screen set up in a distant field overlooking the Mandela compound, and at other public viewing sites around the country.
Draped in yellow and green Mandela t-shirts and scarves, with small South African flags attached to their hats or behind their ears, they sat quietly and intently, but jumped to their feet ululating and cheering when Mandela's former praise poet, Zolani Mkiva, offered a rousing introduction to President Jacob Zuma.
The boos that greeted Zuma during a memorial service last week in Soweto were absent Sunday. In his speech, Zuma said Mandela offered, "hope in the place of hopelessness" and promised that South Africans would not abandon the principles that defined Mandela's life.
"We have to continue building the type of society you worked tirelessly to construct," Zuma said. "We have to take your legacy forward."
As they watched the service in the field, mourners recalled how Mandela threw Christmas parties for the children of Qunu and surrounding villages, plying them with shoes, uniforms, and bags for school.
"For a big man like this, he was always there for us," said Masibulele Magqirha, 42, of Qunu. Magqirha said he grew up playing soccer on the fields where Mandela's house now stands. And he recalled when his entire soccer team decided they'd go ask Mandela to buy them uniforms.
"He said, 'What are you doing here?' But nobody wanted to talk," Magqirha recalled. "'Gentlemen I'm talking to you, what are you coming here for?'" Mandela said, according to Magqirha. Magqirha finally spoke up: "Tata, please we are here to ask you to buy for us a kit. We are out playing soccer but we don't have a kit." Mandela told two team leaders to return the next day, Magqirha said. "When we came back, he said, 'Tell me, what is your story?' Are you studying? Please, you must go to school.'"
The next day, Magqirha returned, and was told to hop into a military truck, where he was presented with cleats, socks, shorts and shirts for the entire team.
"Where will we get a person like this again?" he asked.
Following Zuma's speech, mourners walked behind the giant screen and paused in a vast open field. A young woman sat gazing towards the gravesite, crying. Others stood peering through binoculars towards the Mandela compound. Two police officers took a selfie, the funeral tent in the background. A man raised one fist in the air, holding a poster of Mandela in his other hand, gazing into the distance.
Then two busloads of men from neighboring KwaZulu Natal province, wielding spears and shields, offered a tribute in music and dance to Mandela, gyrating through the field.
Ultimately, Ramaphosa, the master of ceremonies, had to plead with the ancestors for extra time, as the ceremony went about an hour longer than expected. A small, private burial service followed at the family gravesite nearby.
Three helicopters carrying South African flags whizzed by, and military jets passed overhead in tribute as mourners sprinted towards them in a futile dash. A 21-canon salute boomed and smoke filled the village air.
At the Mandela family's request, the national broadcaster cut the live feed to allow for a private burial. As coverage on the big screen ended, a woman seated in the front row wearing an elegant purple dress raised her hand and waved goodbye.