The breakout star of Disney+'s new Star Wars series The Mandalorian so far is the creature fans have given to calling "baby Yoda," the adorable creature of the same race as the famed Jedi master, who The Mandalorian (played by Pedro Pascal) is now protecting after refusing to kill him in the first episode.
This so-far unnamed creature may be crucial to the Disney+ series according to something a fan of the series has spotted at Star Wars: Galaxy's Edge, the new immersive attraction at the Disney's Hollywood Studios theme park in Orlando, Florida.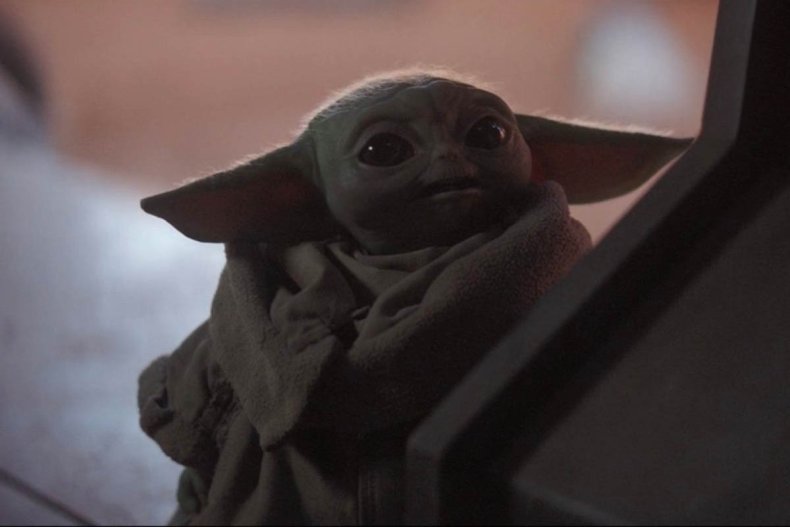 Posting a photo from the "Dok-Ondars' Den of Antiquities" section of the attraction on Reddit, one fan wrote: "Found this interesting bit at Dok Ondars in Galaxys Edge. It's clearly the mandalorians helmet and long gun, even if it's not too obvious from the picture. I was thinking about the bit where they ask if his signet has been revealed. Is the flag his signet? Is it baby Yoda maybe? What do you think?"
A bit of explanation: In Episode 1 of The Mandalorian, when the title character gives his brick of beskar steel to "The Armourer," she asks him, "has your signet been revealed?" and The Mandalorian tells her that it has not. As Inverse wrote about the signet, "The 'reveal' of a signet probably comes about when they accomplish some great deed(s), and then a symbol from their culture is emblazoned on their armor for everyone to see. What will it take for it the signet to be revealed?"
As such, the fact that The Mandalorian seems to have what looks like a baby Yoda as his signet suggests that the two character's destinies are intertwined, and that The Mandalorian will do some great deed to save his cute companion, who was revealed in Episode 2 to have some already strong Force powers of his own as he lifted a giant beast into the air in order for The Mandalorian to kill it.
The possible great deed involving baby Yoda and The Mandalorian is of course unknown, but is likely to have something to do with the Empire, who were desperate to destroy the creature in the first episode.
According to Esquire: "Some of the most popular Rise of Skywalker fan theories believe that the Emperor uses young Force sensitive children as host bodies for his spirit to survive. And it's possible that Baby Yoda could fit into this theory," while other fans "theorized that the reason the Empire wants to study Baby Yoda is to figure out what makes it age so slowly and live for centuries."
Either way, the fact that baby Yoda may be the emblem The Mandalorian becomes associated with could mean the Disney+ series is due to end with an epic battle that pits the two of them against the Empire.
The Mandalorian airs Fridays on Disney+.