Mandy Patinkin Wants Everyone to Remain Calm (and Vote Out Donald Trump) This Election Season
Mandy Patinkin doesn't want you to just wait for the outcome this election season—he wants you to help create it, too. The beloved actor shared a video in support of Democratic presidential candidate Joe Biden on Twitter on Tuesday morning, encouraging people to get involved with the electoral process and to vote this fall. But Patinkin doesn't want anyone to feel too overwhelmed by the 2020 election, either.
"My glorious AF wife Kathryn helped with my latest campaign video. Whatever the polls say we have to stay calm and resolute in this fight, giving whatever time, money and power we can," the Homeland star wrote. "Get active to get out the vote TODAY. thelastweekends.org/doit #GOTV #createtheoutcome #VOTE"
The clip begins on an ominous tone. "This November 3, everything is at stake," Patinkin says via voiceover at the start of the three-minute video. "We are surrounded by chaos. We are being governed by selfish interests who peddle misinformation."
Before Patinkin can get worked up any further, he's interrupted by his wife, Kathryn. As that happens, the camera cuts from cable news footage to a shot of Patinkin recording the voiceover with headphones and a microphone; his wife his sitting next to him, and tells him that the campaign ad he's working on is "too much."
"All everybody can do is scream at each other because they don't have the perfect solution, and the stakes are so high," she continues. "You're addicted to the screaming." Kathryn then recommends talking about the issues calmly.
Patinkin inhales, and takes a softer approach with his narration. "Trump has been bad," Patinkin says. Kathryn then interrupts him to remind him that the election is about than just voting for president. It also involves the Senate and the state legislators and local issues.
"I understand Biden might not be everyone's ideal candidate," Kathryn says. "But you know what? He is human and decent and kind and guess what? People voted for him."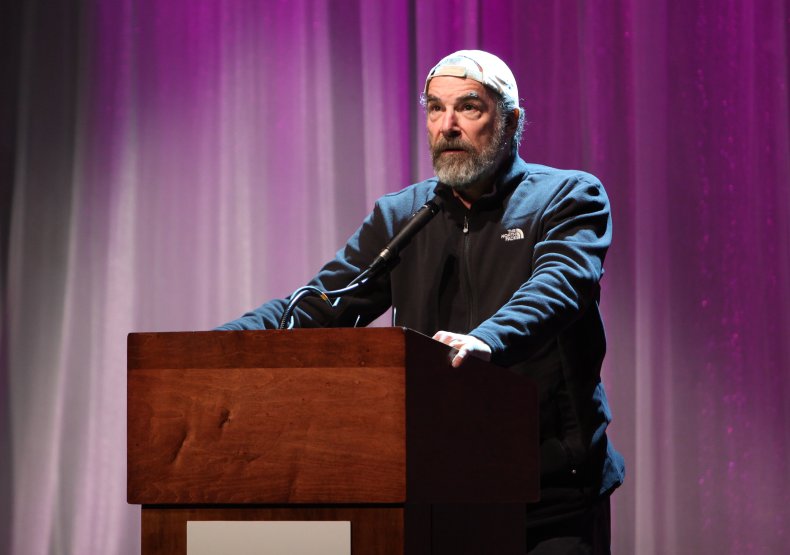 She then starts to get worked up herself, listing the various issues that are at stake, from filling the vacant Supreme Court seat to handling the coronavirus pandemic responsibly, to immigration laws and climate change. "The friggin' world is at stake!" Kathryn exclaims. Her husband then interrupts her, and points out that she's yelling just like he was moments ago.
"This is really a vital election. It all comes down to a few states and races," Patinkin calmly continues.
"Everybody needs to help everybody get out the vote. In any way they can," Kathryn adds. "Because come November, whatever the outcome, this is just the beginning. We are going to have to fight for these issues for a very long time. And we can't do anything unless we vote!"
"Absolutely, because if we don't—" Patinkin adds, to which Kathy screams: "There's gonna be just more f**king chaos!"