Suspect Named After 2 Shot in Tel Aviv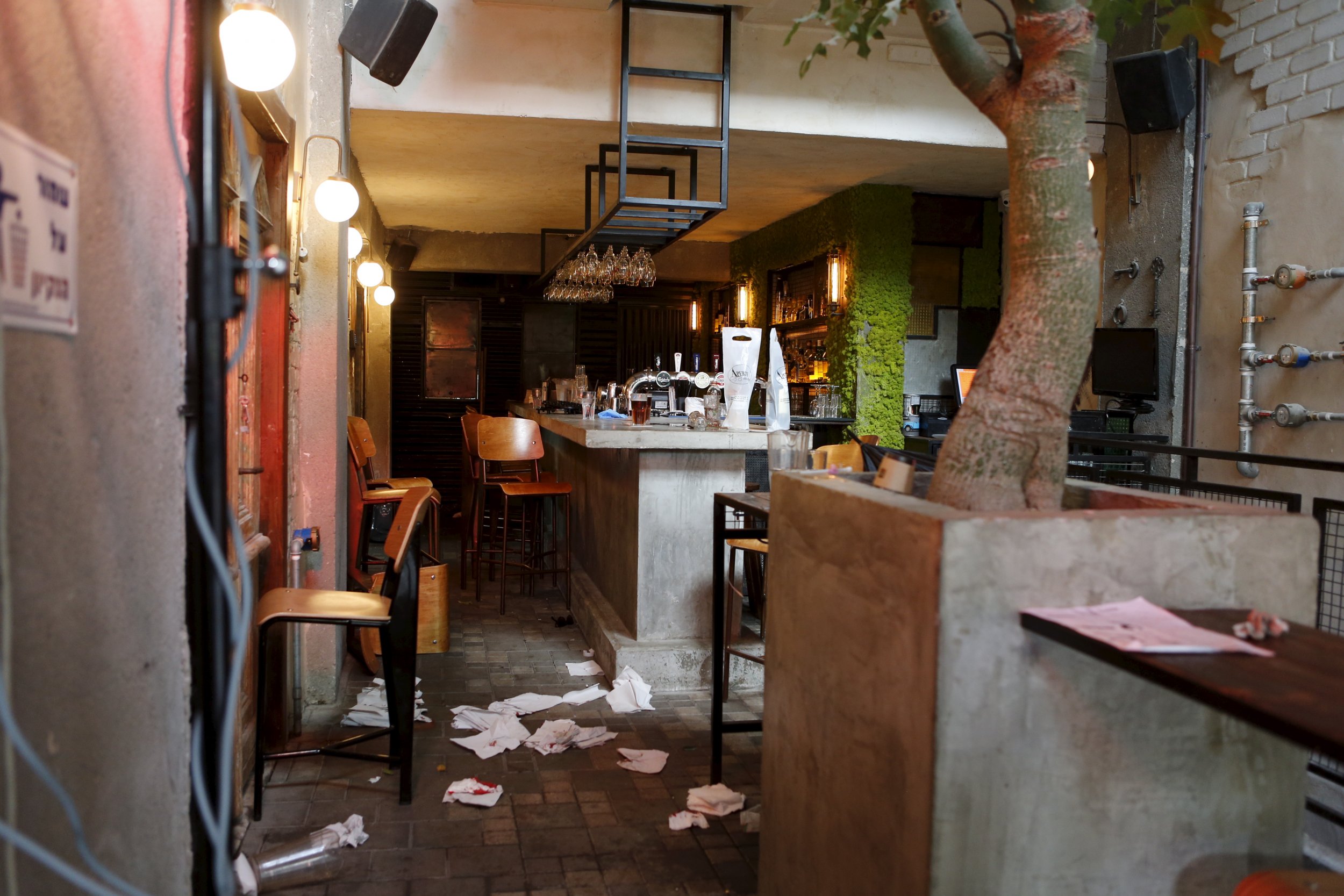 A gunman identified by relatives as a member of Israel's Arab minority killed two people on a bustling thoroughfare in central Tel Aviv on Friday before fleeing, an incident that ramped up tensions after three months of Palestinian street violence.
Security camera footage showed the assailant, who appeared to be in his mid-to-late 20s and wore protective eyeglasses and a windbreaker, browsing dried fruit at a health food store on Dizengoff Street. He then pulled a machine pistol from his backpack and stepped onto the pavement, shooting wildly.
At least three people were also wounded in the attack. With the suspect still at large, police declined to offer a motive.
"All possible angles are being investigated," spokeswoman Luba Samri said without elaborating. "Large-scale police forces are conducting searches for him."
Nati Shakked, owner of the next-door Simta bar where several people were hit while they celebrated a birthday, told Israel's Channel 2 TV: "It was a terrorist attack, without a doubt."
Sami Melhem, an Israeli Arab lawyer, said the shooter was a relative of his, whose father, a police volunteer, had come forward to identify him to authorities after the security footage aired. The 28-year-old suspect's name was withheld from publication under a court gag order.
Speaking to Channel 2, Melhem said he had previously represented the suspect in a case where he was jailed for assaulting an Israeli soldier. But Melhem described him as mentally unstable rather than politically militant.
"This man is not sane, to the best of my knowledge since I represented him," Melhem said. "He has received treatment. He is receiving treatment. Recently he has been going around in the street as an insane person."
Asked if the suspect had radical religious tendencies, Melhem said: "I do not know."
Arabs, the majority of them Muslim, make up 20 percent of Israel's population. While they broadly sympathize with the Palestinians, they rarely take up arms against the country or its majority Jews.
Israel has seen a wave of Palestinian street attacks since October, fueled in part by Muslim anger over stepped-up Jewish visits to Jerusalem's al-Aqsa mosque complex, also sacred to Jews, as well as the lack of any progress toward peace with Israel. The violence has been encouraged by Islamist groups that preach Israel's destruction.
There was no immediate claim by Palestinian armed factions for Friday's attack.
Israel has also been bracing for a possible attack by Islamic State, which has a small but growing following among Israeli Arabs. An Islamic State audio message circulated on social media last week threatened to strike at Israel "soon".