Barcelona Attack Suspect 'Still On the Loose' As Manhunt Enters Second Day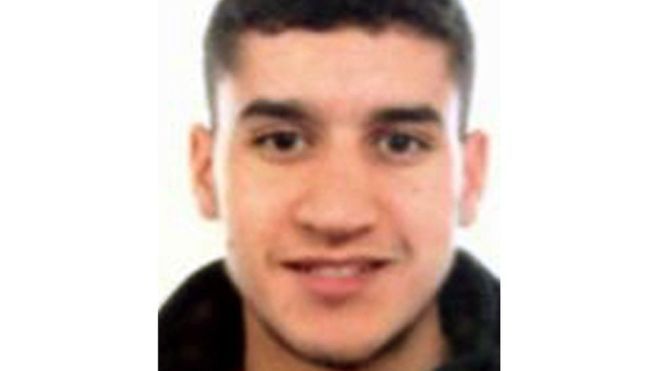 A manhunt is underway in Spain for the driver of a van that ploughed into tourists on Barcelona's iconic Las Ramblas thoroughfare Thursday.
Police previously said the man they believed drove the van in the terror attack which killed 13 people was Moussa Oukabir, 17.
Oukabir was killed by police in a separate attack in the Catalan town of Cambrils early Friday.
Moroccan-born Younes Abouyaaqoub has now been named by Spanish media as the person they believe was behind the wheel of the van in Barcelona.
Late on Friday police chief Josep Trapero told local TV that the theory that Oukabir was the driver now "had less weight."
Spain's El Pais reported that the identity of the chief suspect was Abouyaaqoub, 22, who lived in the town of Alcanar, where police have arrested three people in the wake of the attacks.
On Friday police revealed that they believed the cell were planning to carry out a massive bombing in Barcelona which went wrong when a gas canister exploded in a property in Alcanar.
On Saturday, police said they were carrying out controlled explosions in the town and that one person has been arrested. El Mundo reported that at least a dozen plotters were involved in planning attacks from the property.
Five suspects were killed in the attack in Cambrils on Friday, in which a woman was killed and six people injured when a vehicle struck pedestrians. The suspects were gunned down by police as they left the vehicle, with one reportedly brandishing a knife.
Reuters reported that police believe that as many as two plotters may have been killed in the explosion in Alcanar, with Abouyaaqoub still on the run.
Interior Minister Juan Ignacio Zoido said on Saturday that the cell had been "totally dismantled," but the claim was contradicted by Catalan Interior Minister Joaquim Forn, who said "several more people have still not been arrested."
Security has been beefed up at popular tourist attractions and sporting events in the wake of the attacks, with millions visiting Spain's beaches and cultural sites over the summer months.
Of the 14 dead in the two attacks, five are Spanish, two are Italians, one Portuguese, one Belgian, one Canadian and a U.S. citizen.