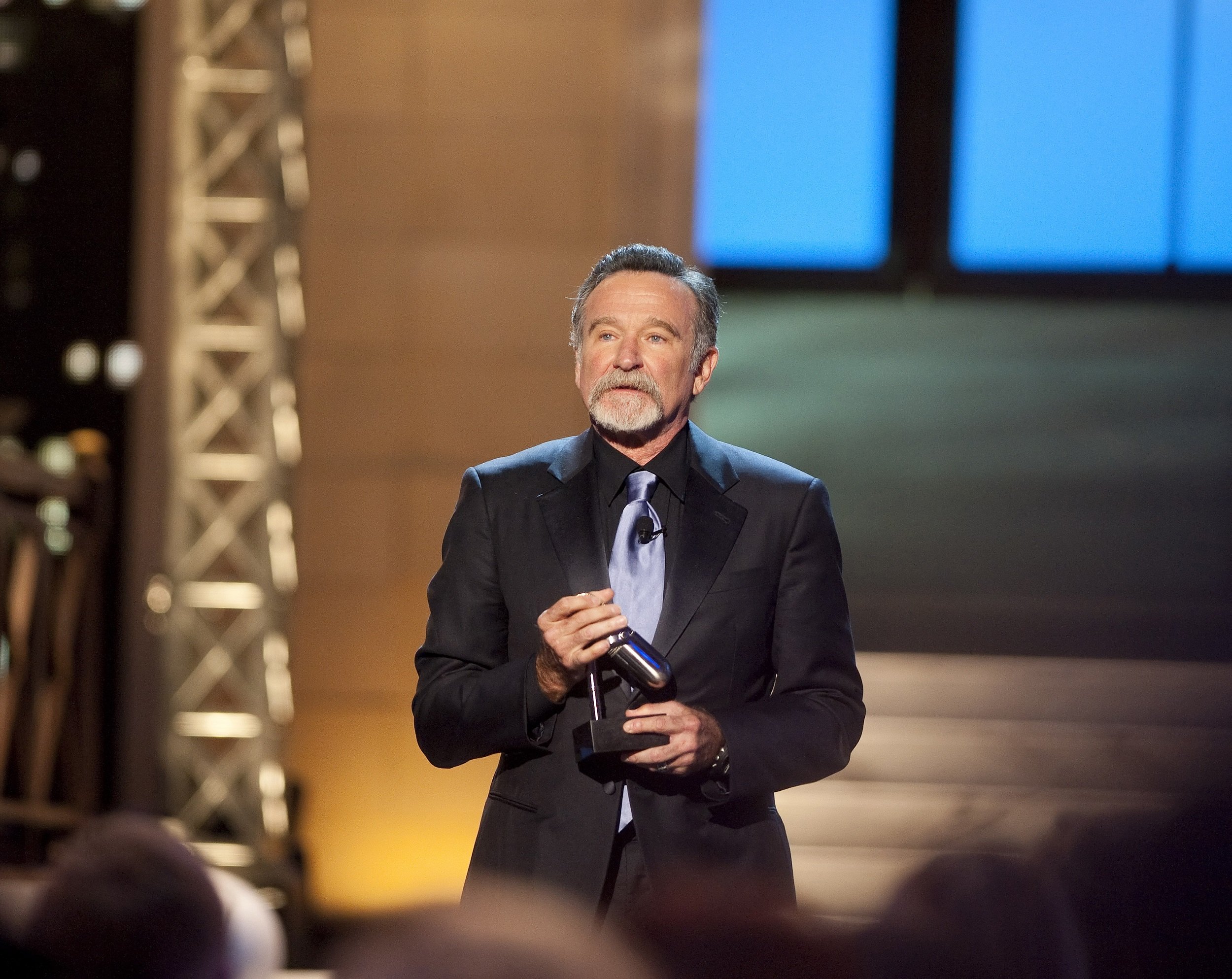 "Gather ye rosebuds while ye may…"
In an early scene from Dead Poets Society, Robin Williams as English teacher John Keating informs his students that he is playing for more than laughs. "Believe it or not," Keating tells his charges, "each and every one of us in this room is one day going to stop breathing, turn cold, and die."
"Carpe diem," Keating continues. "Seize the day, boys. Make your lives extraordinary."
Williams, who died at the age of 63 in his home in Tiburon, Calif., on Monday of an apparent suicide, was Keating's star pupil. His life, his manner, his wardrobe and especially his range as a performer were as far from ordinary as Ork was from Earth. He was, in public, a manic tempest of joy and genius whose every talk-show appearance was A Night at the Improv.
And yet, in films such as Dead Poets Society, Good Morning, Vietnam and Good Will Hunting, all of which led to Academy Award nominations (and the last of the three to Oscar himself), Williams excelled in dramatic and inspiring roles. He was a classically trained actor (Julliard), after all.
That all three of those characters—Adrian Cronauer, Keating and Sean Maguire—were men dedicated to enriching the lives of young men whose paths were at a crossroads was probably no coincidence. Williams appeared in dozens of films but in this trio – and you may add the animated Aladdin to this mix, in which he played the role of Genie—he inhabited the characters as if he had skin in the game. There was genuine empathy, even sweetness, to all his portrayals – such traits were indivisible from the man.
"Do you know how many characters he inhabited for the role of Genie?" James Lipton, host of Inside the Actors' Studio, told Matt Lauer on Today. "Fifty-two. He was a genius."
For those of us old enough to remember, Williams arrived in our lives when he entered, on February 28, 1978, what was then America's living room: that of the fictional Cunningham family. For a few years, in the last days before the advent of cable television, Happy Days was the most popular show in the land and Arthur "Fonzie" Fonzarelli (Henry Winkler) the most iconic figure.
Williams, clad in a red-and-silver jumpsuit and playing an extraterrestrial named Mork from Ork (producer Garry Marshall seeking to take advantage of the Star Wars and Close Encounters of the Third Kind craze), walked into the abode and upstaged the Fonz. At one point – and this was most likely an ad-lib – Mork pointed at the TV and quipped, "I do love that Opie boy." It was a clever reference to actor Ron Howard, who played Richie Cunningham in the series but would have been known to America in the era in which Happy Days was set as Opie Taylor.
From there Williams landed his own sitcom, Mork and Mindy, co-starring Pam Dawber who, as a plethora of talk show hosts in later decades would, quickly learned to get out of the way and let Williams do his thing. Scripts were nearly superfluous. The show itself was forgettable, but much like what Bosom Buddies later did for Tom Hanks, Mork & Mindy demonstrated that Williams' formidable talent was constrained by a 22-minute format.
Williams cast aside Mork's rainbow suspenders and embarked upon a film career while remaining a comic titan in the Eighties. He was not a joke-teller, but rather an engine of rapid-fire synapses in which characters, wordplay and events both historical and fictional were tools. Here he is in a scene from Good Morning, Vietnam, portraying a deejay but really just being himself.
Two years later, in 1989, Williams took on the role of Keating in Dead Poets Society, and while he had taken on serious roles before (e.g. the titular character in The World According to Garp) this was his first transcendent character. In a decade that nearly drowned itself in high school-based films (Fast Times at Ridgemont High, The Karate Kid, Risky Business, The Breakfast Club et al.), Williams played the rare adult who was anything but antagonistic to adolescent males. Rather, he was inspirational.
And yet, even in Dead Poets Society, director Peter Weir was unable to resist including a scene in which Williams does his schtick. It occurs early in the film, as Keating and his English students are becoming acquainted. Williams performs Shakespeare as Marlon Brando and John Wayne. The students, including future Hollywood leading man Ethan Hawke, laugh as if they are in the front row at Comic Relief.
It's a wonderful moment, but he is still Robin Williams doing improv. Only a handful of movie stars—Jim Carrey comes to mind—were ever in his league in that specialty. And this is what makes his performance in Good Will Hunting so unforgettable: he casts aside that crutch. No longer the agitator with a mischievous sparkle in his eyes, Williams is both resigned and ursine. Middle-aged and middle-income.
While it appears at first glance that his character is no longer waging skirmishes of the soul versus either the military establishment or a prep school, what soon becomes clear is that he is engaged in his fiercest battle yet. Because it is his most intimate performance. As the psychologist who takes on the titular troubled genius prodigy (How on earth did Williams ever relate to that character?), played by Matt Damon, he is 100% authentic. Robin Williams, a Rolodex of characters at his disposal, may be hiding somewhere behind that bushy, brown beard, but we never see him.
As an actor, he was never better.
Whatever was behind the depression that apparently led Williams to take his own life on Monday in the heavenly town of Tiburon, we never saw that, either. Like Philip Seymour Hoffman, who died last winter, Williams had battled addictions at the outset of his career—he was with John Belushi at the Chateau Marmont on the night Belushi would later overdose—and then overcome them for decades.
But, also like Hoffman, Williams saw the subversive agents of addiction slip back into his life. They were only symptoms, of course, a false panacea for the pain that inflicted his thoughts. And that is the irony, as well as the tragedy, of the loss of Robin Williams: that such a boundless reservoir of joy and laughter for all who encountered him could not overcome the sadness within.