Mannequin in Police Uniform and Pig Mask Found Hanging From Overpass
The Jacksonville, Florida, Sheriff's Office is looking for the person responsible for hanging a mannequin dressed in a police uniform and a pig mask from an overpass.
The mannequin was found on Saturday morning, two days after protesters marched through the streets of Jacksonville calling for an end to police brutality. Jacksonville Sheriff Mike Williams said many good citizens were having frank conversations about challenges the community faces and hanging the mannequin was an effort to undermine safety efforts.
"The incident that occurred this morning depicting the mock lynching of a mannequin dressed in what appeared to be the uniform of a law enforcement officer is extremely disturbing," Williams said in a statement.
Williams added that the tactics and props were a "deliberate attempt to exasperate an anti-police sentiment and drive a divide in our community." Officers wouldn't tolerate the act and are working to hold the person or people accountable. Crime scene detectives processed the scene and are testing the mannequin for DNA. The department asked anyone with information to contact the sheriff's office.
Newsweek reached out to the Jacksonville Sheriff's Office for comment but did not receive a response in time for publication.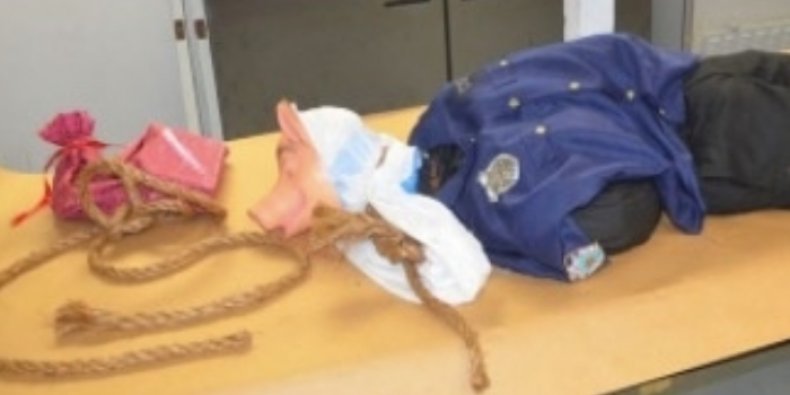 Officers responded to the Interstate 95 overpass after receiving calls about a potential suicide, Sergeant Bruce Baker said. Although it poses concerns about safety for the community and law enforcement, Baker said, "We are thankful this is not a real person."
Lamont and Keva Ross, and Kamri Merriweather, who all saw the mannequin while driving, told WJXT their hearts dropped. Both thought it was a real person and when Ross realized it was a mannequin, he attempted to knock it off the overpass.
Mayor Lenny Curry posted on Twitter that the community won't let "an appalling and disturbing act like this derail" progress being made to invoke change. Curry wouldn't tolerate actions that are "so blatantly meant to intimidate" officers or citizens.
The local Fraternal Order of Police chapter encouraged people to stop giving attention to the "loud few" who attempt to drive the community apart. President Steve Zona said the hate displayed in the picture of the mannequin was "representative of someone with a small mind and whose only goal is to cause division."
"The hate displayed in that picture is not representative of our community," Zona said. "We are thankful for the support we have here in Jacksonville and we will not allow the actions of one person, or a few, to affect our commitment to serve."