Everything You Need to Know About Manny Pacquiao's Next Fight, Against Timothy Bradley Jr.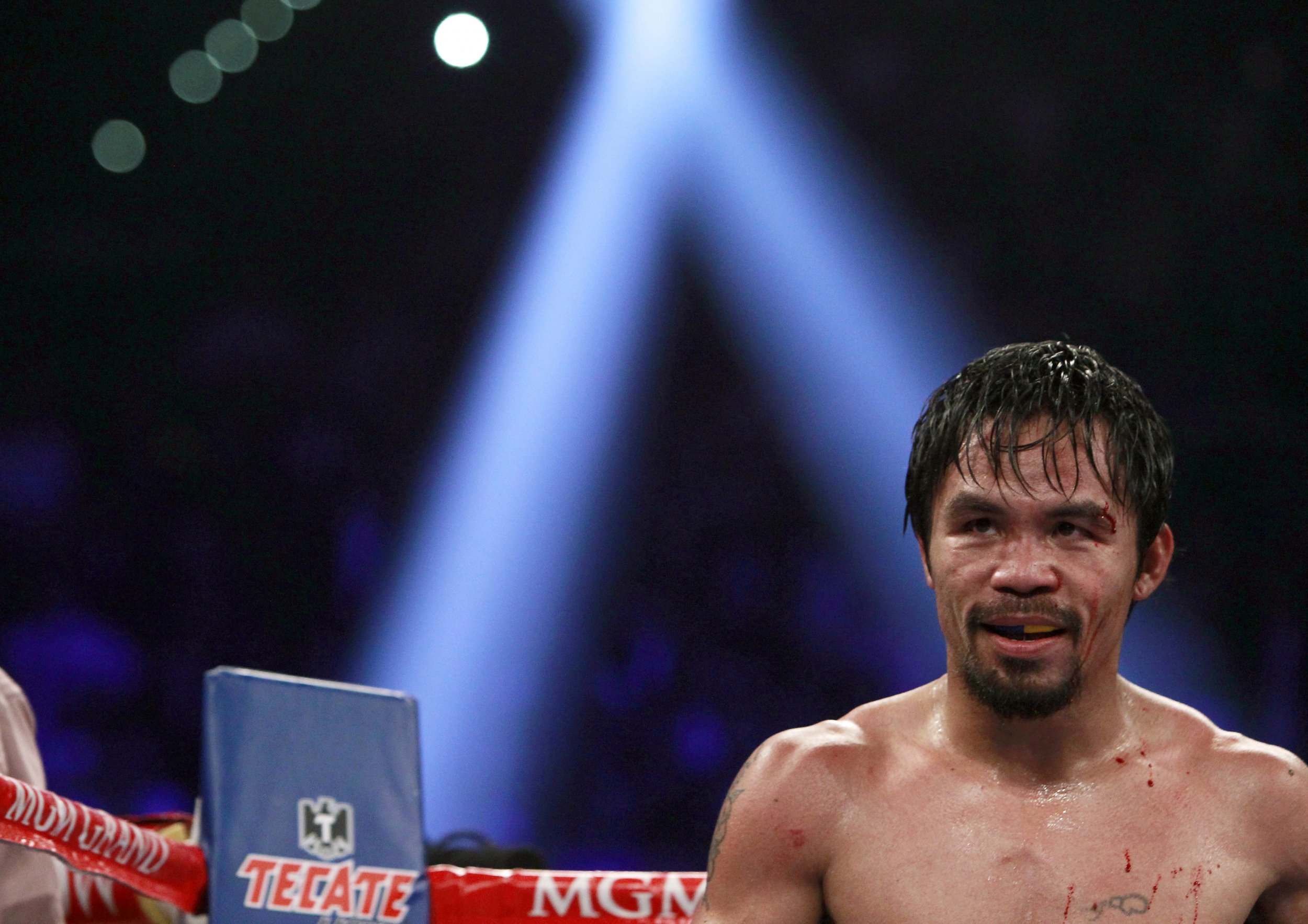 Manny Pacquiao isn't letting his loss to Floyd Mayweather Jr. get him down: On April 9, he'll be back in the ring with Timothy Bradley Jr., his third bout against the 32-year-old—and just possibly the last fight of his career.
Last May, Pacquiao fell to the controversial Mayweather, who is undefeated in the ring but has had legal troubles outside it. The buildup to the fight was exceptional, with hotels in Las Vegas sold out months in advance; the fight itself was the opposite. While fans expected Mayweather to win, Pacquiao certainly didn't: He was surprised by the loss and his camp noted he was hindered by a shoulder injury.
In his first fight since the loss, Pacquiao will take on Bradley, who boasts a record of 33-1-1 with 13 knockouts. Pacquiao, who is 57-6-2 with 38 knockouts, lost the first fight against Bradley in a split decision, in 2012, and won the second by unanimous decision, in 2014.
And now they'll be fighting again. The obvious question is, of course: Why? By now, fans know what to expect, and even dedicated Pacquiao loyalists half-heartedly shrug in anticipation. Arguably, Pacquiao needs the match (and the win) to get his mojo back.
If he beats Bradley, the doors open for a rematch with Mayweather and promoters can start plotting the "Fight of the Century" (Part 2). That May fight earned the boxers tens of millions of dollars, not to mention the cash raked in by their promotional companies, the television network and Vegas bosses. Economics demand a rematch, and a win over Bradley could get the ball rolling.
But only a few weeks after Pacquiao faces off with Bradley, he'll be headed back to the Philippines to campaign for a senate seat. Freddie Roach, his trainer, doesn't anticipate the fighter's budding political career will get in the way of the Bradley fight. "One thing about Manny Pacquiao is once he walks into the boxing gym, all that other stuff goes away," Roach told the Los Angeles Times.
There is, of course, a chance that Bradley wins. Stranger things have happened (just ask Ronda Rousey) and, as the Times notes, Bradley did have a successful showing against Brandon Rios late last year.
While Mayweather-Pacquiao was a snoozefest, it brought in viewers and attendees in a way that Pacquiao-Bradley simply won't. As Yahoo's Kevin Iole notes, Pacquiao could've gone up against Adrien Broner, Amir Khan or Terence Crawford. Khan was a possible choice for Mayweather as well, as this reporter argued in September when the undefeated champion chose to go against Andre Berto instead. (Berto lost, Mayweather "retired" and fans were not amused.)
That brings us to the point of "retirement." Mayweather has claimed he fought his last fight a few times now, most recently after that Berto fight. Even Stephen Espinoza, the Showtime executive and boxing mastermind, didn't totally seem to buy Mayweather's claim that he'd retire after the lackluster Berto match.
Theoretically, Pacquiao could be the one to proclaim retirement after his April match. "I'm telling you what he told me last week at dinner in New York," promoter Bob Arum told ESPN. "We talked very seriously, and he said, 'Bob, hopefully, by the middle of May I will have been elected senator in the Philippines, and at that point I cannot engage in boxing because I need to focus on the senate and I have to be in attendance.' Manny told me this fight on April 9 will be his last fight."
Regardless, if Pacquiao does beat Bradley, no matter how thrilling or boring the match, the door will be ajar for a Mayweather rematch. From there, the executives, promoters and ad sales teams, desperate to sell more overpriced air, may be able to push that door open.