Man's Attempt To Propose To Partner Goes Hilariously Awry in Viral Video
A man was prepared to propose to his partner in a scenic area in the woods, but things didn't go quite as planned when she walked away from him as he bent down on one knee.
The proposal was captured on video and shared on Hannah Murphy's TikTok account, @hannahmurphyyyy, where it was viewed more than 600,000 times.
"When you thought you were just exploring the woods but then #proposal," the video caption read.
Surprise wedding proposals can be exciting, but there are a few things people should keep in mind when planning one.
According to Zola, couples should first make sure they are already on the same page with one another about major decisions before a proposal even takes place.
To have a successful surprise proposal, the one proposing should continue a normal routine, keep their phones and any engagement texts away from their significant other and distract them so they don't see the proposal coming.
"Have your significant other anticipate a marriage proposal at a different time or location than you planned," the piece stated. "When they assume that you'll be popping the question next month, imagine their shock when you propose this week."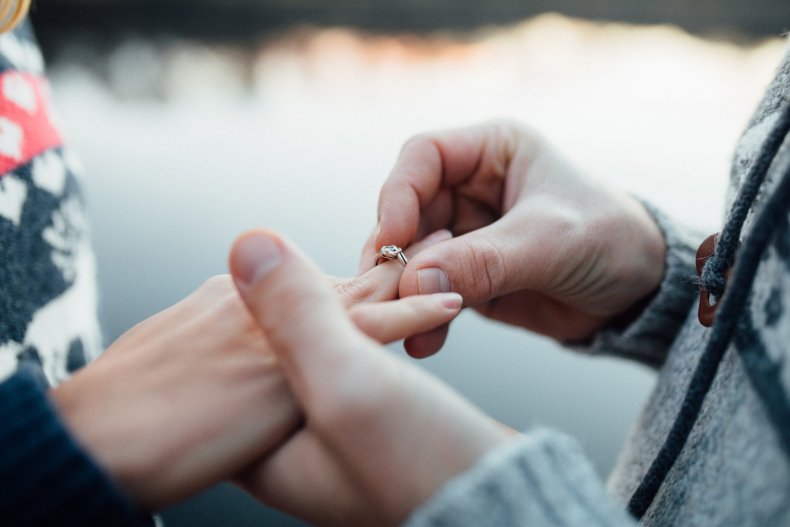 Murphy and her now-fiancé are seen in the woods as the video opens. The couple is crossing a brook.
With him behind her on the rock crossing the small stream, she took a few steps forward, crossing the water while, unbeknownst to her, her partner got down on one knee.
He knelt and wordlessly presented a ring, but Murphy continued to walk away.
"Where are you going?" Murphy's fiancé asked several times, laughing.
Murphy continued to walk away until she was out of the video frame.
Her fiancé remained on one knee until Murphy turned around, exclaiming, "What?!" before the video ended.
Many viewers loved Murphy's reaction.
"This made me CACKLE," @kamrync154 commented. "Lmao 'WHAT?'"
"It's the 'what?!' For me," @akikoliuphotos wrote.
Some commenters imagined what they may have done if the person they planned to propose to walked away.
"I would have stood back up and canceled the proposal," @emmjgee wrote.
"My anxiety would have made me get up like nothing happened and try again another time," @azaleacormier wrote.
Although the video abruptly ended just as Murphy turned around, another video was shared showing the full proposal.
"No f*****g way," Murphy said as she looked back at her partner before she carefully walked back to him.
He managed to finish what he wanted to say to her and stood back up to place the ring on her finger.
They stood together for a few moments before they embraced one another.
"I love that every girls reaction is different," @msimps30 commented. "I have no idea how I'll react, all I do know is that I'll say yes to my [boyfriend] when he asks."
Newsweek reached out to Hannah Murphy for further comment.