One man's impressive basement renovation, honoring his love for Star Wars, has caught the attention of viewers online: a video tour of the impeccably-decorated space has gone viral on TikTok, amassing 4.7 million views in just two days. The clip has also garnered 649,500 likes and over 18,000 comments.
"I've loved Star Wars since I was a kid," explained the TikToker, known as Patrick, to Newsweek. "I was born when the original movies came out. I used to watch A New Hope anytime I was home sick from school."
Spurred by his life-long love for the Star Wars movies, the basement redo had been a long term goal for the fan.
"I've been wanting to build this basement for years," he said. The space had been unfinished before Patrick started on the renovations, which he completed himself. "The plan was always to have a finished basement by the time my son was in high school so he'd have a space to hang out with friends," he explained. "Then Covid happened, and since I was stuck at home, I decided to begin a couple years early."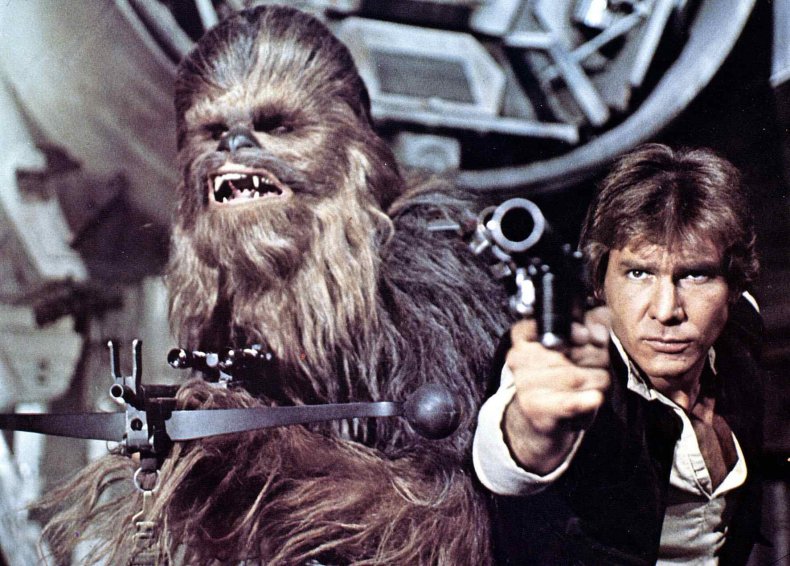 Patrick's video tour begins with him opening the door to his basement, revealing a ceiling replica of the Star Wars: Episode IV - A New Hope opening crawl—the signature yellow text that opens each of the Star Wars films.
Heading down a flight of stairs and down a corridor, Patrick highlights his extensive collection of Star Wars posters hanging on the walls. As he reaches the main space, a fully-furnished room, featuring a kitchenette and screening area, is finally revealed.
Patrick spared no detail in his renovation. Glass shelves house his many Star Wars action figures, while an encased, glass coffee table showcases a large Lego replica of the Millennium Falcon, among other iconic Star Wars spacecraft.
As Patrick told Newsweek, his favorite feature in the basement is the bar top, which features his 1990s Star Wars action figures displayed under a glass countertop.
The video's final cut reveals what is perhaps the most impressive feature of the room. On either side are light-up panels which give the room a futuristic, blue look. Meanwhile, an impressive lineup of glowing lightsabers lines one wall.
According to Patrick, the majority of the items displayed in the room are things he had already collected. The lightsabers, however, were chosen alongside his twelve-year-old son. "My son and I started collecting lightsabers in [November] 2019, hoping one day to have a cool space to display them," he said. "So we accumulated 11 of the 12 sabers on the wall specifically for the project."
The enormous amount of effort Patrick put into his basement did not go unnoticed by viewers, with many commenting that they wished the space was their own.
"Where's the roommate application?" wrote one viewer.
Commented another: "My mind was blown when the door opened."
"It's been fun to see the response," said Patrick. "I'm glad that people appreciate the hard work I put into it."
"There have been some toxic comments which is disheartening," he added. "But I try to focus on the positive ones as much as I can."