Man's Girlfriend, Infant Daughter Found Dead in Car Days After Shooting; Manhunt Launched
After finding a 20-year-old woman and her 1-year-old daughter dead in a car on Thursday, law enforcement officials in Orange County, Florida are searching for a "person of interest" in connection with the deaths.
Orange County sheriff's deputies found the woman, Massania Malcolm, and her daughter, Jordania, in a parking lot Thursday. The sheriff's office announced Friday that it is "actively searching" for 21-year-old Doujon Duwayne Griffiths, "a person of interest in the murder of Massania Malcolm, 20, found shot to death in a car yesterday on Lake Ellenor Drive."
"Malcolm's 1-year-old daughter, Jordania, also died, and her boyfriend, Jordania's father, was shot as well and remains in the hospital. Please share, and help us seek justice," the Orange County Sheriff's Office wrote on Facebook.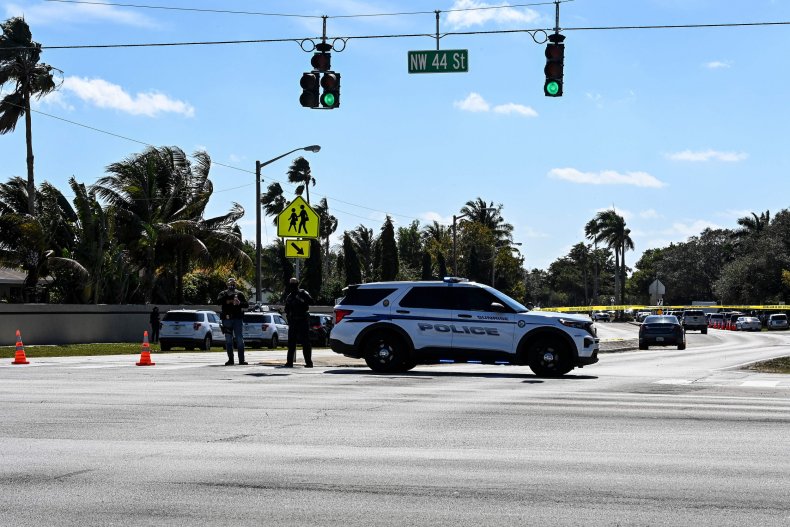 Orange County Sheriff John Mina said Friday that the bodies of Malcolm and her daughter sat in the car "for probably a couple of days," after a shooting on Tuesday that involved Malcolm's boyfriend, the Orlando Sentinel reported.
On Tuesday, law enforcement officials found Malcolm's boyfriend—who police have declined to identify— injured with multiple gunshot wounds.
"He was only able to tell deputies that he was shot by a 'friend,' before he was transported to the hospital and rushed into surgery," the Orange County Sheriff's wrote in an email sent to Newsweek.
On Thursday, a family member of the man "contacted law enforcement and said they had been unable to reach the man's girlfriend and infant daughter."
According to the sheriff's office, that day "the shooting victim regained consciousness at the hospital and told detectives that he, his girlfriend, their infant daughter and his friend were in his car when he was shot by his friend."
"He also said he believed his girlfriend may have been shot as well. And he believed his friend drove off in the family car with his girlfriend and baby," it added.
Mina said that the man told investigators that he was driving with Malcolm, her daughter, when Griffiths, who was in the back seat, fired his weapon after an argument, according to the Orlando Sentinel
At 2 p.m. Thursday, detectives located the vehicle containing Malcolm and her daughter's bodies.
The sheriff's office said detectives "have secured a warrant for attempted murder in the shooting" and that he is currently a "person of interest" in the deaths of Malcolm and her daughter.
"This is a horribly tragic case that has shattered two families," Mina said, according to the Orlando Sentinel. "This suspect allegedly left that baby to die in that car."