Man's Trip From U.K. to Ukraine to Reunite With Wife and Child Goes Viral
Ian Umney's world paused for a moment after he learned of the Russian invasion into Ukraine on February 24. Although he lives in England, his wife and son live in Ukraine.
When he heard the news and spoke with his wife, he decided to make the journey to reunite with his family in Nikopol. Umney shared his two-day trip into Ukraine on TikTok, and his videos have gone viral.
The first video of his series, which is posted to the TikTok account @ian.1193.backup, was viewed more than 6 million times.
Although Umney was making the journey into Ukraine, Newsweek previously reported that more than 500,000 people fled the country after President Vladimir Putin initiated an invasion of the country by the Russian military.
Cars and buses were lined up at checkpoints at the borders of several countries, including Poland, Slovakia and Romania, while others crossed the borders on foot.
He told Newsweek that he put a plan together and set out for Ukraine on Sunday.
His first video that he shared showed the bags he prepared for his travels, as well as some of the items he packed.
"Ready to go," he said. "I'm leaving to the airport in about 30 minutes, and then a flight over to Poland at about 3 p.m."
Since the first video, Umney shared several other videos documenting where he was on his journey, which included an overnight train ride.
On Tuesday, Umney was reunited with his family, and he began taking the steps to secure his house.
"I was relieved when I got on the train to the city because that was the final leg of the journey," he said. "So, even though it took a long time, it was the final step that I had to take."
During the train ride, Umney said he kept his mind occupied to avoid any negative thoughts.
When he was finally reunited with his family, Umney described the moment as "very emotionally charged."
"My son opened his arms to me, and I hugged him and wept into my wife's arms," he said.
It had been about one month since he had been back to Ukraine.
Born in England, he explained he moved back last July after living in Ukraine with his wife for six years.
He said he and his family have been planning to live in England, and he moved back earlier to find a job and a house. While that remains the plan, Umney said they are waiting for the right time to make the move.
Since being back in Ukraine, he said things feel "quite normal," though there is a feeling of uneasiness.
"There are signs posted showing you the nearest bomb shelter," Umney said. "I haven't seen any roadblocks in the city yet, which is what I want to go out and do tomorrow. But, overall, it does seem quite normal. Although, a bit tense."
He said he and his family are taking things day by day. Depending on the status of his city, Umney said his wife and child may or may not travel to the border of Poland where they will meet with his family and stay in England.
Umney said he plans to stay and defend Ukraine.
"I'm able to fight just like any other Ukrainian citizen," Umney said. "So, if half of my family is here in Ukraine, I feel responsible to do the same as any other person."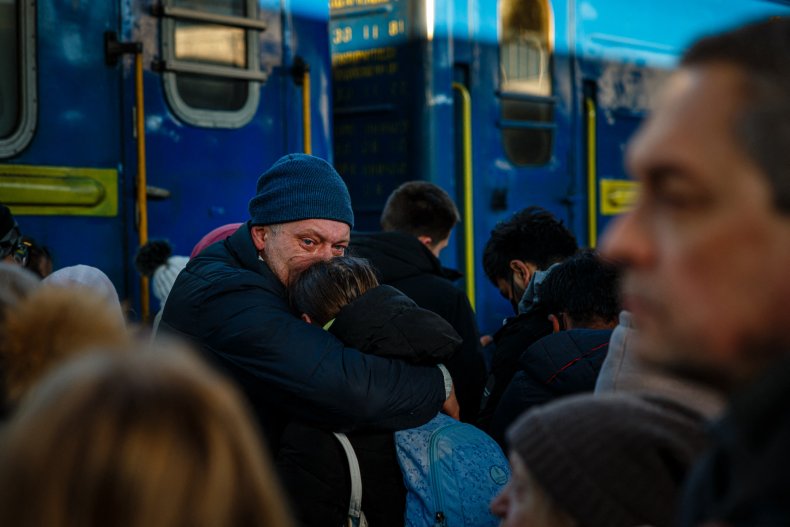 Umney said he's glad he can use TikTok to share videos and go live.
He said he's received donations, which have gone toward building roadblocks and buying food for the community.
However, he said he was surprised that he's gained a following since he started sharing his videos.
This is his second account, and Umney said it received 150,000 followers and his livestream was viewed by more than 7,000 people.
"I find that remarkable and quite insane to think about," he said.