Is Manspreading the Latest Target of Broken Windows Policing?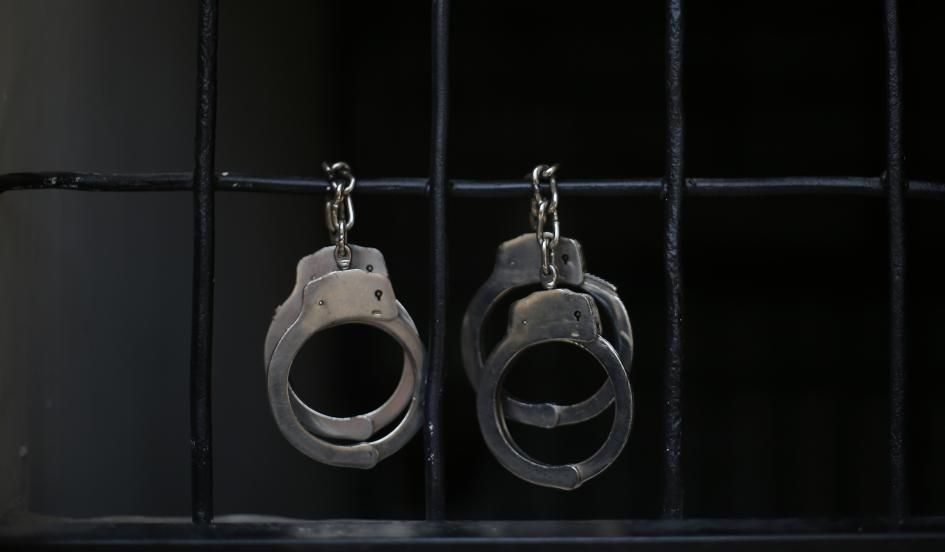 "I'm half Puerto Rican, and that's how they get you. Bike on the sidewalk, open alcohol container, things like that," a young man recently said of New York Police Department officers, in conversation with criminal justice reform advocates. "I am scared of the police if I see one on the street. I'd rather spend a night with the Hell's Angels on the Lower East Side than go into a police precinct to report anything."
Police Reform Organizing Project (PROP) released a report Thursday detailing nearly 120 accounts of alleged NYPD disrespect and abuse.
Claims of abusive NYPD practices largely involve alleged false or trumped-up arrests—including collars for "manspreading" (when men riding the subway sit with their legs wide open, often occupying more than one seat's worth of space) and criminal charges to Bronx moms for standing outside their kids' school before dismissal.
(Advocates, which observed the two "manspreading" arraignments on Friday, believe they were an interpretation of NYC public transport rules barring occupying more than one seat "in a station, platform or conveyance when to do so would interfere or tend to interfere with the operation of the Authority's transit system or the comfort of other passengers.")
The alleged heavy-handed policing, which includes excessive issuing of summonses for quality-of-life violations, stems from the oft-criticized "broken windows" approach to crime-fighting, as well as arrest and ticket quotas, the report charges.
Some of the anecdotes in the report claim officers have even been apologetic while arresting or summonsing for low-level, nonviolent crime or quality-of-life violations.
In one instance, two young women were ticketed for walking through Tompkins Square Park after dark. When they told the police that doing so was safer than walking around the park, officers told them, "Sorry...we have to meet our quotas," the report says.
The anecdotes come from the organization's court-monitoring project, as well as interviews with individuals who signed PROP petitions. Advocacy agencies and civil rights attorneys provided additional information, explains Robert Gangi, PROP president.
PROP staff and volunteers observed and recorded misdemeanor arraignment proceedings in Manhattan, Queens, Brooklyn and the Bronx, from June 2014 to present. The some 35 observation sessions ranged from 1.5 to 3.5 hours in duration, Gangi tells Newsweek.
What they found: "out of the 850 total cases seen, 797, or about 94 percent, of the defendants were people of color. 756 people, or 89 percent, of the persons arrested or ticketed were able to walk out of the courtroom."
The new report also details the alleged negative effects of broken windows policing on pedicab drivers.
For example: "Four police officers approached seven pedicab drivers who work in the City's Theater District and told the drivers that they each needed an arrest. Since there were more drivers than officers, the officers told the drivers to play a game to determine who would be arrested. The [four] drivers were arrested for unauthorized parking and were locked up for 15 hours."
Several accounts reveal outright "kafkaesque" NYPD behavior, Gangi says.
"An African-American man was walking home with a bag of dog food in Brooklyn when three plainclothes officers grabbed him, accused him of swallowing drugs, and tackled him," the report claims. "After a strip search in the precinct and a series of forced and invasive medical tests over two days at Interfaith Hospital, no contraband was found. The hospital billed him $9,500 for its services."
"These stories all have a kind of Waiting for Godot quality to them," Gangi says. "There's an absurd theater the cops are acting out that not only really does harm to people, but instills in people this antagonism toward cops and distrust toward cops."
In an e-mail to Newsweek, Kim Y. Royster, Deputy Chief Commanding Officer of the NYPD's Public Information Division, comments: "We have not reviewed the report, however, Police Commissioner Bratton's 'Broken Windows Policing' philosophy is not 'zero tolerance' and it never was. It is to stop low-level disorder and petty crime before they can metastasize into more serious crimes. This does not mean arrests and summonses are the only answer."
Minorities comprised some 86 percent of New York City's 2014 misdemeanor arrests, Newsweek reported in February. This marked a slight decline from 2013, during which minorities comprised 87 percent of New York City misdemeanor arrests.
Misdemeanor arrests, according to another PROP paper, cost New York City an estimated ​$1,134,000 per day—totaling $410 million per year, the group claims.