Manti Te'o Thanks Fans in Wake of New Netflix Catfish Doc
Football linebacker Manti Te'o thanked his fans in a heartfelt video shared on his Instagram on Saturday for their support after the release of Netflix's documentary, Untold: The Girlfriend Who Didn't Exist.
The two-part series, part of the documentary series, Untold, was released last week, nearly 10 years after Te'o received news that his girlfriend at the time, Lennay Kekua, and his grandmother had both died from cancer on the same day. A few months later, however, he began to learn that his girlfriend hadn't actually died because she never existed.
The documentary was released on August 16, and since then Te'o said he has received an outpouring of love and support from fans.
"I just want to come on here real quick, just to give a heartfelt thank you to everybody that has come through and has shown so much love to me and my family, for your messages, for your comments," Te'o said in a video on Saturday. "I'm trying to go through all of them and it's been so amazing to me to hear the battles that we're all facing, the challenges that we're facing in our lives at this time, and how the documentary has given some of us hope, the extra push just to keep going."
He added that if there was "anything I wanted from this thing," it was to "give some of us hope who needed it, to tell those who needed some love that they're loved, and to help them to forgive, to forgive others and most importantly to forgive themselves."
The documentary focuses on the linebacker's girlfriend hoax story, which first gained attention in January 2013 after investigations by media outlets alleged that Te'o's claims about his girlfriend's devastating cancer diagnosis and death were fake.
At the time, Te'o played college football for Notre Dame. His team issued a statement saying that Te'o was actually a victim of catfishing and that people were conspiring against him online.
After several investigations, a former acquaintance of Te'o, Naya Tuiasosopo, who has since come out as a trans woman and uses she/her pronouns, confessed that she was, in fact, Kekua.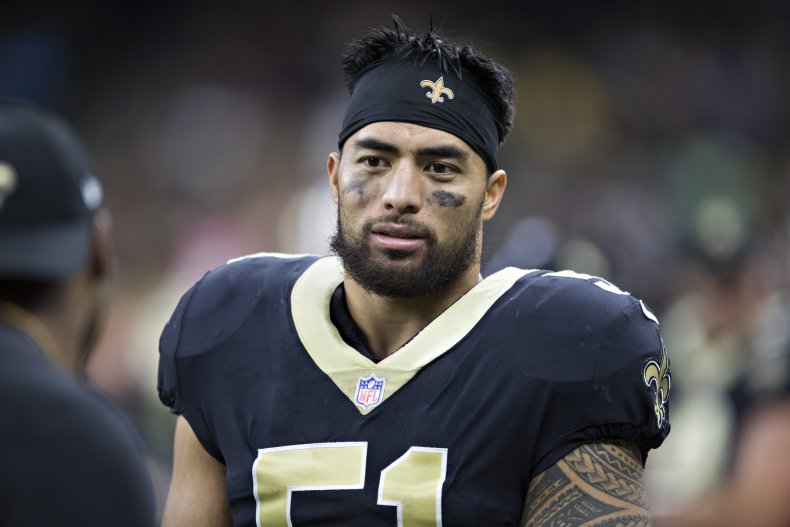 Speaking in Untold, Tuiasosopo said she had been trying to figure out her own sexual identity, which led her to create the fake account of Kekua, building relationships only online. In September 2012, in an attempt to end their relationship, Tuiasosopo faked Kekua's death.
In 2013, Tuiasosopo did an interview on Dr. Phil and said Te'o had no involvement in the catfishing. "As twisted and confusing as it may be, yeah, I cared for this person. I did all that I could to help this person become a better person, even though I wasn't getting nothing out of it," she said.
And while Te'o is now married, a father, and plays as a free agent after several seasons with the San Diego Chargers, the New Orleans Saints, and the Chicago Bears practice squad, he is thankful that the documentary has the chance to influence so many people.
"I just wanted to come over here and say thank you," he concluded on Saturday. "Continue to show that love not only for the people you come in contact with but most importantly, for yourself. And we'll make this world a better place one person at a time."
Untold: The Girlfriend Who Didn't Exist is streaming on Netflix now.
Newsweek reached out to Te'o for comment.