Manual Recount Ordered for Florida Senate Race, DeSantis Appears to Win Governor Race
More than a week after election night, the Sunshine State is one step closer to finalizing its election results for some of the most hotly contested races in the country.
Florida's Senate race between incumbent Democratic Senator Bill Nelson and GOP Governor Rick Scott will head for a manual recount of some ballots. After a statewide machine recount on Thursday showed the vote margin between the two candidates was less than 0.25 percent, Florida Secretary of State Ken Detzner officially ordered Florida's 67 counties to begin a manual recount of certain votes.
A machine recount finished by most counties showed former GOP Congressman Ron DeSantis still leading Democrat Andrew Gillum by 0.41 percent in the race for governor, all but assuring DeSantis will become the state's next governor.
The Senate's manual recount will only involve the overvotes and undervotes, a slim majority of the total votes cast. The previous machine recount had retabulated all votes cast. An overvote is when a voter selected more choices or candidates than allowed on the ballot and an undervote is when the voter selected less choices or candidates than is available on the ballot.
Newsweek subscription offers >
There were tens of thousands of undervotes in South Florida counties. The Nelson campaign believe many of those ballots will be counted for Nelson following a manual recount.
Florida law requires a manual recount take place if a machine recount shows a vote margin of less than 0.25 percent. After the machine recount, Scott increased his lead over Nelson by less than 50 votes to roughly 12,600 votes, according to the Florida Division of Elections website. The Scott campaign has claimed he gained hundreds of votes, but there has been no public information to confirm that number. The vote margin between the two remained at 0.15 percent, the same as before the recount.
Counties will need to finish the manual recount by Sunday at noon. The state's Elections Canvassing Commission, of which Scott has recused himself from, will then officially certify the results of the election at 9 a.m. on Sunday. The state's race for agriculture commissioner will also head to a manual recount.
Three counties–Palm Beach, Broward and Hillsborough–did not finish the machine recount on time to meet the 3 p.m. deadline on Thursday. Despite the recount efforts, the state will use the three counties' original results from before the machine recount.
Newsweek subscription offers >
Palm Beach County's outdated equipment led to broken down and overheated machines that slowed progress. Broward County said they submitted their results two minutes late after it took 17 minutes to upload its results to the state website, resulting in the state rejecting the submission. Hillsborough also missed the deadline after the machine recount showed an unexplained drop in the total number of votes cast.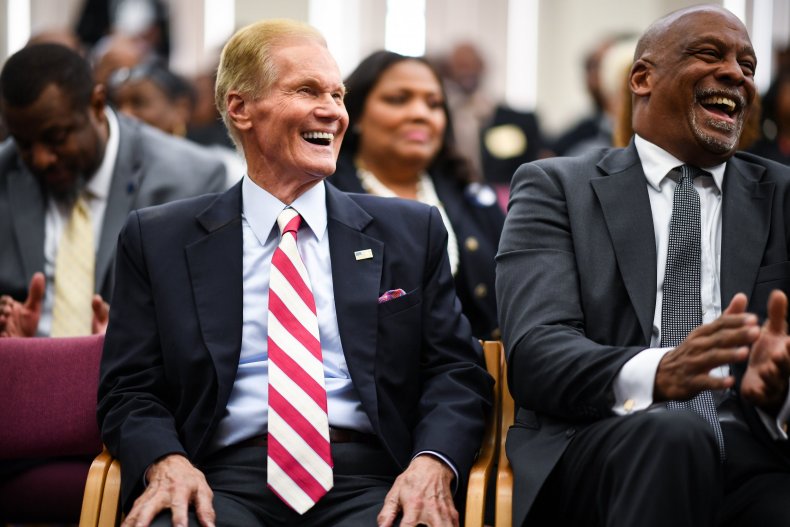 Just prior to the Thursday afternoon deadline, a federal judge in Tallahassee denied the Nelson campaign's lawsuit seeking to extend the deadline for counties to finish their recount. The Nelson team hoped Scott's lead of roughly 12,500 votes prior to the recount would slim as votes were recounted in Palm Beach and Broward counties, Democratic strongholds.
Early Thursday morning, U.S. District Court Judge Mark Walker granted roughly 4,000 Florida voters whose mail-in or provisional ballots were rejected from a signature mismatch two days to fix their ballots. The ballots from 45 counties were rejected because voter's signatures did not match with what was on file at the Department of Motor Vehicles. Walker's ruling only applied to voters who were notified "belatedly" that their ballot was rejected, meaning they did not have the proper time to fix the mismatched signature. Voters have until 5 p.m. on Saturday to cure their ballot.
The Scott campaign sought to appeal Walker's decision through the National Republican Senatorial Committee and the Florida Department of State who were fighting against Nelson in the lawsuit. The measure was denied by an appeals judge late Thursday afternoon, according to Nelson attorney Marc Elias.
The recount of the race for governor between DeSantis and Gillum appeared to unofficially declare DeSantis as the winner. The Florida Division of Elections website showed the two's vote margin shift by only a handful of votes after the machine recount. DeSantis still led Gillum by 0.41 percent, or roughly 33,600 votes.
The official results for all of Florida's races will be certified by the state Tuesday morning.
DeSantis released a statement in which he labeled himself the "governor-elect," declaring the race over and extending an olive branch to his opponent.
"Those returns remain clear and unambiguous, just as they were on election night, and at every point throughout this process," DeSantis said. "I invite Mayor Gillum to join me in the days ahead in a conversation about the future of our great state."
In a statement, the Gillum campaign said it still believed there were "tens of thousands of votes" yet to be counted.
"A vote denied is justice denied — the State of Florida must count every legally cast vote," Gillum said. "As today's unofficial reports and recent court proceedings make clear, there are tens of thousands of votes that have yet to be counted."
Manual Recount Ordered for Florida Senate Race, DeSantis Appears to Win Governor Race | U.S.