Manufacturing Health in the U.S. Falls to 10-Year Low As Economists Predict Recession by 2020
A key indicator of the health of manufacturing in the United States fell to 10-year-lows in May, a bad sign for the economy going forward. The drop comes as President Donald Trump promises to revive manufacturing in the United States by fighting trade wars with China and Mexico.
The U.S. Manufacturing Purchasing Managers' Index fell by 2.5 points last month, its lowest level since September 2009, according to IHS Markit, the company that conducts the survey. Additionally, new orders of goods contracted for the first time in 10 years.
"May saw U.S. manufacturers endure the toughest month in nearly ten years, with the headline PMI down to its lowest since the height of the global financial crisis," wrote Chris Williamson, Chief Business Economist at IHS Markit in a statement. "New orders are falling at a rate not seen since 2009, causing increasing numbers of firms to cut production and employment."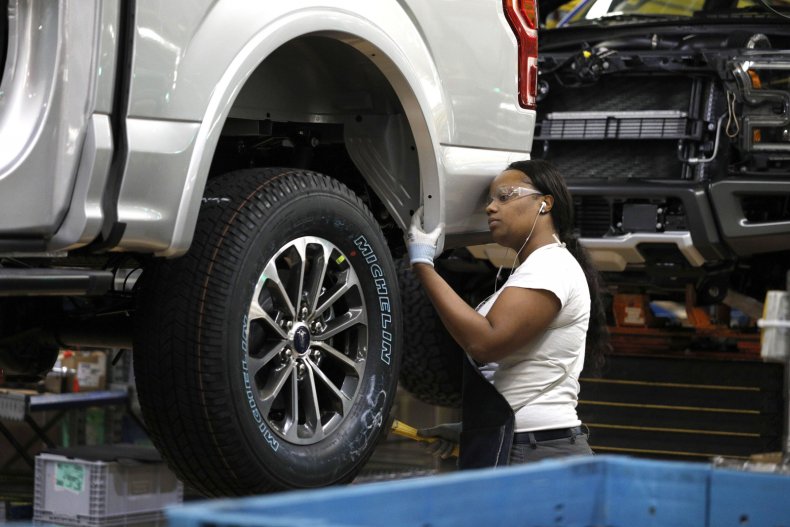 Williamson wrote in his comments that the new data signals a cause for economic alarm, "With future optimism sliding sharply lower in May, risks to near-term growth have shifted further to the downside," he wrote.
Similarly, bleak numbers were released this Monday. Another measure of manufacturing, The Institute for Supply Management manufacturing reading, dropped to its lowest level since President Donald Trump was elected. That May reading "illustrates that the factory sector is continuing to struggle in the face of weak global demand," wrote ISM Chairman Timothy R. Fiore in a statement.
Private construction spending also fell in April by nearly 2 percent, the steepest drop in two years.
A new survey by the National Association for Business Economics questioned top economists on their views of the economy and found that the majority expect a recession before the end of the president's first term, but not necessarily before the November 2020 election.
The majority of economists cited Trump's trade wars as the reason for the decline. "Increased trade protectionism is considered the primary downwide risk to growth by a majority of the respondents," Gregory Daco, chief U.S. economist for Oxford Economics, wrote in a statement.
Democrats, meanwhile, jumped on the news. The Democratic National Committee's rapid response team sent out an email to the press highlighting the low sentiment. "Trump repeatedly promised that he would bring back manufacturing if he were elected president, and since taking office has claimed he did so," the email read. "But the reality is that hasn't happened. In fact, key indicators show the manufacturing industry has skid to its lowest level since the recession."