A small airplane crash-landed onto the lawn of a home in Manville, New Jersey, on Monday.
There was one person reported injured after the 2006 single engine Mooney M20M flying in from Greensboro, North Carolina, crashed, WABC-TV reported. The plane went down in front of a home that is just feet away from Central Jersey Airport in Hillsborough Township, WNBC-TV added.
Smaller planes have reported overall higher rates of accidents than commercial planes. For example, 2017 was the safest year on record for air travel, with no fatalities on a passenger jet, but for general aviation—which includes small planes—the National Transportation Safety Board recorded 346 deaths that year, according to Executive Flyers.
Images of the small plane posted to Twitter on Monday showed heavy damage to its nose as smoke billowed from the crash site. Its tail was sitting on top of several bushes on the lawn. A car in a driveway also appears to have been damaged in the crash.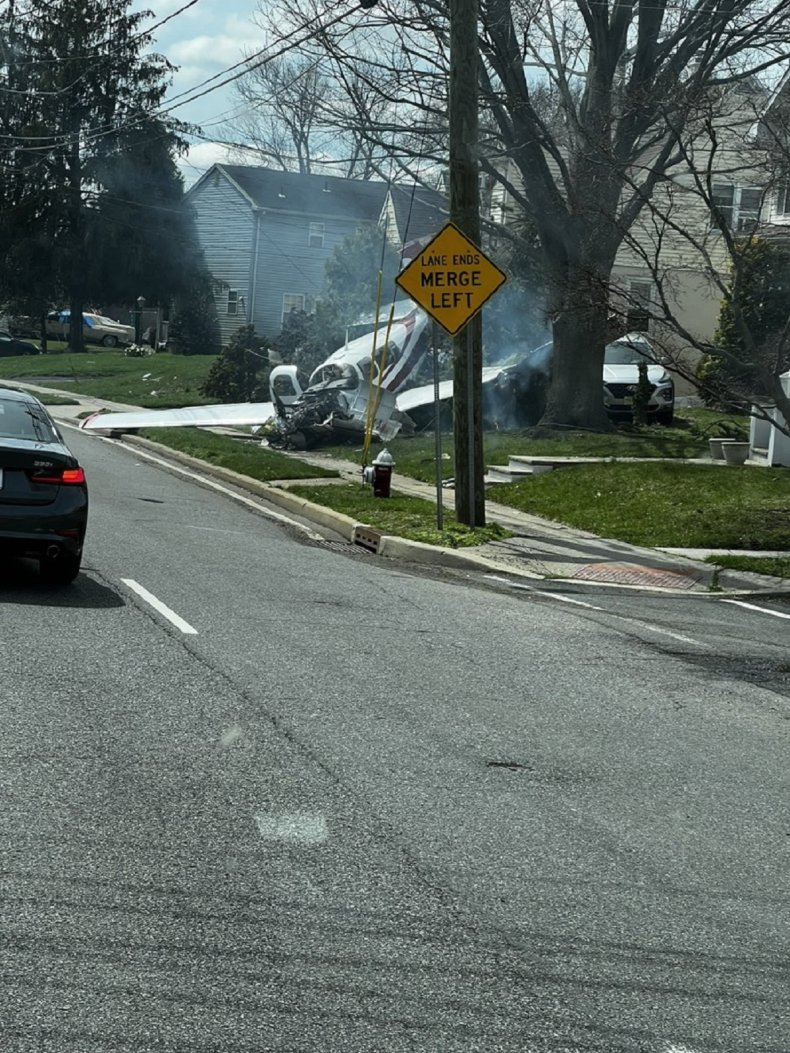 The plane brought down power lines as it descended, forcing authorities to close down part of South Main Street near where the incident occurred, according to WABC. The report added that a person who was on board the plane was hospitalized for facial injuries. In an email to Newsweek, John Bentz, Manville's emergency management director, said the injures were not life-threatening.
The weather in Manville, though partly cloudy, had no precipitation or strong winds on Monday, according to the Weather Channel.
Bentz said the Federal Aviation Administration, Manville Police Department, Manville Fire Department, Hillsborough Fire Company 2, Somerset County Hazmat and PSE&G Electric were all at the scene of the crash. An investigation into the circumstances of the crash is ongoing.
The Central Jersey Airport is a privately owned, public use facility with two runways. The airport could not be immediately reached for comment.
According to Executive Flyers, there are several reasons why small planes are less safe than commercial ones. Recreational and sport pilot licenses need less flight hours to obtain, requiring 30 and 20 hours, respectively, compared to the 190-250 hours required for a commercial pilot license. Larger aircraft also have more safety systems in place and are less vulnerable to turbulence, severe weather and collisions with birds.
The incident on Monday follows several other small plane crashes that received national attention in recent months. In North Carolina, a small airplane and a tractor-trailer collided on Interstate 85 on February 16, killing the pilot. On February 13, four teenagers were among eight people killed when a plane crashed into the Atlantic Ocean off the North Carolina coast, and a week earlier, U.S. skateboarder and content creator Josh Neuman was one of four people killed after a small plane crashed into Lake Thingvallavatn in Iceland.
The Manville Bureau of Fire Safety did not immediately respond to Newsweek's request for comment.
Update 04/04/22 3:20 p.m. ET: This story was updated to add more information and background.