Many Americans Have Invested in Gun Manufacturers Through Retirement Portfolios
Despite continual debate about gun control many Americans are likely unaware of their investments in gun manufacturers. Through mutual funds, index funds and exchange-traded funds, many Americans have unknowingly invested in gun companies.
After Vista Outdoor announced the sale of Savage Arms last month, American Outdoor Brands (AOB) and Sturm Ruger are the only remaining publicly traded gun manufacturing companies in the United States. AOB has a market capitalization of $465 million, while Sturm has a cap worth $765 million, making them both small-cap stocks, according to financial services firm Morningstar.
"Basically the answer is that, yes, if you're a small-cap fund investor, most likely you do have exposure to companies that are publicly traded that manufacture guns. And the reason for that is that approximately two out of every three dollars invested in small cap funds in the US are in index funds, and the index funds typically have positions in both of those stocks," Jon Hale, the head of sustainable research at Morningstar, told Newsweek.
While index funds are passively managed, actively managed funds are less likely to expose investor money to gun companies. Hale wrote earlier this month that out of 500 actively managed funds in the "small-blend, small-growth, and small-value" categories, a mere 24 "have positions in American Outdoor Brands and 32 in Sturm Ruger."
Large funds can have a significant investment in a gun manufacturer's stocks. Hale noted that Sturm Ruger has just a 0.3 percent slot in iShares Core S&P Small-Cap ETF but the vast size of the fund means it controls 6 percent of the gunmaker's stock.
Even with a small proportion of investments directed to gun manufacturers, some people would likely move their money to ESG funds, which are more focused on social responsibility and avoid companies that some investors might find objectionable. But, in spite of past reporting on how retirement portfolios can include investments in firearms industry companies, many people don't know they have money invested in gun makers, Hale said.
"I think if most people, particularly younger investors, if they were advised at the time when they were investing in an index option that 'here, by the way, you're invested in everything, including companies you may find objectionable or not aligned with your values. Keep that in mind, here's an alternative approach that tries to account for that'... I'm sure that a lot of people would choose the ESG version if they knew about it at the time of decision," Hale told Newsweek.
In March 2018, a report from data journalist Emily Laermer found that ten mutual fund firms with the greatest exposure to publicly traded gun-related companies owned 89 million shares in five of the largest such companies.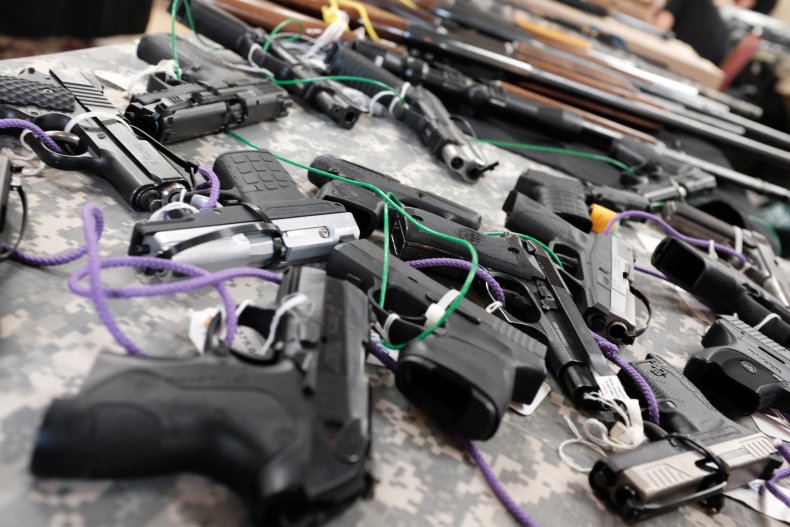 In the aftermath of mass shootings, large gun retailers face increased pressure and scrutiny. Dick's Sporting Goods said in March that it would stop sales of firearms at 125 stores. Walmart, the site of the El Paso, Texas shooting earlier this month, stopped selling assault rifles in 2015 and in 2018 changed policies to require firearms buyers to be 21. The company said that, in spite of the public pressure after the El Paso spree, it doesn't intend to change its policy.
Activists have also directed their efforts toward banks, with one group, Guns Down America, creating a scorecard for the major U.S. financial institutions. The organization assesses the ties of banks to the NRA and gun makers.
Whether due to pressure from activists or by their own volition, some banks have started changing their policies. For example, Citigroup said last year that it would halt loans for gun industry clients who didn't require prospective buyers to pass a background check before purchases. Bank of America soon announced its own changes, saying that it would stop giving loans to companies that created military-style firearms for civilians.
Correction: An initial version of this story cited a March 2018 report as saying that ten mutual fund firms owned $10 trillion in firearm industry assets. This was an incorrect citation, and the line has been removed from the piece. These firms owned $10 trillion in mutual fund and ETF assets overall.