#ImStillWithKap was trending on Thursday after Jay-Z and his entertainment company Roc Nation announced plans on Wednesday to work with the NFL to "enhance live game experiences and amplify the league's social justice efforts."
Many see Jay-Z's working with the NFL as an affront to Colin Kaepernick's cause. In November 2017, Kaepernick filed a grievance against the NFL, accusing them of colluding to keep him out of the league for kneeling in protest of police brutality and racial injustice during the national anthem.
Wednesday evening, American filmmaker Ava DuVernay tweeted, "#ImStillWithKap" with a photo of the former football player and activist.
Other big names joined in solidarity with Kaepernick, including Carolina Panthers safety Eric Reid who said on Twitter on Thursday, "Jay-Z doesn't need the NFL's help 2 address social injustices. It was a money move 4 him & his music business. The NFL gets 2 hide behind his black face 2 try to cover up blackballing Colin."
Kaepernick's longtime friend and former teammate also replied to a quote from Jay-Z on Wednesday night that said:"... everybody knows I agree with what you're saying [in Kaepernick's underlying message]. So what are we gonna do? ... [Help] millions and millions of people, or we get stuck on Colin not having a job."
"These aren't mutually exclusive," Reid responded, "They can both happen at the same time! It looks like your goal was to make millions and millions of dollars by assisting the NFL in burying Colin's career."
Kaepernick's radio personality girlfriend Nessa Diab—known mononymously as Nessa—was also shocked by Jay-Z's collaboration, tweeting on Thursday, "I can't put in words the disappointment and disgust #IMWITHKAP FOREVER." Rapper J Cole also showed his support, "Thank you @Kaepernick7 we ain't forgot."
Kaepernick has responded to the new entertainment partnership, thanking Eric Reid and all his supporters.
Alongside a video saying Kaepernick has been denied work from the NFL for 897 days, he tweeted out a message on Thursday, "You never turned your back on me or the people, even when the nfl tried to silence your voice & the movement. You've never flinched or wavered. I love you Brother! Let's get it! @E_Reid35 And to the people - I see you, I hear you and I love you! Thank you for having my back!!!"
The multi-year partnership with Roc Nation has been introduced with the aim of expanding the league's entertainment offerings, including the Super Bowl's iconic halftime show.
The deal will "inspire change," Jay-Z said on Wednesday: "Roc Nation has shown that entertainment and enacting change are not mutually exclusive ideas; instead, we unify them. This partnership is an opportunity to strengthen the fabric of communities across America."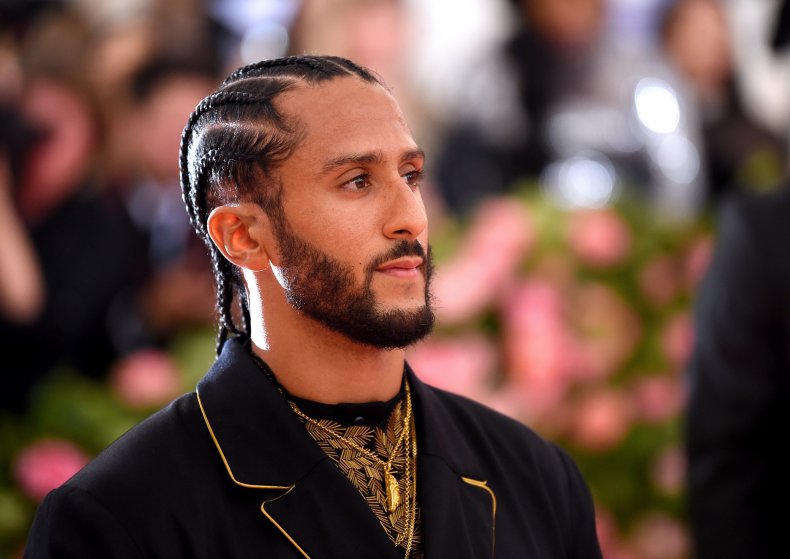 "The NFL were willing to do some things, to make some changes, that we can do some good," he continued.
Jay-Z has been supportive of Kaepernick in the past—in 2017, he wore Kaepernick's jersey during a performance on Saturday Night Live.