Miles Taylor, a former Department of Homeland Security's chief of staff in the Trump administration, said Saturday that many in the GOP hope Donald Trump will lose in future court battles and move on from the party.
Speaking on MSNBC, Taylor said he wouldn't be surprised if Trump faces criminal charges in 2021, amid an ongoing criminal investigations in New York City and Georgia.
"My prediction for this year is going to be that the Donald Trump who loves to win, win, win, is about to lose, lose, lose," the former administration official said.
"He's losing in the court of public opinion and he's about to lose, I would predict, in the people's court if charges are brought against him. A lot of Republicans are actually hoping that this will happen so that they can move on from Donald Trump."
Taylor's statements come as Manhattan District Attorney Cyrus Vance is conducting a wide-ranging criminal probe to examine hush-money payments allegedly made to women connected with Trump, and whether his company manipulated the value of assets for loans and tax gains.
On February 25, Vance's investigation beefed up after the district attorney was able to obtain Trump's tax records. The Supreme Court previously allowed the former president's request to block subpoenas for his tax returns twice.
Along with Vance's probe, New York Attorney General Letitia James is also conducting a civil investigation into the Trump Organization, focusing on tax deductions and write-offs.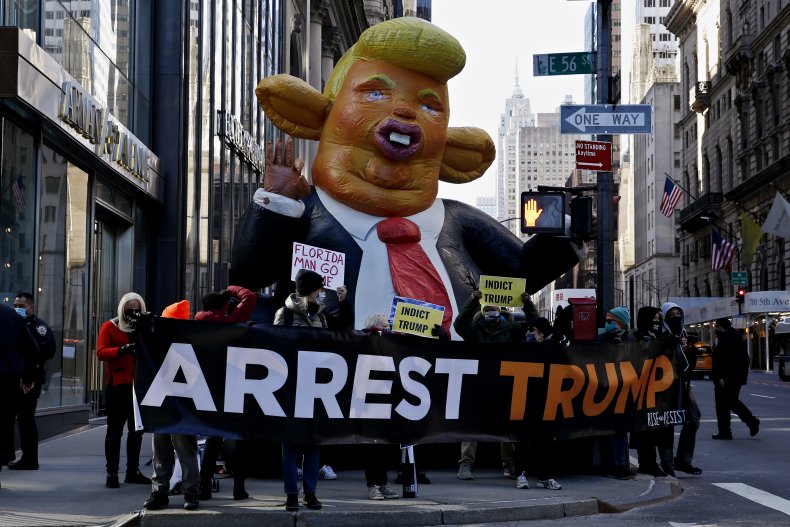 The former president is also facing a criminal investigation in Georgia for attempting to subvert the results of the 2020 presidential election by pressuring officials to find evidence of voter fraud.
Taylor, a vehement critic of the former president who penned an explosive New York Times essay in 2018 detailing an internal "resistance" within his administration, added Saturday that he believes Trump has committed numerous crimes.
"If you look at Donald Trump and his career long enough, you won't just see him break the law, you will see him set the law on fire," Taylor said.
"This is a man who has an almost clinical addiction to wrong-doing, whether its cheating at his golf game or cheating at governing...would it surprise anyone that he tried to cheat on his tax returns?" he added.
Since leaving the White House on January 20, the former president has been residing in his Mar-a-Lago resort in Palm Beach, and has maintained a significant presence within the GOP.
During a fiery speech at the Conservative Political Action Conference (CPAC) last month, Trump hinted at the possibility of a 2024 presidential run after falsely claiming that President Joe Biden lost the 2020 election.
"Actually you know they just lost the White House, I may even decide to beat them for a third time," Trump said at the time.
Newsweek contacted Trump for additional comment, but did not hear back in time for publication.