Many Myanmar Jade Mine Victims Were Unregistered Migrants, Making Death Toll Difficult to Determine
A landslide at a jade mine in the northern region of Myanmar killed more than 100 migrant workers on Thursday, though the death toll is expected to rise according to local officials.
The incident happened in the Hpakant area of Kachin state of Myanmar when a wall of mud and mining debris caused by seasonably heavy rain, buried workers who were scavenging for bits of jade.
According to a statement from the Ministry of Information, many of the victims were described as freelance miners who live and work near the base of the mine.
Many of the migrants are unregistered workers who come from other areas of Myanmar looking for jobs, which has made it difficult for authorities to determined how many people are missing. So far, 123 bodies have been recovered.
"Other bodies are in the mud," Tar Lin Maung, a local official with the information ministry, told Reuters, "The numbers are going to rise."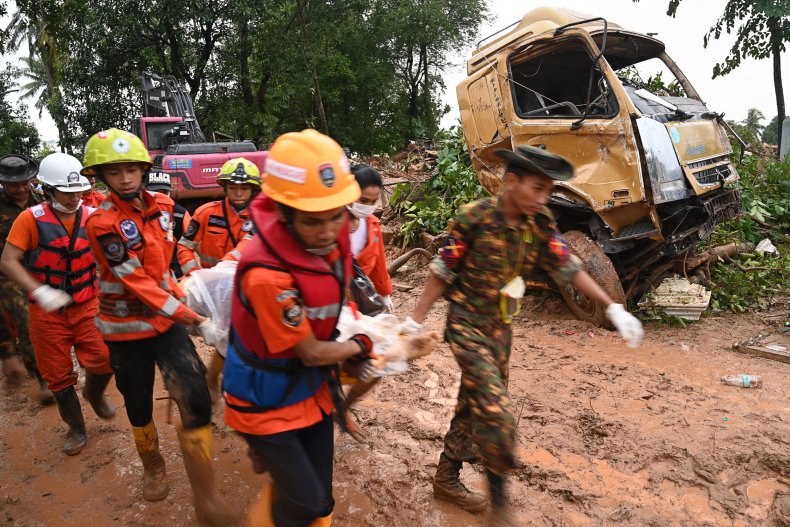 This latest incident is the worst in the country's history, surpassing the 2015 landslide when witnesses said a 200-foot wall of mud covered 70 huts and killed 113 migrant workers.
Maung Khaing, 38, a miner from the area who witnessed the accident, was about to take a picture of the massive mound of waste and mud when people began running for their lives.
"Within a minute, all the people at the bottom (of the hill) just disappeared," he told Reuters. "I feel empty in my heart. I still have goosebumps ... There were people stuck in the mud shouting for help but no one could help them."
Hpakant lawmaker Khin Maung Myint said that in addition to the dead, 54 people were injured and sent to hospitals, the Associated Press reported.
According to local activists, the government and local businesses often fail to enforce already weak industry regulations, due to the value placed on jade mining.
London-based Global Witness, an organization that investigates governments and corporations that misuse natural resources, said the jade industry in Myanmar has generated more than $31 billion in 2014, which was funneled to companies with ties to the country's former military rulers.
"Their legacy to local people is a dystopian wasteland in which scores of people at a time are buried alive in landslides," Global Witness' Mike Davis said.
In 2016 and 2017, the official sales of jade in Myanmar, mainly to China, were worth $750 million, according to data published by the government as part of an Extractive Industries Transparency Initiative.
"There's no hope for the families to get compensation as they were freelance miners," Than Hlaing, a member of a local civil society group helping in the disaster aftermath, said, "I don't see any route to escape this kind of cycle. People take risks, go into landfills, as they have no choice."