Map Shows How Close Super Typhoon Nanmadol Is to Japan's Nuclear Plants
Super Typhoon Nanmadol hit southwest Japan on Monday, bringing damaging winds and torrential rains with it, killing at least one person, injuring many others and displacing thousands as the nation calls for an evacuation.
A storm tracker map currently shows the typhoon tracking northeast. Further down its journey, the storm could hit just south of the Shika Nuclear Power Station, one of the country's many nuclear power plants.
Despite the strong storm surging toward the power station, Andrew Whittaker, a nuclear power plant expert and professor at State University of New York at Buffalo, told Newsweek that nuclear power plant buildings are designed for "extreme environmental loadings, including wind, wind-borne missiles, and earthquake shaking."
"So, I would not be concerned with typhoon-related wind pressures acting on a containment building that houses a reactor," Whittaker said.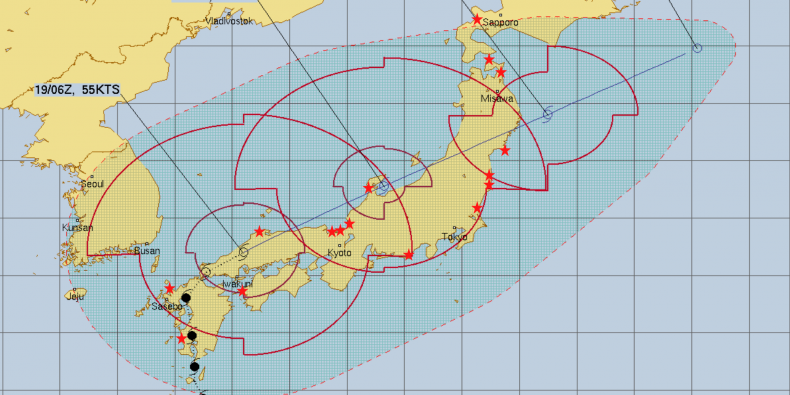 However, a Japanese nuclear power plant was ravaged by natural disasters in 2011, when the nation's strongest earthquake and subsequent tsunami hit the Fukushima Daiichi Nuclear Power Plant. The natural disasters triggered a nuclear meltdown at the plant, which is reported to be one of the most severe nuclear accidents in the world, second only to the Chernobyl disaster in Ukraine in 1986.
Whittaker told Newsweek there are protections in place at Japanese nuclear power plants to protect the buildings from storm surges and tsunami waves. A building's design, construction and measures taken at the plant protect it from damaging storms.
"I have no doubt the Japanese power utilities have plans in place to address storm surge," he added.
Super Typhoon Nanmadol has tracked winds of 67 miles per hour with gusts up to 100 miles per hour, according to the Japanese Meteorological Agency. According to the Los Angeles Times, since the storm has made impact, many of Japan's travel systems have suspended service, including airlines and the bullet train. The newspaper also reported that some people have had poor cellphone service during the storm, and many stores have closed.
After the 2011 disaster at Fukushima, Japan idled many of its nuclear power plants for years. Reuters reported that since the meltdown, Japan said it wouldn't build new reactors. However, in August, Reuters reported that Japanese Prime Minister Fumio Kishida announced during a press conference that the country will restart more of its idled nuclear plants. Japan will also begin developing more reactors, a sharp transformation from its position a decade ago.
World Nuclear Association reported earlier this year that more than 2,300 people died in disaster-related events related to the Fukushima evacuation. Approximately 19,500 people died in the earthquake and tsunami. In 2018, Japan reported its first death from radiation exposure during the Fukushima disaster. A nuclear power plant worker died of lung cancer that was diagnosed in 2018.
Newsweek reached out to the Nuclear Safety and Security Commission for comment.